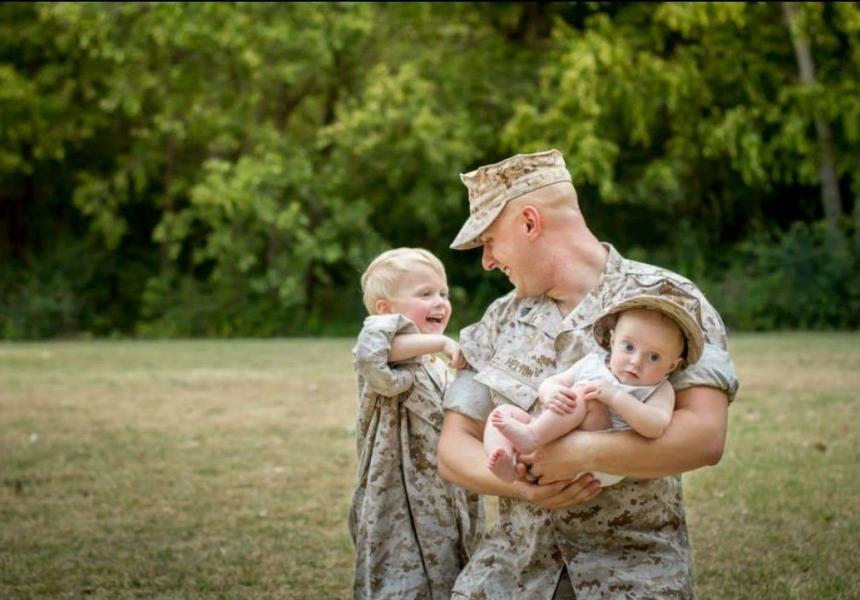 Americans love, respect, and honor our troops all year round. However, each November, we set aside a special time to honor the sacrifices our brave military veterans have made.  Originally called Armistice Day, Veterans Day falls on the anniversary of World War I. The holiday was renamed in 1954 to honor the service of all military members. 
Irving's salute to our men and women in uniform on this day culminates into a wide variety of celebrations and honors, beginning with just offering our deep appreciation for their service. Over the next several days be sure to thank a veteran, and be proud that you're an American. In addition, we've listed below several different ways to commemorate Veterans Day here in Irving.  As always, there are many more events going on this weekend, just take a peek at our full activity calendar at www.irvingtexas.com.
Donate to a Veterans Nonprofit
Charity Navigator provides a curated list of highly-rated organizations providing a variety of services, including mental health and supportive services, financial assistance for food, utilities, and medical expenses for veterans. To learn more and view a list of rated charities, visit their website.
Veterans Day Ceremony

WHEN: Wednesday, November 11 from 11:30 a.m. - 1:30 p.m.
The Irving Veterans Memorial Park Committee will host a Veterans Day program at 11:30 a.m. Nov. 11 at the Jack D. Huffman Community Building auditorium, 801 W. Irving Blvd., with music, moments of reflection by military personnel, and remarks by city officials.

After, attendees will move to the nearby Veterans Memorial Park, 644 Rock Island Road, where a wreath will be placed on the Wall of Commemoration. Social distancing will be practiced.
WHEN: Thursday, November 12 from 9 a.m. - 5 p.m.
COST:  $10 - $700
For an interactive day of shooting competition and fun, visit Elm Forks (right in Irving's back yard) to benefit veterans through the collaboration of two 501c3 organizations, North Texas Patriot Anglers and Operation Mutt 22. They assist disabled veterans through healing fishing trips and with the placement of companion/service dogs. 100% of the funds raised through these volunteer-driven charities is donated directly to the benefit of the veterans. Purchase tickets here
Veterans Day at Blaze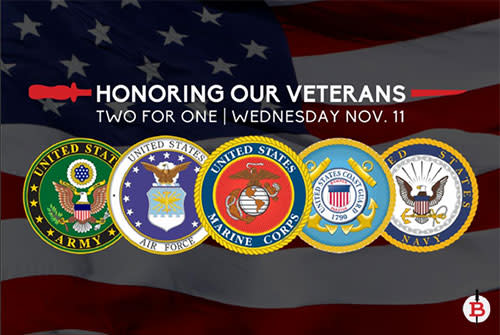 WHEN: Wednesday, November 11 from 5 - 9 p.m.
Blaze Brazilian Steakhouse is sincerely honored to recognize those who have served our country. All veterans of the U.S. Military, National Guard, Gold Star Parents and Gold Star Spouses are invited to enjoy a buy one, get one free full dining experience on Veterans Day. Book your table here
Veterans Day at Thirsty Lion
WHEN: Wednesday, November 11 from 11:30 a.m. - 9:30 p.m.
Honoring veterans on this day, Thirsty Lion invites all veterans and active military to eat for FREE*. Offering gastropub fare and from-scratch cooking with a culinary commitment to local and seasonal ingredients, the food at Thirsty Lion Gastropub & Grill is both scrumptious and bold. *One entree & a non-alcoholic drink   
Veterans Day at Aspen Creek Grill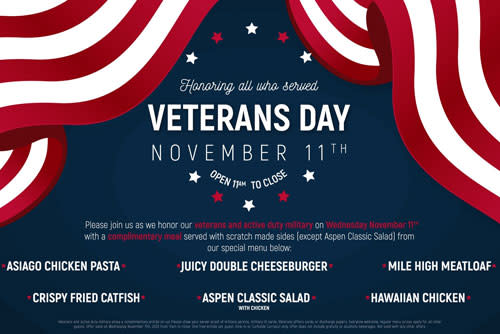 WHERE:  Aspen Creek Grill | 4300 West Airport Freeway
WHEN: Wednesday, November 11 from 11 a.m. to close
Aspen Creek Grill is humbled for the opportunity to show their gratitude and appreciation to the brave servicemen and women by serving complimentary meals from a special menu to veteran and active-duty military from 11 a.m. to close on Wednesday, Nov. 11 in recognition of Veterans Day.
"On a day of remembrance, it is our way to commend, celebrate and give back to our heroes." said Bern Rehberg, president of Aspen Creek Grill.
Additional offers are listed below and can be found at militarybenefits.info.
7-Eleven 

Get a free coffee or Big Gulp on Memorial Day, July 4th, and Veterans Day. 

Download the 7-Eleven app and sign in or register.
Applebee's Veterans and Active Duty Military can select a free meal from a limited menu on Veteran's Day. Provide proof of service required.
Bar Louie Wednesday, November 11th Louie nation is offering a free craft burger or flatbread of your choice to all active or retired military.
Buffalo Wild Wings Free Wings All day long on Wednesday, November 11, veterans and active duty military who dine-in at their local B-Dubs can receive a free one order of boneless wings and a side of fries. At participating U.S. locations only.
Chili's Grill & Bar All veterans and active duty military personnel can choose a complimentary meal from a select menu on Veterans Day 2020
Denny's All active, non-active or retired military personnel at all participating Denny's restaurants nationwide will receive a free Build Your Own Grand Slam breakfast on Wednesday, Nov. 11, from 5 a.m. to noon. Diners must show ID to receive this offer.
Einstein Bros. Bagels On 11/11/20 veterans and active-duty military get a free hot or iced medium coffee.
IHOP All active duty and Veterans are invited to come in and enjoy Free Red, White, & Blue Pancakes on 

Monday, November 11, from 7 am to 7 pm.

Pie Five Pizza On Veterans Day get a free personal pizza at participating locations. Dine-in only.
Red Lobster On Wednesday, November 11th to thank Veterans, active duty military and reservists, Red Lobster will offer a free appetizer or dessert from their select Veterans Day menu. To receive offer, show a valid military ID.
Rodizio Grill November 9-12, veterans eat free, with purchase of at least one Adult Full Rodizio meal. Must show Proof of Service to receive discount. Dates may vary by location.
Starbucks On Veterans Day, active duty service members, reservists, veterans and military spouses are invited to enjoy a free tall (12-ounce) hot brewed coffee.
Texas Roadhouse is handing out vouchers for a free meal to all Veterans and Active Duty military from 11 am to 2 pm on Veterans Day. Vouchers will be distributed in the parking lots at Texas Roadhouse locations.
Wendy's Wendy's nationwide are offering a free small breakfast combo with valid military ID. No purchase necessary.
Yard House Veterans and active duty military will receive a complimentary appetizer on November 11 with valid military ID. Offer is valid for dine in only.
Show your support for this amazing group of heroes and celebrate Veterans Day in Irving!