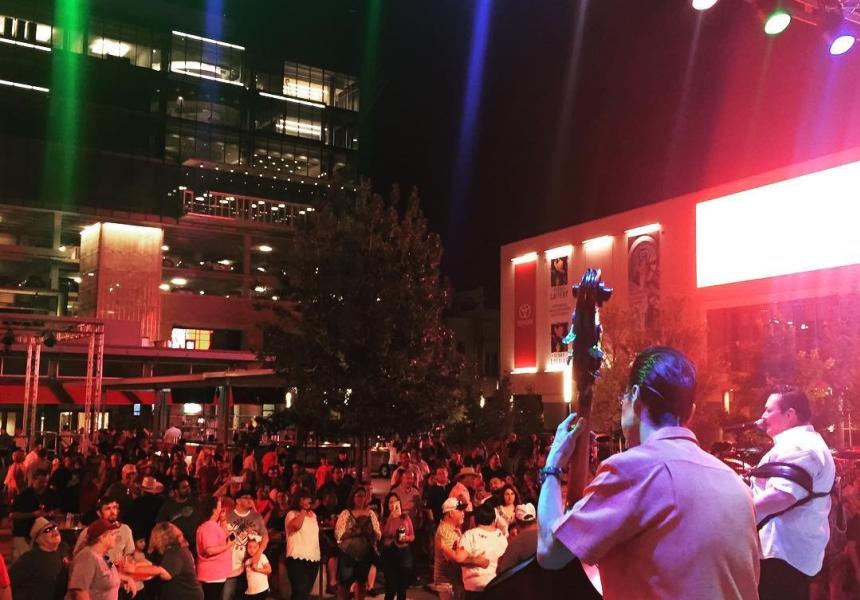 From Grammy award winners to icons of soul and rap, live music in Irving, TX this April month presents a lineup of artists worth traveling for—but luckily for you, they're right here in Irving.
April 1-7 
Thursday, April 4
The Texas Lottery Live Thursday Concert Series at the Toyota Music Factory kicks off with Bowling for Soup. The pop-punk band from Texas has built a solid following over the last two decades of making music and always put on a lively show. Advanced tickets for this series are $5 each, or $10 the night of the show.
Sunday, April 7
The New Philharmonic Orchestra of Irving presents Mariachi and Mayan Night! at the Irving Arts Center. This special evening will feature the orchestra saluting Mexico by playing music from the 1939 film "Night of the Mayas," by famed Mexican composer Silvestre Revueltas. Area mariachi players and the Anita N. Martinez Ballet Folklorico from Dallas will join the performance.
 
April 8-14
Thursday, April 11
This week's edition of Texas Lottery Live features The Wild Feathers. The Nashville four-piece does boots-stomping country verging on Southern rock, but also slows it down for acoustic ballads. The show is sure to entertain and make you want to dance.
Friday, April 12
La Adictiva Banda San José de Mesillas, or La Adictiva for short, will play at The Pavilion at Toyota Music Factory. As a full band from Sinaloa, Mexico, La Adictivia has no less than 16 members playing trumpets, clarinets, trombones, tenor horns, congas, the tuba, and drums, plus two vocalists. Spanish music fans will love this energetic performance where nearly every song is a singalong.
Saturday, April 13
Get ready for an R&B explosion with KRNB Presents Second Annual Smooth Spring Groove 2019. The concert includes Tamar Braxton, Jagged Edge, Dru Hill, and Stokley. Returning to the The Pavilion at Toyota Music Factory for a second year, it's your chance to groove to throwback jams and new favorites.
April 15-21
Thursday, April 18
The Black Angels are up this week for the Texas Lottery Live Thursday Concert Series. With five albums under their belt, the psych-rock band from Austin puts on a show that feels like an immersive experience thanks to darkly hypnotic compositions.
Saturday, April 20
With only eight performances each year, you won't want to miss the spring performance of the Las Colinas Symphony Orchestra featuring pianist Luca Sacher at the Irving Arts Center. With his father Stefan Sacher joining as guest conductor, the father-son performance will include Beethoven's "Piano Concerto No. 4" in G major, Strauss' "Aquarellen-Walzer," and Schubert's "Symphony No. 9" in C major.
April 22-30
Wednesday, April 24
Grammy award-winner Melissa Etheridge brings her huge catalog of music to The Pavilion at Toyota Music Factory. Joined by fellow singer, songwriter, and guitarist Liz Phair, the tour supports Ehteridge's new album, "The Medicine Show." Come see why these two artists have been drawing crowds since the '90s.
Friday, April 26
With over 20 million records sold, it's no wonder Al Green is a Rock & Roll Hall of Fame inductee. See him perform at The Pavilion at Toyota Music Factory with supporting act War & Treaty. The soul singer delights audiences with flawless renditions of his hits like "Let's Stay Together," "Love and Happiness," and many more.
Saturday, April 27
If you love cumbias, you'll love Los Ángeles Azules – Esto Si Es Cumbia Tour 2019 at The Pavilion at Toyota Music Factory. A family group formed by six siblings, Los Ángeles Azules are joined by many other musicians for a Spanish big band performance with rotating singers. Expect matching outfits and coordinated two steps and dips on stage, and tons of dancing off stage.
Sunday, April 28
Celebrate the debut album of one of rap's most iconic artists with Snoop Dogg's 25th Anniversary of Doggystyle at The Pavilion at Toyota Music Factory. Snoop will be joined by some of the rappers who contributed to his "Doggystyle" album, like Warren G, The Funk G All Stars, and Tha Dogg Pound. It's a concert sure to show you why Snoop Dogg continues to make chart-topping tracks to this day.
Monday, April 29
For a night of inspiration and worship, be sure to catch Hillsong UNITED make their tour stop at The Pavilion at Toyota Music Factory. The Christian music band brings audiences together through a common message, for a show that is at once uplifting and entertaining.
 
Recurring