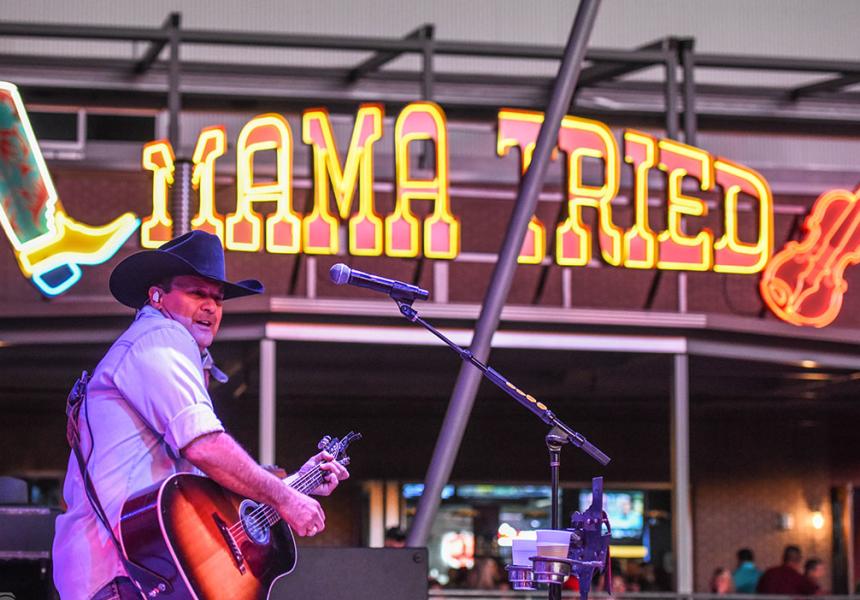 It's been quite a memorable year thus far, so as March brings us warmer days, windy afternoons, and fun-filled nights, let's create some better memories! Here in Irving, there are quite a few activities to enjoy all throughout the month, so whether you want to take in the night life complete with live music, enjoy some weekend fun, get outdoors, visit the arts, or see what's going on at the Irving Convention Center, we've got the events for you.  
IRVING'S NIGHT LIFE
Thursday Nights
No need to bring your money to this High Stax Poker table, The Green Gator at Toyota Music Factory offers free Texas Hold 'em games every Thursday. Play for prizes, meet friends or cheer on your favorite champion.
Friday Nights
Every Friday night, Toyota Music Factory offers some DJ vibes to go with your dinner. DJ KJ scratches down at Green Gator from 9 p.m. to 1 a.m.  Or reserve your seat at Reservoir for music with DJ Nana, starting at 10 p.m.  For more beats and eats, visit Blaze Brazilian Steakhouse with DJ Tommy Blaze on the patio on Fridays from 6 p.m. to close or Saturdays from 7 p.m. to close.
Saturday Nights
On Saturdays from 8 - 11 p.m. Nosh & Bottle offers both Texas Hold 'Em poker games and Karaoke. For double the fun, great hand-crafted drinks, and a delicious menu, come to everyone's living room for a good time on Saturday nights.
March 5
First Friday Takeout in downtown Irving offers diners the choice to dine in or order dinner online from one of these participating restaurants on Main Street: Big State Fountain Grill, Di Rosani's, Villa's Grill, Sapp Sapp, and Glory House Catering and Bistro (breakfast/lunch). Make it an intimate home date or bring your family and friends. Be sure to ask for their First Friday of the Month special.
LIVE MUSIC
Other venues across town offer live music on the weekends, including Mama Tried and Nosh & Bottle. Check their listing page often for an updated list of upcoming performers. Just click on the restaurant's link and scroll down to "Events."
GET OUTDOORS
Monday, Wednesday & Friday
Did you know that working out with fitness groups decreases perceived stress, and increases your physical and emotional quality of life (Journal of the American Osteopathic Association)? We'd like to add that enjoying a healthy treat afterward, such as a fresh fruit popsicle, gives you even more to look forward to. On Mondays, Wednesdays, and Thursdays at 4:45 a.m. or 6:00 a.m., you can join Camp Gladiator who offers a challenging and personalized, as well as socially-distanced outdoor workout at the Toyota Music Factory. And afterward you can stop by the Pop Factory for a natural treat.
March 13
The St. Patrick's 5K run at Toyota Music Factory is a great warm-up for the larger Irving Marathon later in March! Spend the morning with other runners, either virtual or in-person, from all over the country who, like you, practice wellness and a healthy lifestyle. The in-person race is from 7 a.m. to 3 p.m. Costs are $19.99 to $39.99, and all proceeds benefit Baylor Scott & White Irving Foundation's fight against childhood obesity.
March 27
The Irving Marathon is the largest event in the Toyota Music Factory-based seven-race running series, and serves as a Boston Marathon qualifying event. Offered are the 1 mile, 5K, 10K, 13.1 or 26.2. The in-person race is from 7 a.m. to 3 p.m., and there are virtual options as well. Costs are $24.99 to $134.99, and all proceeds benefit Baylor Scott & White Irving Foundation's fight against childhood obesity.
Image is pre-pandemic
WEEKEND FUN
March 6
Stop by the Las Colinas Farmers Market every Saturday from 9 a.m. to 1 p.m. in Lamberti's parking lot for some fresh produce, local honey, grass-fed beef, eggs, prepared cuisines, desserts, seasonings, woodcrafters and more. You can even pre-order items and pick them up at the market. CDC recommendations are followed.
March 7
Is your dog looking to make new friends? Then head on down to Homegrown Hounds each Sunday from 2-4 p.m. for their free Sunday Funday Doggie Playdate. There are always some pawesome dogs who are looking to have some tail-wagging fun. While you're there, check out their home-cooked dog food and treats. 
March 21
Every third Sunday of the month, Reservoir treats you to their Fly Queens Brunch from 1-4 p.m. Hosted by Liquor Mini & Kandy Aisle, there's local talent and a Queen from around the country who will delight you with a drag show and fun experiences! Brunch specials are available too.
The Ranch at Las Colinas is hosting Dinner for Justice, an annual fundraiser for DFW Rescue Me, a foster-based dog rescue group that helps abandoned and abused dogs through adoption programs, teaching responsible pet ownership and emphasizing the importance of spaying and neutering to control overpopulation. raise funds for this worthy cause. Dinner, tax and tips are included for a donation of $65. Alcohol not included.
VISIT THE ARTS
Mondays
From 7 - 10 p.m., longtime Irvingite "Mama" Amy Stevenson hosts Mama's Party featuring local, regional, and occasionally national talent. Normally held live at MainStage 222, due to the health concerns of their patrons, Mama's Party is currently featured online only. Viewing is free and tips are encouraged through Venmo, so tune in to watch this one-of-a-kind show. See the lineup.
Tuesdays - Saturdays
The Irving Arts Center, a Smithsonian Institution affiliate, rotates varied art exhibits throughout its galleries. Presented by the Black Arts Council, Black History Month continues through March with these collections:
Artistry & Inspiration - Paintings, drawings, photographs and mixed media works by various American artists

Natalie Lambert: I love you very much but… - featuring drawings and paintings that explore the perception, materiality and communication of skin as form.

City of Hope: Resurrection City & The 1968 Poor People's Campaign - A collection of posters that commemorates Dr. Martin Luther King Jr.'s daring vision to end poverty in the United States. 

Beginning March 6, the Lonesome Dove: Photographs by Bill Wittliff exhibit will chronicle the epic novel Lonesome Dove by Larry McMurtry about two aging Texas Rangers who drive a herd of stolen cattle 2,500 miles from the Rio Grande to Montana to start the first ranch there. It truly captures the public's imagination. 
Wednesdays - Saturdays
The Irving Archives and Museum currently hosts a temporary exhibit through March 13: Away from Home: American Indian Boarding School Stories. Rarely does an exhibit make such a great impact on its guests like this one. Read first hand accounts, view images and learn the history of this compelling and tragic time in America's history. Groups can tour from 10 a.m. to 4 p.m. on Wed-Fri and from 10 a.m. to 1 p.m. on Saturday. Admission is $25 for groups up to 10. Reservations are required.
March 3
The Lone Star Youth Orchestra continues its season on March 3rd at the Irving Arts Center with a concert titled "Haydn & the Hen". Beginning at 7 p.m., the concert's featured piece is Joseph Haydn's Symphony No. 83 in G Minor ("The Hen"). Works by William Grant Still ("Cumbia y Congo" from Danzas de Panama) and Edward German ("Torch Dance" from Incidental Music to Henry VIII) round out the hour-long program. Admission is $6.50 per student and $13.50 for adults.
Image is pre-pandemic
​March 12-27
Lives of the Saints is a ridiculous Masterpiece Theatre-style murder mystery with suspects and a bumbling Scotland Yard detective, confounded by philosophical quandaries. Two women preparing a funeral breakfast in a church basement muse on life, death, and the meaning of Polish jokes in this stage play put on by MainStage Irving. Offered as a video on demand, costs include a single stream for $19 or a family stream for $29.
March 27
Another spectacular season concludes with the Irving Symphony Orchestra at the Irving Arts Center featuring "Asleep at the Wheel" at 7:30 p.m. The evening promises to be a wonderful blend of the symphony with the band for some toe tapping fun. Admission is $48 - $59.
March 28
The New Philharmonic Orchestra of Irving is planning their Spring Performance to be held at the Irving Arts Center from 3:30 - 4:30 p.m. Every year the NPOI offers a spectacular performance of select pieces to celebrate the warmth of the season. Due to the COVID-19 pandemic, however, this program is being arranged to accommodate a limited number of performers on stage.  Details will be announced soon.
AT THE IRVING CONVENTION CENTER
March 5-6
Normally held at the Irving Convention Center, the seventh annual North Texas Teen Book Festival goes virtual for the first time! It all happens on YouTube, with more than 90 writers and illustrators participating. Educator's Day is Friday, March 5, and the Festival is Saturday, March 6. You won't want to miss a minute of the discussion panels or author talks. Visit their website for details on schedules, discussion panels, the swag shop, and more.
March 7
With almost 100,000 square feet of meeting and exhibit space, the Irving Convention Center's unique architecture, vertical design, and interior finishes create the perfect place to hold any type of gathering, like the NCL Fashion Show.  In the spirit of fostering mother-daughter relationships through community service, leadership development, and cultural experiences, the Southlake Chapter of the National Charity League is hosting its 23rd Annual National Charity League Fashion Show and Benefit at 4:00 p.m. Admission is $75.
Let March sweep you away with any of these fun events. Or for additional area happenings, just visit our website at www.irvingtexas.com/events. Be sure to tag us with your posts. #VisitIrving #IrvingRocks