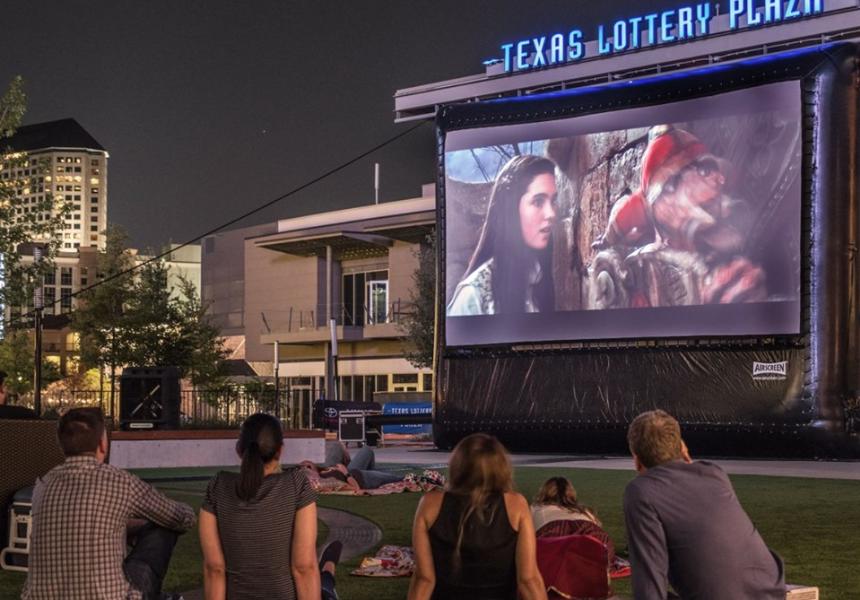 Thursday, October 24
Irving YMCA Festival is from 6-8 pm at the Irving Family YMCA. Dress like a Disney character for even more fun. Enjoy fun activities, jump house, cake walk, vendors, and, of course, candy. 2200 W. Irving Blvd. FREE.
Countdown to Halloween for Teens: DIY Light-Up Wands, 6-7 pm, Valley Ranch Library Meeting Room. One more week to Halloween! Using copper tape, popsicle sticks, LED lights, and a battery, we'll engineer wands that light up with the click of a button! Supplies are provided. 
Come out for Pics on the Plaza to watch a Halloween classic The Nightmare Before Christmas at the Texas Lottery Plaza brought to you by the Alamo Drafthouse. Food and beverages will be available for purchase. Don't forget your lawn chairs and blankets for this movie under the stars. Free admission and parking, the fun starts at 9 p.m.
Friday, October 25
Fall Carnival Series City of Irving Parks and Recreation Department from, 6:30 - 8:30 pm, Cimarron Park Recreation Center, 201 Red River Trail, 972-910-0702. Wristbands will be sold for $10 each for unlimited play at all games and activities at the center.
Fall Carnival Series City of Irving Parks and Recreation Department on, 6:30 - 8:30 PM, Lee Park Recreation Center, 3000 Pamela Drive, 972-721-2508. Carnival tickets will be sold $0.25 each or 5 tickets for $1.
Reading Gives You Goosebumps Fall Carnival celebrates author R.L. Stine's spine-chilling series Goosebumps on from 7-9 pm, South Irving Public Library. From 7 to 8 pm: Visit each stop during the Trunk or Treat for candy and prizes and enjoy this FREE event. From 7 to 9 pm come and make crafts and try your hand at the game stations. From 7:30 to 9 pm: Check out the spook house tours of Shudder Mansion with the scariest basement on the block (for older kids, teens, and adults). You can also browse the collection and check out materials until 9 p.m. 
Saturday, October 26
Halloween and Day of the Dead Crafts at West Irving Library Meeting Room from 2:30-4 pm, is sure to be a lot of fun. Kids and teens will create a variety of fun and easy crafts for Halloween and Day of the Dead. All supplies are provided. Let your kids' imaginations run wild. They can create a decoration, card, or last-minute touch to their costume. 
VFW Post Irving 2494 Trunk or Treat, 11 am-2 pm, 3375 S. Beltline (behind where Skateland used to be). Games, snacks entertainment and more.
Irving Girls Cheerleader Association (I.G.C.A.) Trunk or Treat, 7-9:30 pm, Cottonwood Creek Park, 4051 N. Story Rd. FREE.
Irving Soccer Association Trunk or Treat is open to the public 5:30-7:30 pm, at the Irving Soccer Complex, 3585 World Cup Way. FREE.
Trunk or Treat and Fall Festival at Hope Irving Church, 6 pm. Join their annual fall festival with food, games, cake walk and of course fellowship. Come as you are or in your best costume. FREE.
Heroes vs. Villains Halloween Party on Texas Lottery Plaza at Toyota Music Factory, 7-11 pm. Live music from Fleetwood Mac tribute, Little Lies Band. Photo-booth, costume contest. FREE parking and admission. RSVP
Candy Trail and Haunted Halls is at the Valley Ranch Office from 6-10 pm, 8830 N. MacArthur Blvd. 75063. Cost is $8 - $13.
ISI Annual Fall Carnival is at the Islamic School of Irving on October 26 from Noon-6 pm.
Sunday, October 27
Trunk or Treat at Plymouth Park UMC Irving, 5-7 pm. This is a family-friendly event. Free food, games, bounce houses and trick or treating for the kids. They hope to see you at 1615 W. Airport Freeway. FREE.
Come to the Children's Halloween Party at Boston's Pizza from 11:30 am – 2 pm.  No cover charge.
Chapel Dallas Fall Carnival for ages 0-12, 5-7 pm. Fun, games, candy, prizes. FREE. 310 S. Story Rd. 972-254-1760.
Wednesday, October 30
TLC medium, Theresa Caputo is on her way to The Pavilion and will be giving our live readings to select audience members. This is sure to be a unique show. Tickets range from $44-$253.
Crafty Cabs & More: Day of the Dead, 4:30-5:30 pm, South Irving Library Teen Zone. Celebrate the Day of the Dead by creating skull charms with shrink film and sharpies! Grades 6-8.
Thursday, October 31
Make your first stop this Hallow's Eve at the East Branch Library for fall fun, 4:30-5:30 pm is the Fall Celebration! Make slime, blow boo bubbles, play games and add your personal touch to some fall crafts.
Grandparents and parents, bring your Trick-or-Treaters to Heritage Senior Center for some treats and Halloween fun! Halloween Trunk or Treat is open to the general public, 6-8 pm, at the Heritage Senior Center. FREE.
GracePoint Church Trunk or Treat, 6-8 pm, at 208 South Story Road. FREE.
Goblins and Ghouls, swing by Irving Mall from 6 – 8 pm for a mall-wide trick or treat.  Free.
Friday, November 1
OUTLAW Taproom & Campo Viejo invite you to join us for a flower crown making class. Live music, light bites, and wine pairings by Campo Viejo Wine Ambassador Lauren King. They'll also feature specialty wine and cocktails throughout the evening. $35 per person. For reservations, call 972-717-2420.
Saturday, November 2
Day of the Dead Celebration, 2:30-3:30 pm, East Branch Library. Commemorate the Day of the Dead with skull-themed crafts and light refreshments.
Las Colinas Day of the Dead Fest is at the Toyota Music Factory on from 5 – 11 pm.  Free. Bring a friend and come on out!