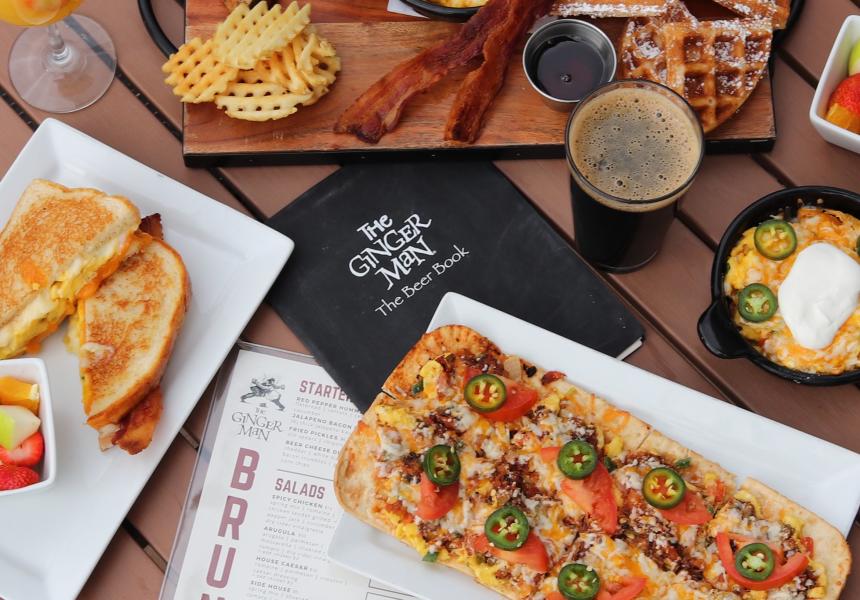 Welcome back to town, The Ginger Man! Let's celebrate with a post all about this beloved watering hole in Las Colinas. If you frequent the Water Street district, you'll for sure be rejoicing that this lovely waterside dining establishment is back (with temporary hours). The patio sits right on Lake Carolyn offering great people-watching, sweet views of the Omni Las Colinas, and all water sports activities that float on by. You might have spent some time there enjoying an adult beverage, but let's talk about some food options that are takeout worthy. 
Please note their current hours and days open: 
Wednesday – Friday: 11:30 – midnight
Saturday: 11 – midnight
Sunday: 11 – 10pm
1. Hangover Platter
This hungry man (or woman) meal will have you doing a double-take! For only $15 it could feed one or possibly several more. The platter is served with bacon, sausage, egg scramble, toast, Belgian waffles, their famous beer cheese dip, plus fruit to round it all out. It's sure not to disappoint and will prove worthy of an Instagram post to share with your friends. 
2. Charcuterie Board
There is something immensely satisfying about a well-curated charcuterie board—cured meats, fruit, and cheeses. Charcuterie boards are a fun way to dine, offering lots of options to satisfy your tastebuds. For $19 grab one of these as a meal, snack, to share over drinks, or even to impress a date on a cute picnic in the park. 
3. Jalapeno Cheddar Sausage 
How about a sausage dog to fill your belly? Enjoy this totally elevated bar food! This jalapeno cheddar sausage sits on a soft french baguette paired with fries. The topping combination adds quite the punch with sauerkraut, ale onion, and spicy mustard.  Bonus, you totally don't need utensils to enjoy. Cheers!
4. Jumbo Soft Pretzel
Who can resist a Jumbo Pretzel? Not I! This sweet dough pretzel is served warm with beer cheese for dipping. It's a great grab and go item or even a perfect app to throw on your order if you want to pazazz up your meal. This Texas twist is just in time for some Oktoberfest celebrating as we enter fall. The Bavarian pretzel is a classic!
5.  Classic Ruben
This Reuben is massive, corned beef is sandwiched between three marble rye pieces, oh my! Stacked with provolone, sauerkraut, and thousand island dressing. All sandwiches are made even better served with waffle fries. 
Help welcome The Ginger Man back to town by dining on their amazing patio or enjoying their yummy eats in the comfort of your own home. Learn more: www.thegingerman.com/las-colinas. 
5250 N O'Connor Blvd | (972) 607-4227