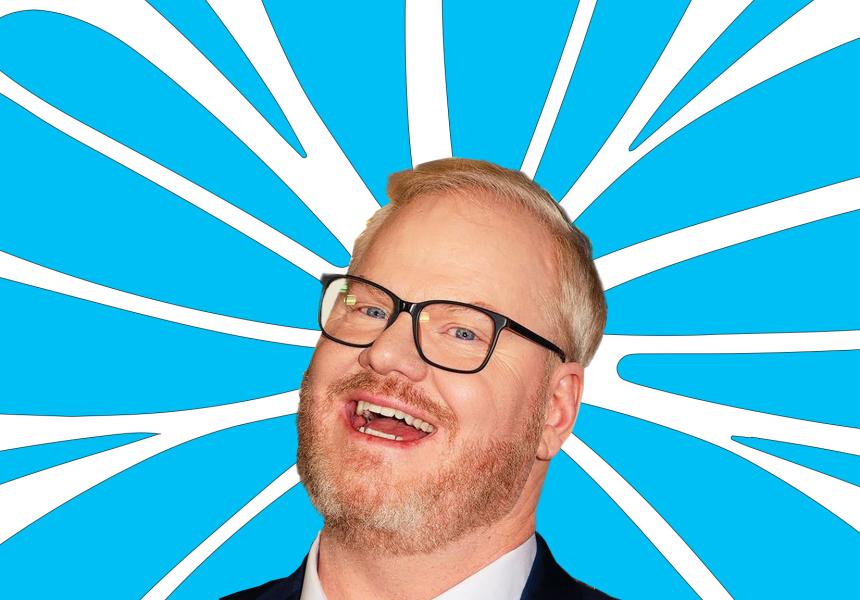 "I should clarify that anyone who goes onstage and makes strangers laugh is insane. So ... I am insane." -- Jim Gaffigan
Actually, insanity describes the crazy amount of talent that's visiting Irving this month. Take some Reggae Pop, Latin Pop, Country and Hip-Hop, add some R & B, Rap, a couple of comedians and Heavy Metal, and you've got the August line-up at The Pavilion at Toyota Music Factory. Not to mention there's a wide swath of local talent performing almost every night of the week here in Irving. Summer sizzles with exciting activities! Here are our top five favorites below. Check these out ...   
#1 EXPERIENCE THE PAVILION AT TOYOTA MUSIC FACTORY
IN THE SPOTLIGHT
With a dry and clever wit, Jim Gaffigan's observational humor pokes fun at everyone and everything. Talking about food, bowling and what it's like being pale, Gaffigan highlights the funnier side of everyday life, including being a father of five children. Pick up a couple of tickets to see Jim Gaffigan's "The Fun Tour" at The Pavilion at Toyota Music Factory on Friday, Aug. 27. Admission is $25 - $125+.
OTHER PERFORMERS AT THE PAVILION
The August line up for The Pavilion includes Jason Mraz, Blackberry Smoke with The Allman Betts Band, Cypress Hill and Atmosphere with Z-Trip, Andrew Schulz, Kem and Babyface, Fonseca and Cepeda, Jelly Roll, Megadeath and Lamb of God, Matute, Rod Wave and Los Angeles Azules. You gotta come see!
MORE LIVE MUSIC
Throughout Irving, our restaurants and bars offer live entertainment while you enjoy their scrumptious menu. There's something here for every appetite. 
#2 MEET FRIENDS AT THE LOCAL PUB
Each night of the week offers an opportunity to gather with your friends, sit back with a cold brew or refreshing cocktail, nosh on something snacky, and make a fool of yourself in front of your pals. Yea, I'm talking about karaoke and bar games.
Texas Hold 'Em
Karaoke
Trivia
Tuesdays at 7 p.m. gives you two places to play. Aunt Cissy's Kitchen holds a family-friendly Trivia Night. Prizes are awarded to the top three teams. Walk-ons Bistreaux & Bar invites you to play Trivia with prizes including free apps, desserts, 16 oz. Death Valley's and Walk-On's gift cards.

Thursdays at 7 p.m., Spirit Grille invites you to test your brainiac skills at Trivia Night. Find out what knowledge is rolling around in the recesses of your mind.
Music Bingo
At Nosh & Bottle on Tuesdays, play Music Bingo with friends and community socialites from 7:30-9:30 p.m. There's a chance to win a free prize with each game, plus bottles of wine are half off!

Wednesdays at 7 p.m., join the Green Gator gang for fun and prizes with Melodies and Memories Music Bingo. It's free to play and drink specials will be flowing from the bar! 
#3 ENJOY MORE LAUGHS
Visit Las Colinas from 7 - 9 p.m. on Friday, Aug. 27, for Laughs by the Lake, an evening of comedy out under the stars. The newly renovated Levy Event Plaza hosts this hilarious show. Bring a blanket or lawn chairs and enjoy views of scenic Lake Carolyn under the moonlight. There's also food-truck fare, nearby parking or free shuttle from the DART Las Colinas Urban Center Station, and attendance is FREE. Although there's no profanity or obscene language, all comedic content is geared for adult audiences, so parental caution is advised for this PG-13 show. 
Before the show, try your hand at stand up paddle boarding or take a gondola cruise through the Mandalay Canals. Experience a magnificent sunset over the water while you eat dinner at one of the many lakefront restaurants. Make it a memorable day in Las Colinas with any or all of these activities, then stay for the night at one of these lakefront hotels. Treat yourself, you deserve it!
#4 SEE A LIVE STAGE SHOW
MainStage Irving brings to the Irving Arts Center a play that's based on an intriguingly true story. Me & Jezebel recalls the time when star-struck Elizabeth Fuller's dream came true. In 1985, the legendary Bette Davis came to dinner at her house in Connecticut, but because of a hotel strike in New York, it was several weeks before she left. Did her favorite star lose her sparkle? Did they become besties? Find out at one of these showings on Sunday, Aug. 1 at 2:30 p.m. or Thursday-Saturday, Aug. 5-7 at 7:30 p.m. Admission is $21 - $28. PURCHASE TICKETS

#5 VISIT THE IRVING CONVENTION CENTER

Friday-Saturday, Aug. 13-14
Anyone interested in bodybuilding and fitness should stop by the Irving Convention Center for the Texas Pro & NPC Texas Classic. This event is one of the nation's largest bodybuilding competitions. The International Federation of Bodybuilding and Fitness athletes will vie for the IFBB Pro League Texas PRO championship with over $40,000 in prize money to be awarded. The NPC Amateurs will also compete to achieve National Qualification. While you're there watching the competition, stop by the vendor booths to purchase T-shirts, hats, protein bars and shakes, gym equipment, gain interesting tips on bodybuilding and staying fit, and much more. Times are 5 to 9 p.m. on Friday and 8 a.m. to final judging and award announcements on Saturday. Admission is $10 - $150. PURCHASE TICKETS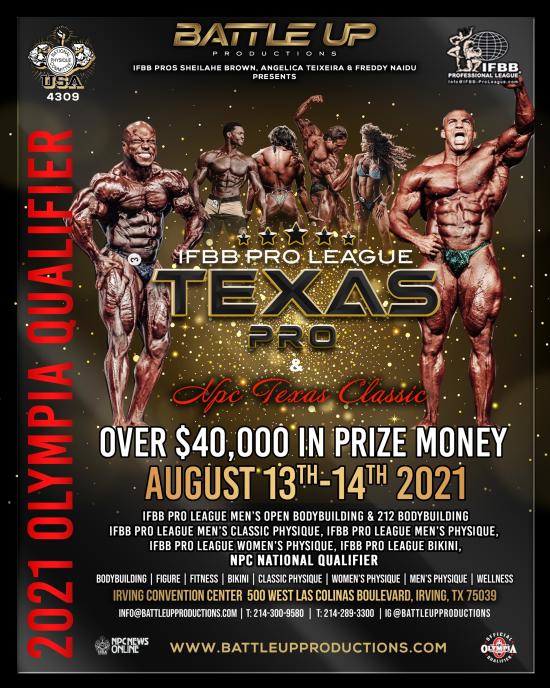 The National Physique Committee (NPC) is the premier amateur physique organization in the world. Since 1982, the top athletes in bodybuilding, fitness, figure, bikini and physique have started their careers in the NPC. Many of those athletes graduated to successful careers in the IFBB Professional League, a list that includes 24 Olympia and 38 Arnold Classic winners.
Thursday-Saturday, Aug. 19-21
There's a world of beauty to behold in the historic art of quilting. Also at the Irving Convention Center at Las Colinas, you can experience hundreds of stunning quilts created by artists competing for awards from accredited judges at the Original Sewing & Quilt Expo. The quilts will be sold at auction with all or a portion of the proceeds going to various charities. You can take a class or two, watch a presentation, enter drawings for prizes, and more. There are even pre-Expo workshops available.  General admission is $8 online or $15 at the door. Classes are priced differently and class session packages are available. The Expo hours are 10 a.m. - 5:30 p.m. on Thursday and Friday, and 10 a.m. to 5 p.m. on Saturday. PURCHASE TICKETS