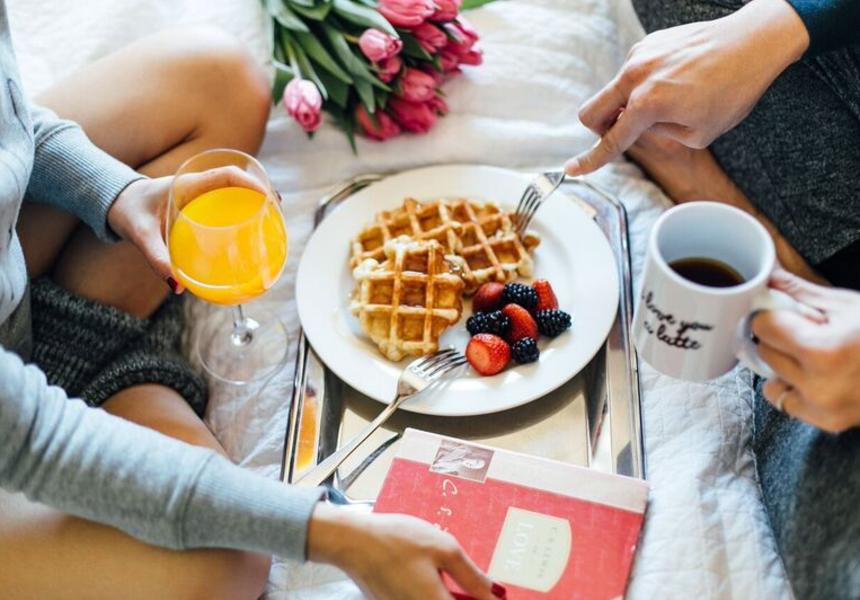 We don't usually celebrate Valentine's Day, because well…I'm just not into anything cheesy and lovey dovey like that (ever since I was a teenager, true story!). So when I noticed that Valentine's Day was like 2 weeks away from last weekend, I thought, hey, why not do a little staycation around my city of Las Colinas and have a little getaway with my little family. Any excuse to have a little getaway, right?
So last weekend we stayed at NYLO Hotel Las Colinas. And we loved it!
I like the modern and spacious loft design, with a touch of industrial decor around the hotel. The room is just the right size for our small family. To get the glimpse of our staycation, click play and don't forget to subscribe on youtube.
We got everything from waffles, chinese food, to fresh-cut tulips, turned on the TV and just chilled there. It's nice to not have to clean up and make your bed every once in a while.
Yes, J loves his orange juice. And I love spending a Saturday, not having to worry about events and what-not. I didn't even post anything on my social media that day! I think that's the essence of 'celebrating love' – as most people believe February 14th is all about. I personally like having J with us, because, well…my love is for him too, not just for Mr. Man. And it's just more convenient to have us all together. It's just the 3 of us anyways. But whatever works for you, kid or no kid, as long as you can have a little 'sabbath' from work and routines and getaway with your loved ones.
We talked, argued a little bit, ate, laughed, and rested. I don't know what they put in our pillows but we slept good that night. Cute coffee mug? I know! I got it from ILY Couture. It's on sale now so get it quick!
The next day, we had breakfast at The Loft at NYLO.
And Mr. Man played pool while Jerome chilled with his youtube videos.
If you don't have any plans yet for Valentine's Day weekend, NYLO hotel Las Colinas offers special rates starting at $199 per couple, which include a 1 night stay and 3-course dinner on the Valentine's Day eve (Saturday, February 13th) with delicious menus like Peppercorn Orange Poached Shrimp. Lamb Chops, and Chocolate Walnut Bread Pudding. Yumm!!
Book your stay now and if you don't know where to go or what to do during your stay around Las Colinas/Irving, check out Visit Irving's blog.
*in-room photos by Beckley.Co // in partnership with NYLO Hotels.