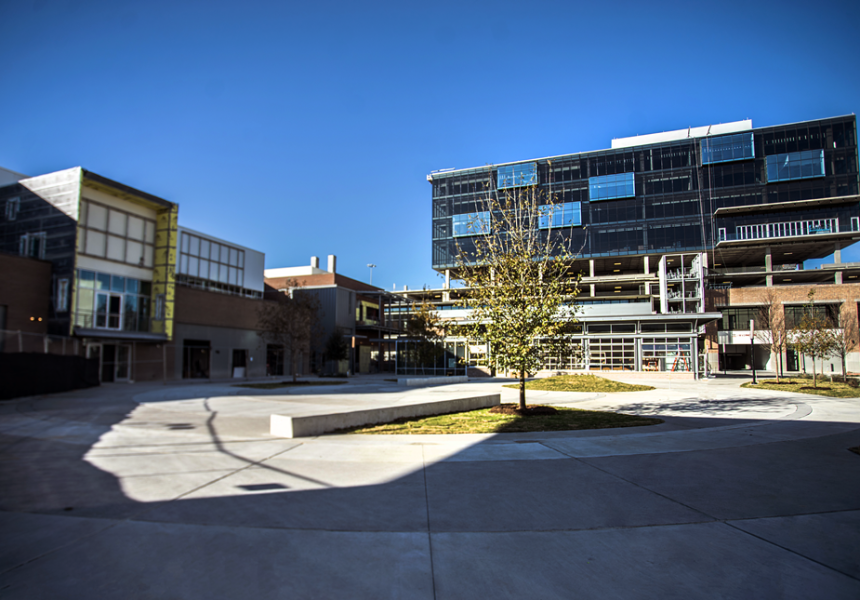 Lucky me, today I got a behind the scenes tour of Big Beat Dallas, a BIG tenant of the Toyota Music Factory in Irving, Texas...and it pretty much blew my mind. 
This bad boy is the creation of entertainment visionary Billy Bob Barnett – founder of Billy Bob's Texas in Fort Worth. Big Beat Dallas isn't a place in its own, it's a concept that encompasses SIX yes SIX original restaurant and bar concepts. Each one has their own live music stage with exciting, genre-specific artists performing daily. As I keep saying, Irving Rocks, but the volume is about to get turned up around here.

Here's what I learned: 
Texas Lottery Plaza – Open-Air Plaza
There will be two outdoor stages on the Texas Lottery Plaza with 365 days of live entertainment annually, six dining and drinking establishments surrounding the plaza and a daily Ranchers' Market in a pavilion covered by a retractable canopy that just happens to be the largest permanently installed Texas flag in the country.
Nightly entertainment with free admission until 9 pm, then a $10 cover charge
The Plaza will house a Farmers Market, featuring fresh, organic and seasonal produce, fresh flowers and a barista-inspired coffee shop. There will likely singer/song writers performing during the breakfast and lunch hours.
A single liquor license allows for open container beverages to travel from one location to the other.
Will offer World's largest social hour daily from 3 pm to 8 pm
Plaza Programming:
Monday – FREE concert night
Tuesday – house band
Wednesday – focus on heroes – fire, police, armed services + weekly trivia night
Thursday – fashion/style shows – retail and etsy marketplace
Friday-Sunday – programmed with different themes, just to name a few... Latin Fest and Texas Weekend
SIX CONCEPTS:
Led by the culinary talents of Executive Chef Robert Madrid, the dining destinations include:


Bar Manzanilla:
A coastal taqueria and tequila bar.  Every night, Bar Manzanilla hosts top DJs as they spin the hottest tunes. You'll find a DJ nightly from 9 p.m. to 2 a.m. Add it to your bucket list...trust us Chill Right Be
DJ nightly from 9 pm to 2 am

Chill Right Beer Tap
Martini Ranch:
Get ready folks for a Vegas-inspired destination for craft and nouveau cocktails as well as bottle service.  The area's top DJ's will be featured in special engagements.
Bottle Service
Big dance floor
state-of-the-art technology & lighting
Chill Right shots of vodka
big patio/balcony – will be best spot to see live music on the plaza stage
Only night they will be closed is Tuesday
Texas C-Bar
Celebrates with a wine collection as big as Texas itself.  The sommelier-managed list includes over 300 vineyards, plus a comprehensive, global Scotch menu.  Food is chef-driven and sustainably sourced, and complemented with impeccable service.  The C-Bar includes private wine rooms and a cigar lounge.
Top notch quality & service
Two components to this concept, you know like a Ritz Carlton type of experience
Cigar and scotch lounge with an elevated piano bar 9 pm – 2 pm
Wine room and dining - with piano bar, huge patio and chef's table for up to 12
Texas Jam House
Get ready to enjoy Billy Bob's family recipes with a Southern flair. The kitchen is open 24 hours a day and the relaxing porch features comfortable seating and an array of refreshing beverages.
Has the feel of an old cabin/ranch
Open 24/7 serving breakfast, lunch, dinner and late night dining
Features recipes from Billy Bob's sister, Wynona, who used to entertain politicians and celebrities at their ranch in Goldthwaite, TX. Favorite dishes will include chicken & dumpling, chicken fried steak , and so on.
Will offer take home pies, jams.
Features a BBQ express lane where you can approach window one on the plaza to order and pickup at window two
Highway 61 South
Celebrates blues with live nightly entertainment and Texas barbecue. 
Blues, bourbon, BBQ, burgers and beer
Wood-fired grill
Classic / vintage feel with paintings of musicians
Light fixtures are made from license plates of all the states along Highway 61
Features blues musicians that might just get their famed start performing at Highway 61
BB's Marketplace
Texas-y shop selling merchandise (hats, t-shirts, music cd's, etc.) + food (including steaks, salsa)
Big Beat Dallas will opening March 2018! Tell me which concept is calling your name? I'm looking forward to trying them all and reporting back real soon!