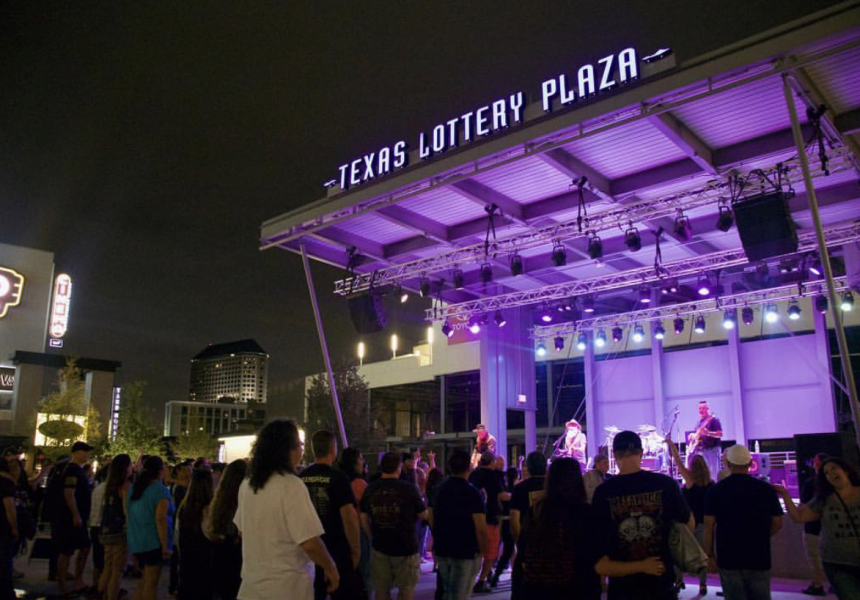 May is here and as the weather heats up, so does the lineup of live music coming to Irving, TX. Take your pick of performances taking place this month, from huge national acts to impressive local artists.
May 1–4
Thursday, May 2
English indie-pop band The 1975 play The Pavilion at Toyota Music Factory with Pale Waves and No Rome. The three UK acts all make danceable music that will keep you moving throughout the night.
Texas Lottery Live continues its Thursday night music series this month with A Hard Night's Day at the outdoor Texas Lottery Plaza of the Toyota Music Factory. For only $5 in advance (or $10 at the show), you can experience the magic of the Beatles through this faithful cover band that has been recreating the iconic band's hits for 20 years.
Friday, May 3
The Irving Concert Series is back for 2019 with free performances starting this Friday night at 7 p.m. Head to the Heritage Senior Center for this week's Music Under the Stars showcase with Mr. Carter Davis. A singer-songwriter from Dallas, his soulful vocals and acoustic stylings will help you ease into the weekend on a high note. Bring your own lawn chairs or blankets for the open-seating setup.
Also back for 2019 is the Irving Concert Series 4 Kids. The free series is geared towards toddlers and preschoolers, giving them a chance to learn, dance, and sing during the interactive performances. Stop by the Cimarron Park Recreation Center from 9 to 11 a.m. to see Emmy Award winner David Chicken sing and play guitar this week.
Saturday, May 4
Catch Johnny Dango at the Two Mules Cantina in Texican Court as part of the hotel's free live music taking place every Friday and Saturday night starting at 9 p.m. His Americana rock 'n' roll is well-suited for the Tex-Mex setting of Texican Court, where you can hang in the outdoor courtyard with a mezcal or tequila cocktail.
May 5-11
Wednesday, May 8
Metal fans won't want to miss the Final World Tour of Slayer coming to The Pavilion at Toyota Music Factory. The seminal thrash metal band is wrapping up a three-decades-long career with an epic farewell tour that began in 2018 and will see them perform over 100 shows worldwide. The Irving tour stop includes huge names in the metal scene, Lamb of God, Amon Amarth, and Cannibal Corpse.
Friday, May 10
The second installment of the Irving Concert Series, Music Under the Stars, is headlined by Party Machine, a high-energy Dallas cover band playing dance hits from across the decades. Known for taking weddings and events to the next level, you'll want to be there for this lively, free show at the Whistlestop Plaza.
Gather the little ones for this week's edition of the Irving Concert Series 4 Kids featuring Rockin' with Leonardo. The Chicago musician promotes literacy through songs like "Rockin' & Reading," and good manners with songs like "Show Some Respect." Bring blankets or lawn chairs for this free show at the Irving Soccer Complex.
Saturday, May 11
The Las Colinas Symphony Orchestra wraps up its 2018-2019 season with a performance featuring pianist Daniel del Pino at the Irving Arts Center. One of the leading international Spanish concert pianists, Daniel del Pino will perform Grieg's Piano Concerto in A Minor along with the tango and more.
Kali Uchis brings her sultry blend of pop and R&B to The Pavilion at Toyota Music Factory. Co-headlining with fellow songstress and songwriter, Grammy-nominated Jorja Smith, the tours see both critically acclaimed artists supporting their respective debut albums.
A new tradition begins with the First Annual Crawfish Music Festival at Green Gator from 1 to 5 p.m. today. Performances from MONA, Ron Bultongez, The Wild Frontiers, Sophia Annello, and Kelvin Thomas will take place outside on the Texas Lottery stage. Inside the Cajun sports bar, take advantage of drink specials and 3 pounds of fresh Louisiana crawfish for just $15.
May 12-18
Monday, May 13
Get your live music fix Monday nights at The Ranch at Las Colinas. The weekly Texas Local Live series features country singer Aaron Abila this week. Music starts at 7 p.m., but get there early for an interview with the artist starting at 6 p.m.
Friday, May 17
The Irving Concert Series, Music Under the Stars, concludes with Brave Combo. Based out of Denton, Texas, the band plays danceable world music and won a Grammy Award for Best Polka Album. The free show goes from 7 to 8:45 p.m. at the Whistlestop Plaza.
The final installment of the Irving Concert Series 4 Kids features father and singer-songwriter Bradley James Skistimas performing as his kid-friendly alter ego, The Juicebox Jukebox. His songs cover child-centric topics ranging from holidays and kindness to colors and numbers.
Head over to Gipsy Lime Taco Lounge for free live music every Friday night. You can enjoy gourmet tacos, margaritas, and beer by the pitcher while local Texas acts play from 6 to 8 p.m.
Saturday, May 18
With a career spanning over two decades, Latin Christian music singer and composer Jesús Adrián Romero has plenty of hits to perform during his concert at The Pavilion at Toyota Music Factory. The active pastor is sure to put on an inspiring and uplifting show.
May 19-25
Sunday, May 19
Take in the city's fine arts with a performance from the New Philharmonic Orchestra of Irving at the Irving Arts Center. The full-size community orchestra will play Beethoven's Leonore Overture No. 3, Berlioz's Roman Carnival Overture, and Dvorak's Symphony No. 9, "From the New World," starting at 3:30 p.m.
Tony Award winning actor and singer Ben Platt has recently traded musical theater for pop music, and will take the stage of the Pavilion at Toyota Music Factory as he tours his debut album, "Sing To Me Instead." Don't miss the chance to hear his soaring vocals fill every corner of the pavilion.
Thursday, May 23
This week's Texas Lottery Live music series gets funky with Marc Broussard, a Louisiana artist playing bayou soul, and fellow soulful singer-guitarist Kirk Thurmond from Dallas. The outdoor show at the Texas Lottery Plaza is $5 in advance, or $10 at the door.
Saturday, May 25
Touring his fifth album, rapper-singer Blackbear comes to The Pavilion at Toyota Music Factory with his blend of R&B meets pop. Electronic musician Elohim and rapper GASHI join Blackbear for what will no doubt be a Saturday night party.
May 26-31
Sunday, May 26
Kirk Franklin's Exodus Music & Arts Festival is back for a second year at The Pavilion at Toyota Music Factory. Franklin will headline the gospel music extravaganza, with performances from Fred Hammond, The Clark Sisters, Tasha Cobbs Leonard, Travis Greene, Vashawn Mitchell, and Kelontae Gavin. Festivities before and after the event will take place on the Texas Lottery Plaza.
Thursday, May 30
Reggaeton superstars Wisin & Yandel will have everyone dancing when they bring their Como Antes Tour 2019 to The Pavilion at Toyota Music Factory. The Puerto Rican duo are Grammy Award winners with a legion of fans, so get tickets before they sell out.
Friday, May 31
Say goodbye to May with a Party on the Plaza at the Texas Lottery Plaza. DJ Mr. Black is at the helm of this free, all-ages show going from 8 to 11 p.m. RSVP in advance for a chance to win the monthly giveaway.
Recurring