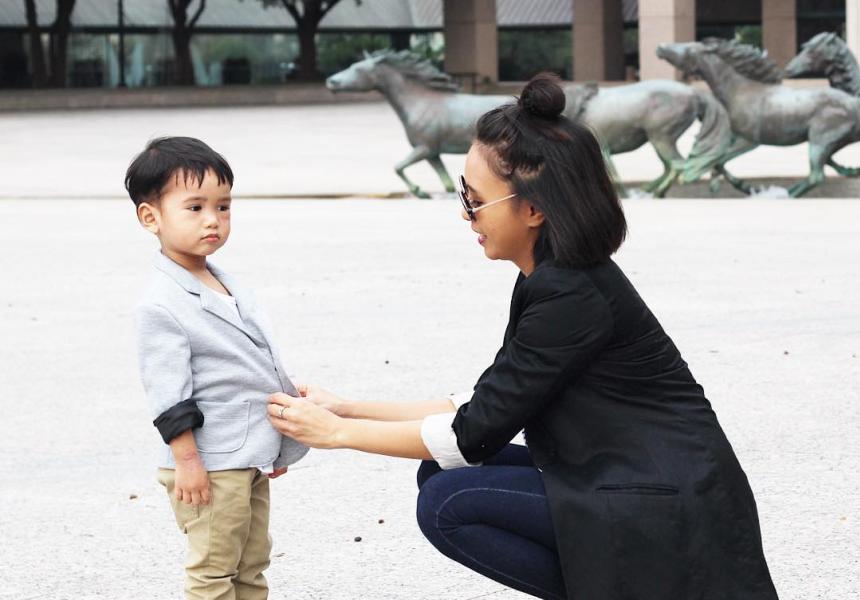 I once heard someone say, "Motherhood is powered by love, fueled by coffee, and sustained by wine." This quote got me chuckling, but I don't think it's entirely true. We moms run on so many other awesome things that we might not always get, but we love so dearly like mani-pedis, chocolate, movies, and late night Netflix binge when everyone else is asleep. So to celebrate Mother's Day this year, we've put together a fun itinerary, featuring some of the things mentioned above, for moms to make the most of the holiday in Irving. 
1. Brunch at The Ranch
857 W John Carpenter Fwy, Irving, TX
With its rustic décor and cozy yet classy ambience, The Ranch is known as one of the go-to spots for celebrating special occasions in Irving and DFW metroplex as a whole. For this special holiday, the restaurant is hosting a Mother's Day Brunch Buffet this Sunday from 9.30 am to 3 pm. This farm-to-fork buffet will feature 12 different stations including a carving station and a Texas corn meal waffles station with all the fixin's! Lighter options are available as well, with menus like Texas Gulf Snapper with Pecan Brown Butter and Cadillac Mac & Cheese. Adult rates are $46.95++ per person, while kids 4 and under get to dine for FREE! Click here to learn more about the restaurant and call (972) 506-7262 to make your reservations ASAP!
2. Mani-Pedi at The Four Seasons Well & Being Spa
7750 N MacArthur Blvd #160, Irving, TX
Nothing says "I love you mom" like giving her a chance to take care of herself. Moms often put others' need above theirs, so giving her a mani-pedi session at one of Irving's finest hotel spas is the least you can do! Fusing a spa, wellness, with indulgence and purpose, the Well & Being Spa at the Four Seasons hotel in Las Colinas provides head-to-toe treatments using quality products. Moms will definitely love the spa's Well & Being Ageless Manicure treatment, which features a three-step anti-ageing regimen (lasts about 50 minutes).  For a more relaxing treatment, go with the Therapeutic "More Than A Manicure", which focuses more on the vitality of hands and arms featuring jojoba glaze exfoliation and more! Learn More 
3. Drinks and Desserts at Big Beat Dallas
340 W Las Colinas Blvd, Irving, TX
Now that your nails are done and looking pretty, it's time for some drinks and desserts at Big Beat Dallas, mamas! This multi-entertainment-and-dining complex features so many different cuisines and cocktails to choose from, we know you'd find something you like! Head over to Bar Manzanilla for some sweet and creamy Flan and margaritas, while rocking to a live DJ. It's your day so why not let your hair down and rock your shoulders a bit, right? If you're in the mood for some wine and fancy cheese platters, head over to the Texas C Bar upstairs (opens at 5 pm), where you get to sip some fine wine from up to 300 different vineyards while enjoying a live jazz performance overlooking a gorgeous view from the patio. 
4. Watch The Full Monty at Irving Arts Center
3333 N MacArthur Blvd, Irving, TX
Your Mother's Day has been beautiful and awesome so far, so let's end it with a bang! Get ready to laugh out loud as you watch the cult classic musical comedy performance, The Full Monty, at the Irving Arts Center! This Tony award nominated show tells the story of a group of unemployed and jealous steelworkers who are looking for a way to make some quick cash by letting it all hang out (if ya know what I mean). It's quirky, bold, and fun – a great way to end a day dedicated to Moms. The show runs May 11-26, so you can definitely see it whenever it fits your schedule. Trust me, you don't want to miss this, Moms! Get you tickets.
Now, we're not gonna talk about all of these awesome stuff without giving you a chance to experience them for yourself! So we're doing a GIVEAWAY!!!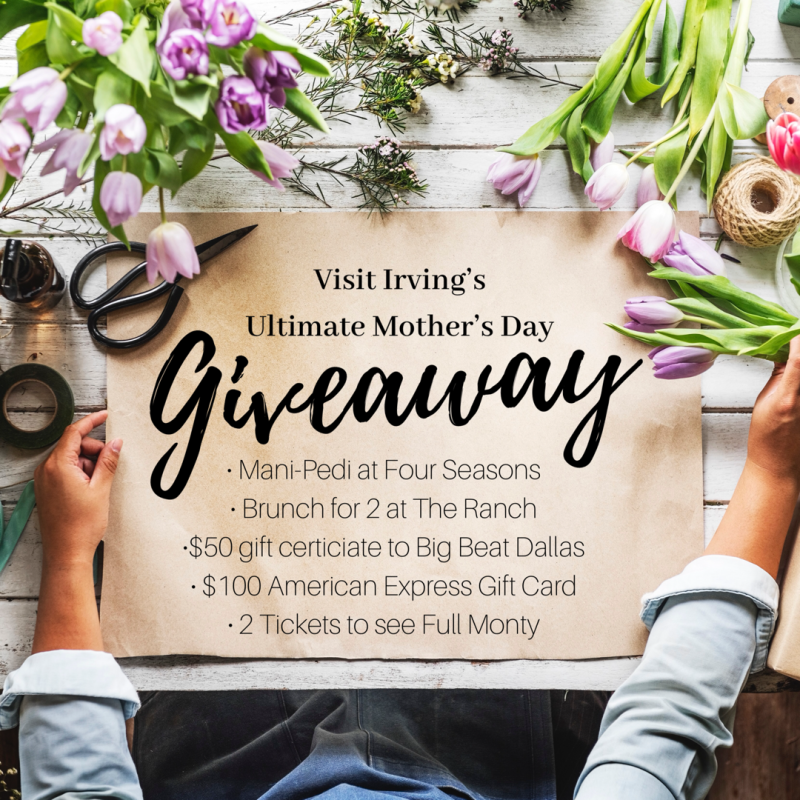 1 lucky winner is getting :
- Brunch for 2 at the Ranch ($100 value)
- Mom + Daughter mani-pedi at the Well & Being Spa at Four Seasons Hotel
- $50 gift certificate to Big Beat Dallas
- $100 American Express Gift Card 
- 2 tickets to the Full Monty (5/13) 
Head over to our Facebook page and Instagram for info on how to enter the giveaway. It ends at noon on Friday (5/11) so hurry!! We can't wait to have you celebrate Mother's Day in Irving this year :)