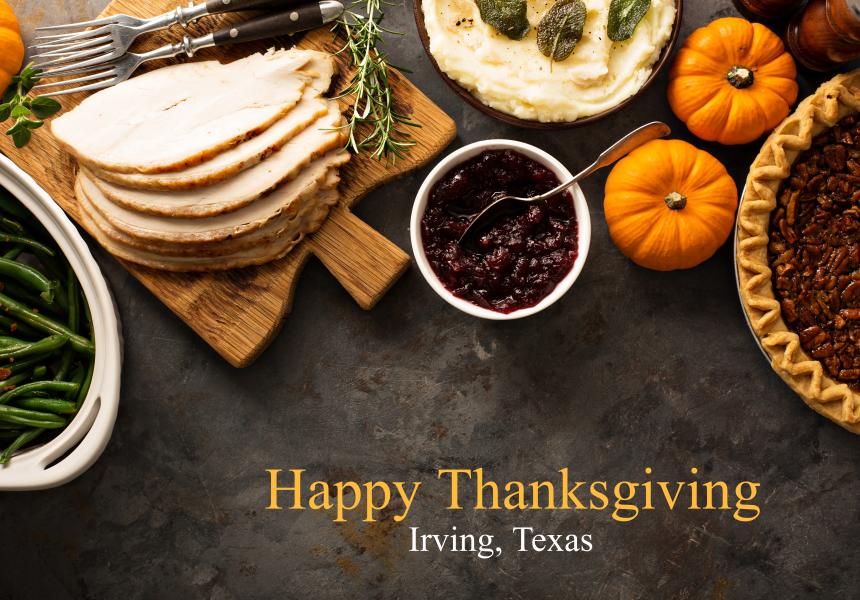 Want to dine out or are you having someone else cook your Thanksgiving meal this year? Here's where you can head to make that happen. What a treat to have so many offerings! Happy Thanksgiving, y'all! 
4150 N MacArthur Boulevard, Irving TX
November 28, 2019, 10:30 a.m - 6 p.m.
Visit the LAW at the Four Seasons to enjoy a holiday-inspired buffet and celebrate Thanksgiving with family and friends. LAW will feature live music to entertain both adults and kids. There will be a child-friendly buffet with all of the kids' favorites. Save room for dessert too. Pricing- Adults $95, Children under 12 $45 and children under 5 complimentary. (Pricing does not include tax & gratuity) Preview the Law Restaurants 2019 Thanksgiving Menu.
4070 N Belt Line Rd #100, Irving, TX 75038
972-255-3919
Don't miss out on some southern favorites this Thanksgiving at Po' Melvins in Irving. Thanksgiving meals can be pre-ordered and picked up prior to Thursday,  November 28th. All meals come with reheating instructions and include Turkey, Gravy, Sage Dressing, Mashed Potatoes & Sweet Potatoes, Green Bean Casserole, Cranberry Sauce, and Dinner Rolls. Take home a Po' Melvins Thanksgiving dinner and enjoy a hassle-free holiday. Serves 6 people for $75 or 20 people for $199. View Po Melvin's Restaurant's Thanksgiving menu. Call Mel today to place your order! 
109 S Main St, Irving, TX 75060
(972) 259-1123
Thanksgiving meals at Glory House have the option for pickup or delivery on the Wednesday before Thanksgiving, for re-heating the next day. Delivery/pickup will include options like hot disposable pans or disposable chafing dishes. They even offer full setup options along with servers, bartenders, and more. Prep for your family's memorable holiday and pick up your order at Glory House. View the full menu and catering options. They'll offer your traditional dishes, but also able to accommodate vegetarian and vegan preferences. Thanks, Glory House!

4. Outta The Oven
7979 N MacArthur Blvd, Irving, TX 75063
(972) 869-0015
8:30 am - 2pm 
Come to Outta The Oven on Thanksgiving Day for a traditional holiday meal. They'll be open from 8:30 am to 2 pm and you can expect Turkey, Mashed Potatoes, Veggies, and Pies. Outta The Oven is an Irving favorite, so it's a real treat that they are open on Thanksgiving day! Pie Orders need to be placed by November 26. www.outtatheoven.com
200 S. Jefferson St., Irving, TX 75060
(972) 721-2496
Our Senior community in Irving is the best, the Heritage Senior Center is organizing a special event to bring everyone together this Thanksgiving holiday. Festive folk music on Thursday morning will be followed by a traditional Thanksgiving lunch. Pre-payment and registration are required by 5 pm on November 19. Click this link to register.
3341 Regent Blvd #150, Irving, TX 75063
(972) 600-8526
InFretta is one of the newest restaurants on Regent Blvd, and they want to thank their customers this Thanksgiving. You can expect to have FREE smoked Zabiha Turkey and Mashed Potatoes. This is a free gesture to thank the customers for continued support. No purchase necessary. Learn more.
5420 N O'Connor Blvd, Irving, TX 75039
(214) 469-0590
There's still time to reserve your place on Thanksgiving at Hugo's. Enjoy an artisan, authentic, all-encompassing feast fit for every taste, diet, and desire! There will be dozens of organic, delicious Thanksgiving, Mexican, and Brunch-style entrees, sides, desserts, and more, with plenty of celiac and vegan accommodating options, all made without compromise! Be sure to make a reservation. If you've been to Hugo's in the past, they'd don't do anything halfway, this is sure to be a real treat. 
 
PIES
Just need a stellar pie to top of your Thanksgiving meal?  Try one of these amazing places that are no stranger to the pie game. 
425 W Irving Blvd, Irving, TX 75060
 (972) 253-7335
Visit Joe's Coffee Shop where Irving comes to meet and eat. You will want to get your Thanksgiving pies here, order by November 24th to ensure you have your favorite. $15 for meringue pies and $17 for fruit pies, also sugar-free pies will be available. You can expect Chocolate, German Chocolate, Coconut, and Lemon Meringue pies. Fruit pies will also be available like Apple, Pecan, Cherry, Pumpkin, Peach, Pineapple cream cheese, butterscotch and more. Visit their Instagram account for more options. www.instagram.com/joescoffeeshopirving 
2301 N O'Connor Rd, Irving, TX 75062
 (972) 255-8400
Look no further and come on down to Pj's Cafe. They have been one of Irving's best home-cooked meal secrets. Be sure you check out the pies to complete your Thanksgiving dinner. Get your Pie orders in by November 25th, and you can pick up a from at the Cafe.
Pies are $19 for meringue, $23.99 for fruit, $21.99 for sugar-free, and $27.50 for cobblers. You can expect German Chocolate, Peanut Butter, Chocolate Cream Cheese, Coconut Cream Cheese, and Meringue Pies. Then you have the Apple, Peach, Cherry, and Pecan Pie. Also there's Blackberry, Apple and Cherry Cobbler. So many great choices!
3. Outta The Oven
7979 N MacArthur Blvd, Irving, TX 75063
(972) 869-0015
The pies here at Outta the Oven are really outta this world. Everything here is delicious, and they are known for earning the top excellence award in 2017 for being the Irving Chamber of Commerce Best Bakery. They have it all here, so you must bet the pies here are divine. Be sure you pick up a pie order form at the location and have your orders in by November 26.
You can expect a variety of pie choices, such as icebox, nut pies, fresh fruit, mini pies, custard, meringue, specialty cakes, and other treats. For the fresh fruit pies, there's Dutch Apple, Rhubarb, Harvest Fruit, and Apple Praline. Be sure you check out the Key Lime, Buttermilk, French Coconut, Pumpkin, and Lemon Custard pies. And the cheesecakes are seriously delicious. No hassle, let Outta The Oven take care of all your desserts.