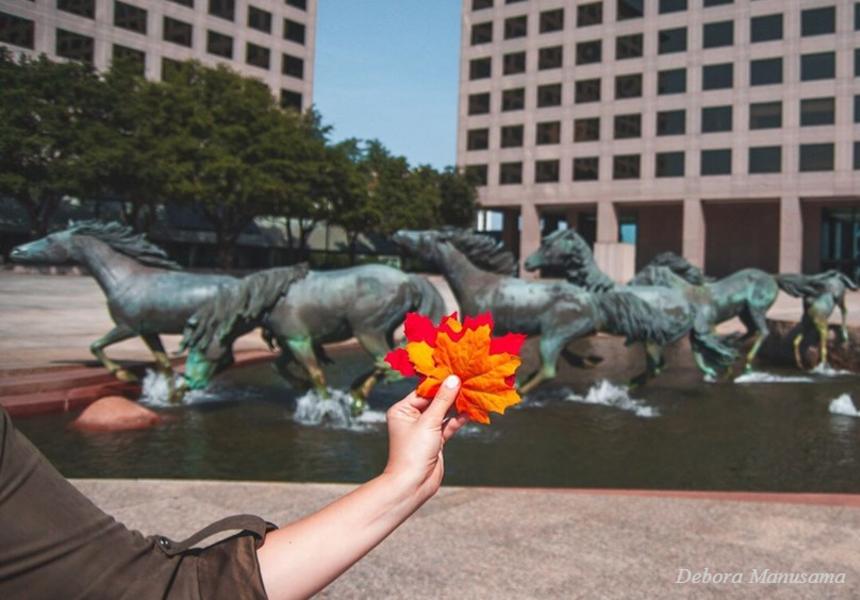 Irving is a great centralized location that is attracting many fun events, and the calendar is heating up.  Add these fun activities to your list today. 
October 4-6
Friday, October 4
Grab the family and bring them along to the Mustang Park Recreation Center for a Drive-in Movie. The FREE movie "Dumbo" will be shown outside on the gym wall. Bring your own chairs and blankets. Lawn seating is FREE!
Saturday, October 5
Come join the DFW Halal Foodfest.  It's a family-friendly event where $10 allows unlimited rides - train rides, rock climbing, bounce house, and bungee jump.  The dunk tank is $5 per turn. There'll be restaurants from all over DFW serving a variety of food!
Kick-off your weekend by treating yourself to local artisan creations and gifts while sampling food-truck fare each weekend at the Mandalay Canal Street Market.
Saturday, October 6
Start off October weekend with brunch at Cork and Pig located at Water Street in Las Colinas. Featuring the Fruity Pebbles french toast which is made with house-made bread coated in Fruity Pebbles cereal and topped with cinnamon ice cream and maple syrup. Their brunch menu is very unique with flavorful combinations. Satisfying those sweet and savory pallets. Grab a seat on the patio and enjoy the ambiance, trust me this will be your new brunch spot in Las Colinas.
October 12-13
Saturday, October 12
Texas Lottery Plaza at Toyota Music Factory is throwing their first Oktoberfest! This outdoor festival will feature live music from The Bavarian Brothers, a menu of German-style food & drinks, and contests & prize giveaways all day! Free admission and parking. 5-10 p.m.
Head to Whistlestop Plaza for Irving Fall Fest. What better to get in the mood for fall weather and activities. You will want to bring family, and friends to this event in downtown Irving. The Fall Festival will have all sorts of activities for everyone to enjoy, like a pumpkin patch, maze carnival games and more. Bring your cameras for fun pictures with beautiful backdrops.
The Irving Mall Farmer's Market is coming your way each weekend. It will feature a variety of vendors including fresh produce, gourmet popcorn, tacos, pupusas, cakes, etc! Located in the Sears Parking Lot.
Sunday, October 13
The United States-Mexico Cultural and Educational Foundation (USMCEF), is pleased to announce the celebration of the sixth edition of Fiesta Tecaliso, a traditional annual concert to celebrate Mexican and Hispanic Heritage music. This year Fiesta Tecaliso presents, Multi-Grammy Award Winner Vikki Carr, who will be accompanied by the extraordinary Grammy Award-Winning mariachi, Mariachi Los Camperos. Grab your tickets and come enjoy the fun.
October 15-20
Tuesday, October 15
In honor of Domestic Violence Awareness Month, the City of Irving Family Advocacy Center (FAC) will conduct a similar ceremony of remembrance for victims and survivors of domestic violence on the Mandalay Canal, plan to join Illuminate Irving. This event is free and open to the general public. Participants will enjoy food, artwork, children's activities, and music. In addition, participants can personalize a water lantern in honor of a victim or survivor that will be released on the canal at the conclusion of the ceremony. View the event's flier.
Thursday, October 17
Don't miss the last few Pic on the Plaza, before their gone and winter takes over! Bring the family and enjoy Beetlejuice. The show starts at 9 p.m. in Texas Lottery Plaza, hosted by Alamo Drafthouse.
Friday, October 18
Taj Express: The Bollywood Musical Revue is coming to the Irving Arts Center. This show is definitely a standout musical that has been receiving amazing revues while on their North American Tour. This musical is a celebration of Indian pop-music, iconic Bollywood culture, and traditional fashion. It shares the story of a struggling composer who finds success as he follows in the footsteps and inspiration of his idol. You will be amazed by the brilliant colors, high-energy dance scenes, and very talented live musical performances.
Friday-Sunday, October 18-20
Irving Convention Center is once again hosting Dallas Fan Days! Come get your cosplay on. The schedule of events will blow your mind. There will be discussion panels, exhibits, photo and signature opportunities. Come dressed up in cosplay and join in the costume contests or sit-in on live celebrity Q&A session. There is a large variety of events and plenty of fun for the entire family. Tickets are on sale now.
October 20-26
Sunday, October 20
The Sludge - As soon as October 1st rolls around, we're on the hunt for fun and unique Halloween activities. If you are the same, check out the Irving Arts Center film "The Sludge", an 80s throwback that will be sure to get you in the Halloween season! Tickets are available for purchase on the Irving Arts website for this Halloween Spooktacular film. This could be a fun date or activity with friends!
Thursday, October 24
Come out Thursday for Pics on the Plaza to watch a Halloween Classic The Nightmare Before Christmas. Food and beverages will be available for purchase. Don't forget your lawn chairs and blankets for this movie under the stars. Free admission and parking, the movie starts at 9 p.m.
Saturday, October 26
Take your kids on a creative outing to the West Irving Public Library for a Day of the Dead and Halloween craft activity. Good for kids and families of all ages, teens included. All of the supplies are included. Let your kids' imaginations run wild just in time for the holiday week on October 26th. They could create a decoration, card, or last-minute touch to their costume. The ideas are endless. Time 2:30- 4:00 p.m.
Calling all Heroes and Villains come out in your best looks for a night of Halloween fun at the Texas Lottery Plaza. You can expect to boogie down to the Fleetwood Mac tribute band, capture a spooky picture in the haunted house and of course a costume contest. The winners can walk away with some awesome prizes including cash, don't miss out on the fun. The event is from 7 p.m to 11 p.m.
Let your family get an extra trick or treat practice in before the big night!  Valley Ranch Candy Trail will feature a trick or treat lane and a haunted house for the braver kids! There's also a costume contest. Don't miss out on this great way to get into the spooky spirit!  Be sure you get a wristband to participate, register early to secure your spot for a fun evening.
Wednesday, October 30
TLC medium, Theresa Caputo is on her way to The Pavilion and will be giving our live readings to select audience members. This is sure to be a unique show. Tickets range from $44-$253.
October 31
Thursday, October 31
Get your Hocus Pocus movie experience on Halloween Day at The Lottery Plaza. This movie is absolutely the most enjoyable to watch enjoy this Halloween classic with family and friends on Halloween day. Food and drinks will be available for purchase. The show starts at 9 p.m.
📷 @mozdeb