Start your summer off with a refreshing 100% all natural frozen fruit bar from the Pop Factory, swing by Nosh and Bottle to pick up some gourmet cheese and select wine, then grab a concert before a late night dinner. There's a world of delights awaiting you at the Toyota Music Factory in Irving, Texas. I've picked my top five spots, but don't let that sway you from trying them all. Drop by our website at irvingtexas.com/restaurants/music-factory for more information about all of the fun you can find at the Toyota Music Factory.
INSIDER INFORMATION:
The Toyota Music Factory is located at 370 W. Las Colinas Blvd. 75039. With convenient access from all surrounding areas, there are a number of parking options available including on-site and adjacent parking garages. The Toyota Music Factory garage is located inside the music factory complex and is always open to guests. The adjacent Urban Towers garage is available after hours and on weekends and the Irving Convention Center garage is available during certain peak times. There is also limited surface parking in the music factory as well as valet parking during concerts and events at The Pavilion. View a parking map on the Toyota Music Factory website.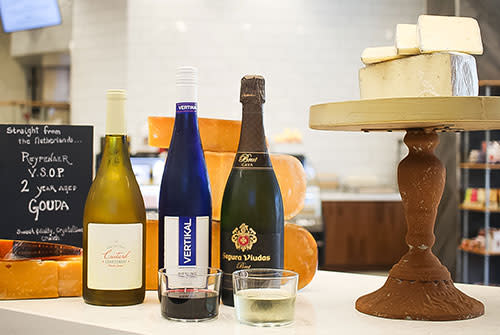 LOCATION: behind Bar Louie
PHONE: (469) 442-0808
The other day my friend and I dropped by Nosh and Bottle, where I was swept away by the selection of goodies and gifts there.  My chocolate radar zoned in on the gourmet chocolate stand, with some pretty overwhelming selections. Their variety of cheeses and meats will go great in any gift basket or summer picnic basket. There were fresh flower arrangements, gourmet snacks (I picked the Bison Jerky), and nearby office workers were sitting down to enjoy selections from the kitchen menu. Oh, and there's some terrific wine selections too. I'm sure I'm not covering everything here, so you need to treat yourself to some Nosh and Bottle, who by the way is holding their Grand Opening on Saturday, June 2, starting at 10 am. LEARN MORE
_____________________________________________________________________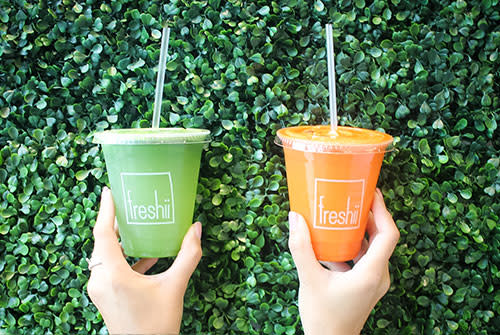 LOCATION: Facing Las Colinas Blvd between Pop Factory and Grimaldi's
PHONE: (469) 351-7516
At first I was a little hesitant to approach the counter at Freshii because there is such a variety of different foods. Do I get a bowl or a wrap? Do I add protein or go all vegan? Do I just grab one of their delicious smoothies? I wanted to be all cool and walk up to the counter like I knew what I was doing, but I didn't have to. Before I uttered a word, the gracious clerk made some suggestions while explaining how simple it is to build the perfect nutritious lunch. I went with the Chicken Cobb Wrap. Talk about an explosion of tastes, and that sauce! It's now my go-to, grab-a-quick-bite lunch option. The wrap was huge too, so I ate half of it for lunch and took the rest home for dinner. Okay, I ate it in the car on the way home, I couldn't wait. Freshii offers just what the name implies - fresh, healthy and delicious food. When you visit, be sure to ask about their punch card program where you can earn points toward freebies. LEARN MORE
_____________________________________________________________________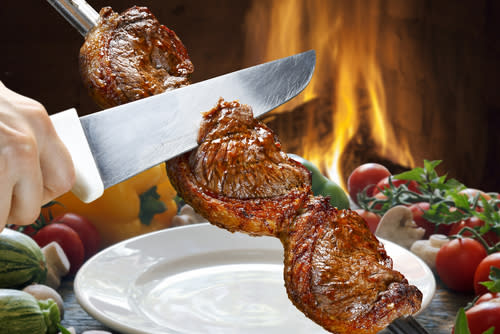 LOCATION: Corner of Las Colinas Blvd. & Fuller Rd.
PHONE: (469) 208-7977
I have to disclose that I am a Churrasco snob. My son-in-law is from Brazil, he and his family grill the best Picanha in town . . . or so I thought. And then I visited Boi Na Braza. Sorry son, but I still love you.
Churrasco is simply a Portuguese term that refers to the way the meat is grilled. Picanha is a prime cut of top sirloin. Put them together and you have a tender, juicy steak that is remarkably full of flavor. Of course their Gaucho Chefs prepare a variety of meats, as well as salads, side dishes and desserts. And Boi Na Braza offers complimentary valet parking, with the exception of event nights. They're a perfect date night place and they can accommodate large parties. Hint: Dad's love meat, so treat Dad for Father's Day and receive a complimentary dining card redeemable June 18 - August 9. LEARN MORE
_____________________________________________________________________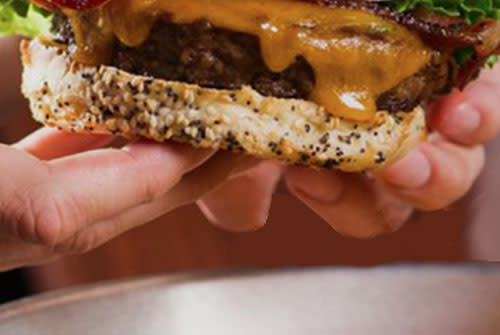 LOCATION: Between Thirsty Lion and Kabuki
PHONE: (469) 713-3424
Not many people think of going to the movies for dinner, but at Alamo Drafthouse, they serve award-winning cuisine, right to your comfy seat. Gone are the days where you have to grab a bite to eat before you get to the movies, now you can watch the movie AND eat a gourmet dinner. Plus they serve exceptional cocktails and some of the finest craft beers. What is summer vacation without going to see an afternoon movie in the middle of the week?  This weekend they're showing Solo: A Star Wars Story, Action Point, Upgrade, How to Talk to Girls at Parties, Adrift, Deadpool 2, Avengers: Infinity War, RBG, and Book Club. LEARN MORE
_____________________________________________________________________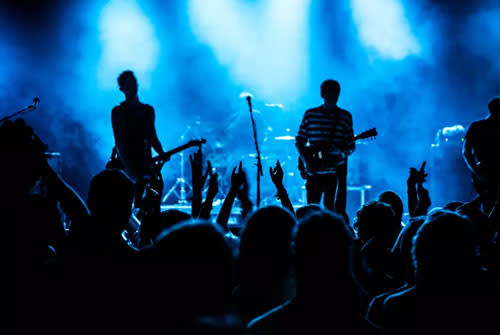 LOCATION: Box Office is between Boi Na Braza and Top Round
PHONE: (469) 713-3424
I am immensely excited about the variety of concerts and performers that come to The Pavilion each week. It's like having access to the whole world right in your backyard. They make it so easy to see who's coming to town, and ticket purchase is a breeze. I've sat in several different spots and there's not a bad seat in the house. This weekend you can catch Christian Nodal for his De Tu Mano Tour on Friday and Poison, Cheap Trick and Pop Evil on Saturday. LEARN MORE
_____________________________________________________________________
There are tons of other fun things to do in Irving this weekend, such as Date Night Downtown, The Bellamy Brothers at Southern Junction, and the Irving libraries are kicking off their summer reading programs. To get the scoop on area events, be sure to visit our website at www.irvingtexas.com and click on Events.