The Texas heat could be so unforgiving that we find ourselves getting thirsty more often these days! While water and lemonade could do the trick, we like to have a little fun every once in a while here in Irving, with these delicious cocktails to help us beat the heat!
Strawberry Lemonade Sangria at Bar Louie
360 W Las Colinas Blvd, Irving, TX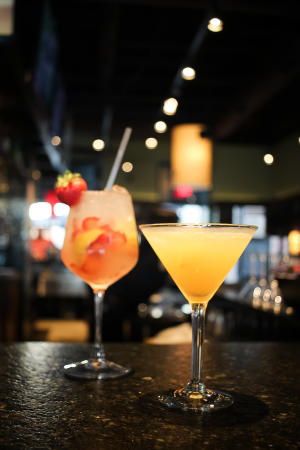 Made of strawberry vodka, pinot grigio, soda, cane syrup, and sliced strawberries and lemons, this drink is the very definition of a summer cocktail! It's fizzy, tart, yet sweet and fruity at the same time. Other fun options at Bar Louie include Pineapple Express and Effen Good. Check out their full menu here. 
Remolino at La Margarita
2922 N Belt Line Rd #5247, Irving, TX

Famous for their Rita Lounge, La Margarita is a great spot for mod-Mexican cuisines and margaritas of any kind! One of our favorites is their frozen margarita and sangria swirl called Remolino. It's tart, thick, and strong! They also serve other refreshing cocktails like Prickly Pear Martini and Mojitos. Click here to view their full menu.
Grapefruit Chūhai at Mr. Max Nippon Cafe
3028 N Belt Line Rd, Irving, TX

Made of carbonated water and alcohol distilled from rice, barley, and other ingredients, Chūhai is a Japanese alcoholic drink best mixed with citrus. At Mr. Max Nippon Café, it's served with the juice of 1/2 grapefruit that you get to squeeze yourself. It's light, refreshing, and pretty to look at too!
Beach…Please at Whiskey Cake
3225 Regent Blvd, Irving, TX

Made of coconut infused bourbon, cinnamon simple syrup, banana liqueur, lemon, and cream, Beach…Please a great summer drink that is light enough to be paired with brunch. We love the toasted coconut flakes on the rim too! Check out Whiskey Cake's menu here.  
Blackberry Bramble at The Ranch
857 W John Carpenter Fwy, Irving, TX

The Ranch's dimmed lighting and cozy ambience could definitely help shelter us from the heat. Another thing that could cool you down? Their Blackberry Bramble! Made of Wild Turkey bourbon whiskey, fresh lemon juice, and blackberries, this drink has got that kick that wakes you up! To check out other drink options, click here.