Irving has a barbecue joint and it's giving Dallas' well known spots a run for their money. Meet FM Smokehouse. Tucked away on Highway 114 with side roads that can make it a little hard to get to is a brisket making, Texas craft beer slinging down home yummy factory. Meat lovers will rejoice over this great find and everyone will enjoy their focus on made from scratch menu items using quality ingredients.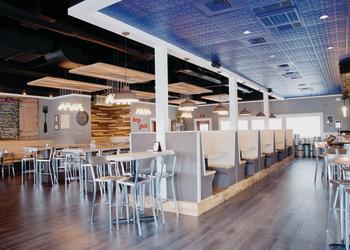 You'll love the modern and clean interior and the bar stocked with 42 different beers on tap, including 30 from breweries right here in Texas. Stop by real soon for their happy hour Monday – Friday 4-7 p.m. and their special tastings.
Now, let's get wild! Wild for Wild Boar Empanadas, that is. These four fried pies stuffed with smoked boar and cheese and served with a (512) Pecan Porter demi-glaze will make you rethink the traditional empanada. 
The tender boar meat has an explosively rich flavor that is accompanied by a delicate pie crust. Oh, and then there's the melty cheese that brings it all together. This dish is considered an appetizer but could very easily be a meal too. I was a huge fan of the sauce on top and asked for extra for dipping. The tomato salsa heaped in the middle wasn't your normal pico de gallo, but opened up the pallet to really appreciate the smokiness of the meat. I give this dish five stars and a promise to come and order it again soon.
If you Google FM Smokehouse, you'll hear about other menu items that have people...a lot of people talking. Take note of their Smoke Brisket Frito Pie and their White Cheddar Mac and Cheese. They are bucket list menu items everyone needs to experience.  This is the kind of place you want to take your out of town family and friends to experience, it's that good.
Until next time, FM Smokehouse.
Photo by Amy McCarthy, Dallas Observer. The Dallas Observer recently visited and gave their own review on the Wild Boar Empanadas, see what they had to say. 
Quick Facts
Location: 660 Walnut Ridge Drive | Phone: (972) 751-6633 | Menu | Website