December 30 marks National Bacon Day. Bacon lovers mostly agree that any excuse to eat some bacon is a good one.  
There's a big interest in this versatile staple, but there are a few destinations where it is a bigger deal than others. According to the American Meat Institute, these 10 American markets eat more bacon than the rest. 
New York, New York
Los Angeles, California
San Antonio/Corpus Christi, Texas
Washington, D.C./Baltimore, Maryland
Chicago, Illinois
Philadelphia, Pennsylvania
Houston, Texas
South Carolina

Dallas/Ft. Worth, Texas

Atlanta, Georgia
That's right, DFW, you love your bacon! So let's get ready for all things pork-tastic in Irving. 
Sweet Lou's
Bacon, Egg & Cheese Burger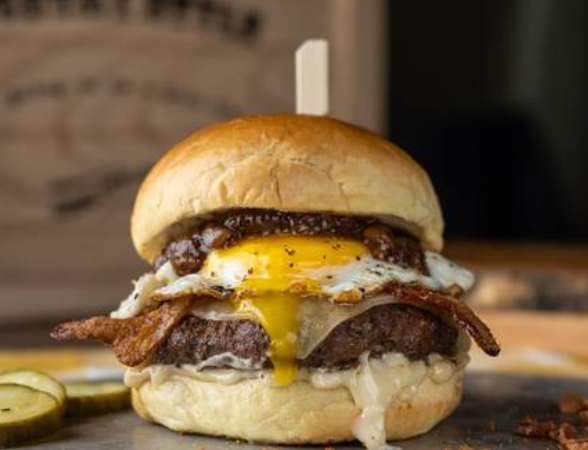 OK, so you're jonesin' for a burger with bacon but just any burger won't do. You're going to want to try this ghost kitchen, Sweet Lou's operating out of Bar Louie's kitchen and available for delivery. Sweet Lou's custom blend burger, white cheddar, bacon jam, candied bacon, fried egg, garlic aioli on a toasted brioche bun will have you pulling up your meal delivery app to become a repeat customer. 
Unicorn Dog
Bacon Dog and Bacon Mozzarella Dog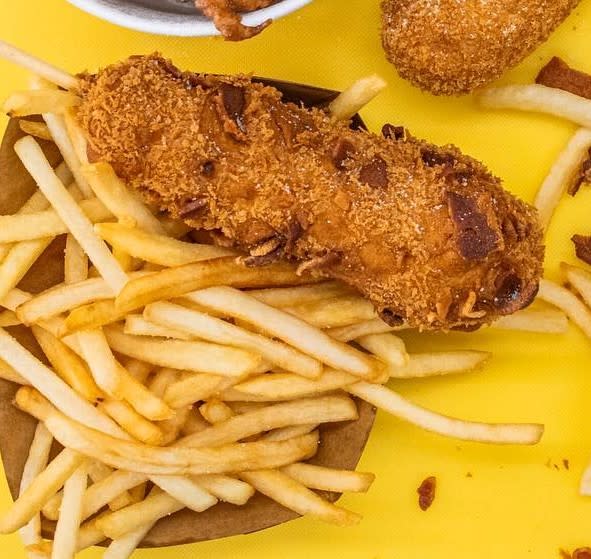 A Bacon Mozerella Dog will set you back a whopping $3.99! These creations put regular corndogs to shame. They have the perfect amount of crunch and don't forget the sweet coated batter is mixed with yummy bacon, what a beautiful combo. Thank you Unicorndog for this beautiful creation.
Cork and Pig
Deviled Eggs w/ Bacon
Of course, with a name like Cork and Pig, they have to make the list! I'm calling out their deviled eggs. These apps are filled to the brim with a creamy egg yolk mayonnaise and tarragon mixture then topped with a thick piece of, that's right, crispy bacon.
Blaze Brazilian Steakhouse
Bacon-Wrapped Jalapenos 
Texas-Brazilian-style bacon-wrapped stuffed jalapeños are said to be a customer favorite at Blaze. Keep your card on green to keep this dish coming. A Brazilian Steakhouse is such a fun and unique experience, we highly suggest a reservation! Dinner is starting at $24.95 and kids 7 and under eat free. 
Whiskey Cake
Chicken and Waffles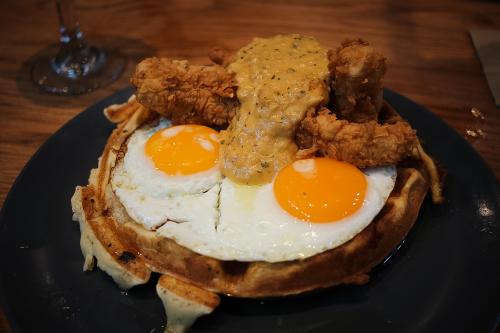 You don't see any bacon, but with a closer look, you will find this waffle is infused with it! Surprise, in the best way! Head to Whiskey Cake to enjoy a bacon-laced mesquite flour waffle, crispy chicken tenders, sunny up local eggs, maple syrup, house sausage gravy. Their brunch menu is chucked full of bacon and will knock your socks off. 
i Fratelli Pizza 
Del Blanco Pizza
This pizza at i Fratelli isn't just pizza in everyone's book. The del Bianco is at the top of the list of pizzas. Don't believe it? Try it and you'll be sold! This pizza pie is a base of creamy Bianco sauce and melted provolone, fresh spinach leaves, bright ripe Roma tomatoes and rich crumbled bacon. Now that's a well-balanced pizza.
Jam + Toast
Eggs Benedict and Sweet Hot Pepper Bacon Jam
Meet the B.A.T. Benedict which includes bacon, avocado, tomatoes, and cream cheese for $11.95. They don't skimp on the hollandaise sauce. If you need even more bacon in your life, be sure to ask for a side of their homemade jam, and of course, we suggest the Sweet Hot Pepper Bacon Jam.
Original Pancake House
Bacon Steak n' Eggs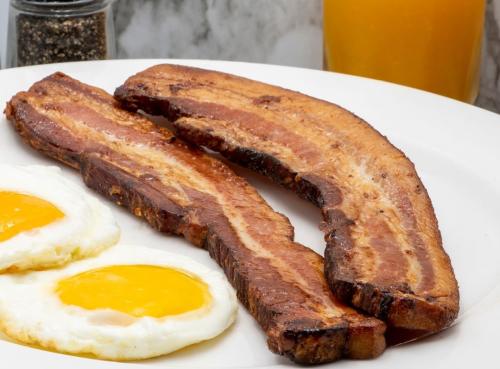 Bring a hearty appetite, all you bacon connoisseurs. What is Bacon Steak? Well, it's a 1/2 inch (tall) piece of bacon. Cue the heart eyes! This bacon steak and egg combo will fill you up. The thick cuts of bacon are served with two over-easy eggs and mouth-watering buttermilk pancakes.