When it comes to having a great meal in Irving, you can't forget about the BBQ. Irving's BBQ scene is dishing out bold flavors, juicy meats, and family friendly atmospheres. Bring the family to some of these local favorites in Irving and see which one will be your family favorite.
Post Oak Smokehouse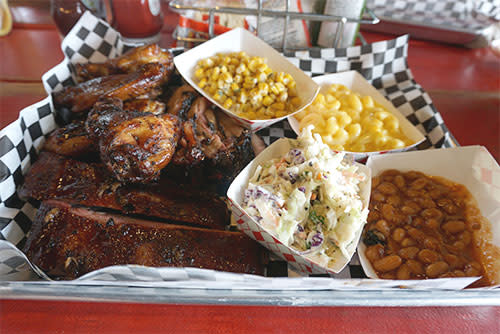 Gather up your friends and family and come down to experience Post Oak Smokehouse, because this is a great BBQ restaurant that is making a name for itself here in Irving.
The Post Oak menu is simple but the meats are superb. What I like about the menu is that you can expect daily specials throughout the week, like wings, prime rib, pork loins and more. These items are not featured on the daily menu, but are a great option to explore.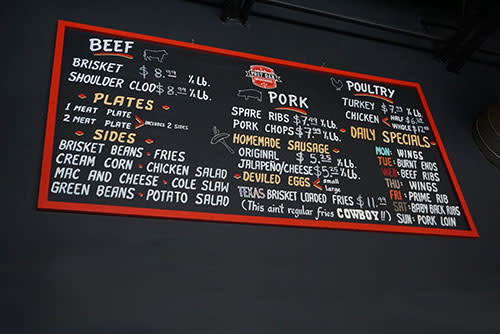 I ordered the two meat lunch and half order of wings. The sliced brisket was tender and melted in my mouth as well as the ribs. The sides are served buffet style and I really like it that way. The choice of sides is great from the baked beans, coleslaw to the potato salad, corn and more.
The lunch time crowd is very supportive of this place because it's obviously great barbecue, but it's still easy to find great seating either inside or outside on the patio. I opted for inside seating to watch some ESPN Sport Center that was visible on the three flat screens. This can be a great BBQ place to catch up on sports news, or watch a game. Of course, it's always better to watch Sport Center when the Dallas Cowboys are winning.
Experience Post Oak BBQ in Irving and see what the locals are raving about. On recommendation from a friend, I hear the burnt brisket ends are a delicacy to enjoy.
Or, you can explore these top 3  BBQ joints in Irving that are worth visiting and what you should order when you visit.
Red, Hot & Blue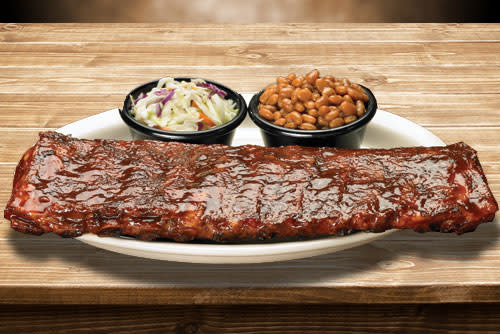 Come to Red, Hot & Blue and chomp down on some juicy ribs. These award winning, St. Louis style ribs are worth every bite. They are served either wet, dry or sweet along with BBQ beans and creamy cole slaw as a meal. The wet ribs are slowly smoked on hickory wood and smothered in sauce. The sweet ribs are covered in their Sufferin' Sweet BBQ sauce, and the dry ribs are smoked Memphis-style and sprinkled with a special blend dry rub. Explore Red, White & Blue and see why these ribs are special.
Spring Creek Barbecue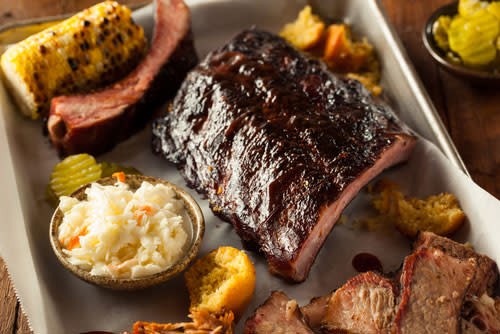 Chow down on the sausage plates and sides or challenge yourself to their loaded baked potato "All the way," which is a giant baked potato with bacon, chives, sour cream and cheddar cheese. Getting the meat by the pound at Spring Creek Barbecue is a great value option that my family has enjoyed for get-togethers. Choose from the family ribs, chopped beef, brisket, pulled pork and even a whole chicken chopped.
Dickey's BBQ Pit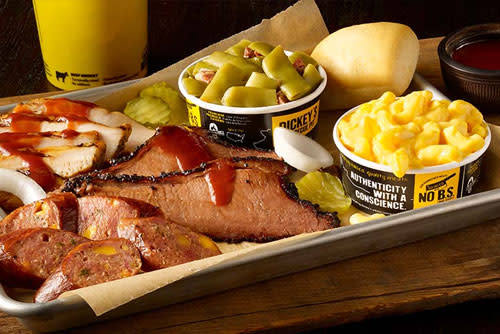 Come with a big group to Dickey's Barbecue and enjoy some tender and juicy brisket. I suggest you order the XL plate which includes 3 meats (1lb each), 4 home-style sides, 8 rolls and BBQ sauce. This is great for an economic family night out and you can leave here fully satisfied with a great BBQ meal. And did you know that you can pre-order a holiday meal at Dickey's, including the main meat, sides, dinner rolls, gravy, dressing, pie and iced-tea by the gallon.