Cheers, y'all! We've made it to Wednesday which means it's almost the weekend and time to relax with some refreshing whites or bold reds. Whichever side of the vineyard you gravitate toward, let's all raise our glasses and explore the best places in Irving to stock up for Wine Wednesday.
Nosh and Bottle Market
370 West Las Colinas Boulevard #100
Nosh & Bottle, located in Toyota Music Factory, offers a wide range of bottles for sale as well as by the glass if you want to enjoy your grapes with some live music and great service. Prices range for under $20 to over $50 which ensures every wino finds their perfect bottle. If you're looking to take your wine poolside this Wednesday to beat the Texas heat, Nosh and Bottle has canned champagnes and wines available. Easy to keep chilled in a cooler and no worries of glass by the pool. Be sure to keep an eye on their Instagram page (@noshandbottle) for special offers like BOGO ½ off bottles under $100. I recommend ordering their incredible charcuterie board to-go, grabbing a bottle of Chardonnay or Pinot Noir, and having a picnic to enjoy a Texas summer sunset.
Total Wine & More
MacArthur Crossing 7730, N MacArthur Blvd Suite A
If you have driven down North MacArthur Blvd in the last 7 months, you may have noticed the new Total Wine location in Irving. One of the largest wine selections you'll find in a liquor store, you will surely checkout with your favorite bottle. With wines from all over the world and guidance from several expert wine concierges, you will explore new regions, new grapes, and open up your palate to the wonderful world of wine. Not only is their bottle selection impressive, but you will find a wide array of accessories like glasses, corkscrews, wine racks, decanters, and bags to make taking wine on the go much easier and stylish. This would be a great stop before heading to a local BYOB restaurant like Villa's Grill, Cavalli Pizza, Michael's Italian Kitchen, or Andalous Mediterranean Grill to name a few. 
Kroger
MacArthur Park, 7505 N MacArthur Blvd
www.kroger.com/d/beer-wine-liquor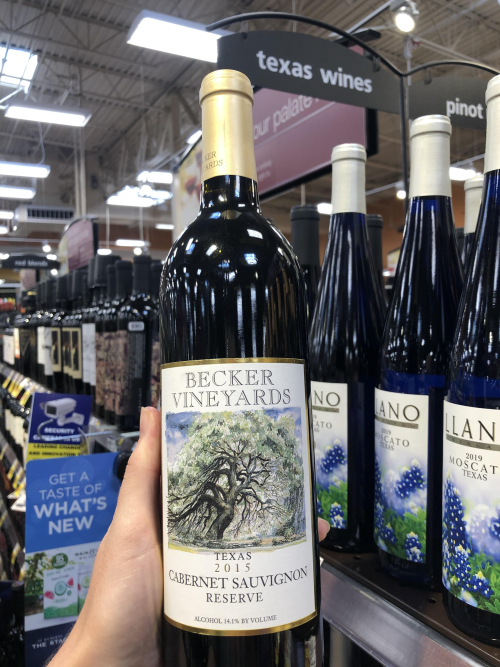 While wine may not be the first thing you think of when you think Kroger, they do have an incredible selection that also features several Texas wines. Just roll your cart on over to the "Texas" section of the wine aisle and you'll find reds, whites, and rosés all from the Lone Star State. A personal favorite is Becker Vineyards Cabernet Sauvignon Reserve. 100% Texas grapes and 100% delicious with notes of cherry, vanilla, baking spices, and coffee. Grab a few different fresh cheese and meats from the deli counter for the perfect date night at home or even kicking back in your hotel room while in town for business. If in the mood for takeout, these Texas wines would pair great with a brisket and ribs platter from Post Oak Smokehouse, perhaps a robust red wine. If in the mood for Mexican food, tamales from La Margarita would be delightful with a rosé.
While Kroger is no hidden gem, you're sure to find one in your neighborhood and can always rely on their wine selection.
Wherever you buy your wine today, whether you stick to your classics or try a new bottle, I want to wish all a happy and safe Wine Wednesday! Cheers!