Let's face it, the hot dog days of summer are upon us and with these Texas temperatures, who wants to cook inside? It's Takeout Tuesday anyway so why not grab a hearty sandwich to go for lunch or dinner? You say you've had sandwiches all summer long? Well, these aren't just any 'ol ordinary meat and bread meals. We're talking innovative, satisfying works of art. So sammich on up to the counter and sink your teeth into one of these delectables. 
Crispy Pimiento Chicken Sandwich
RESERVOIR AT TOYOTA MUSIC FACTORY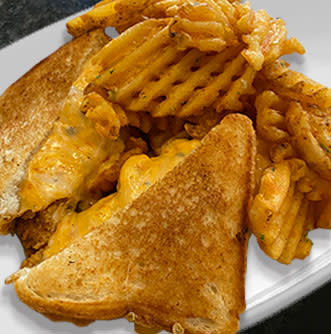 The Reservoir dishes up some comfort food that's just spicy enough to keep your taste buds dancing around the fire. Their Crispy Pimiento Chicken Sandwich is buttermilk-battered and fried chicken breast, spiced just right, and stacked on griddled Texas Toast. If that weren't enough, they add Swiss, pepper jack, fresh tomato, local pickles and house-made pimiento cheese. Yes, please! Call in for takeout orders at (469) 351-7112.
Bacon and Brie Sandwich
NOSH & BOTTLE AT TOYOTA MUSIC FACTORY
At Nosh & Bottle, they really know how to dress up a sandwich with color, texture and taste. The combination of center-cut smoked bacon, grilled onions, fresh spinach, double cream brie, and bacon jam layered inside a ciabatta loaf offers just the right amount of sweet and salty flavors that compliment each other very well. Their homemade potato chips are hearty and flavorful too. Pair these with a bottle of Athena Chardonnay, a luscious and creamy wine with bright aromas of Stone Fruits, dotted by hints of pineapple for a sophisticated, multi-layered taste. Order your takeout online or call (469) 442-0808.
Cranberry Kelli
CHICKEN SALAD CHICK
Spoon up some plain chicken salad or enjoy as a sandwich inside a flaky croissant or fresh wheat bread, you can never go wrong with Chicken Salad Chick. A blend of all-white meat, shredded chicken, mayonnaise & their secret seasoning is complimented with a mixture of dried, sweetened cranberries & slivered almonds. I prefer the Cranberry Kelli in a flaky croissant with a side of mixed fruit. Order takeout online or call (469) 629-7062.
French Dip au Caramelized Onions
LA MADELEINE
We're talking premium roast beef with caramelized onions, melted provolone and house-made horseradish mayonnaise baked on a baguettine and served au jus. It makes my mouth water just thinking about that burst of au jus in every bite! And don't forget dessert. I mean, La Madeleine is a French bakery after all. Order your takeout online or call (469) 385-1700.
Sizzling Steak and Cheese Sandwich
CAPTAIN NEMOS
The Steak and Cheese is their signature sandwich and it is oh so good.  Captain Nemos uses tender sliced ribeye steak, grilled to perfection and topped with cheese. It's served with crispy garden lettuce, red ripe tomatoes, sweet onions, special seasoning, vinegar and oil, all built on their own freshly made Italian roll. You should also try some of their carrot cake. It's from their own family recipe, made right there in the bakery. Call in for takeout orders at (972) 438-7777. They boast you'll be in and out in five minutes.
Now for a bite of social sammich
Liking, sharing, and posting on Facebook and Instagram takes minimal effort but has the potential to make an impact for our community restaurants. Another quick, easy way to support local right now is by writing positive reviews on Google and Yelp. This simple gesture will have a longer-lasting impact. When restaurants become a mainstay again —and tourists inevitably return— glowing words can only help attract more people.
ENJOY!