"Dream big or go home." It's a phrase I've used throughout my life - at work, at home, as a sports fan. But as life has changed the last two months, maybe we should change this around. "Stay home but continue to dream big." And with more time at home these last couple of months, we can dream of big adventures ahead! 

For months, the travel and tourism industry has experienced unprecedented events. No planes in the sky. Hotels become ghost towns. Restaurants shuttered or only offering curbside pick up. Attractions closed. The last two months have changed the world of travel. But as this has happened, we can still dream of our next trip.

My parents instilled in me a desire to travel at a young age - whether it was the dude ranch near Durango, Colorado that we visited 10 summers of my childhood, a weekend trip from Oklahoma City to go to Six Flags, or convincing 15-year old me that I should go with the German Club on a Spring Break trip to Germany.

That desire has continued throughout my adult life. I took a job at American Airlines after college. My plan was just to stay a couple of years, go to grad school, and go from there. But after that first international trip (Stockholm and Copenhagen), I was hooked. I knew travel was in my blood, and I'd spend the rest of my life dreaming of the next adventure, the next new place, the next trip back to one of my favorite destinations. I've visited 44 states, over 30 countries, and four continents. I know there's a whole lot more out there to still see.

So during this pandemic, when I haven't been able to actually travel, I can still dream and plan. I've thought of some of the best travel inspirational quotes that I've referenced over the years. I want to share those with you in hopes of inspiring you to dream of your next travel adventure.
 
#1 – "Oh! The Places You'll Go"
– Dr. Seuss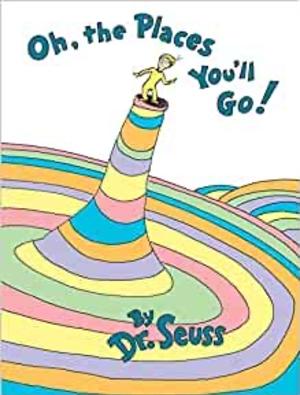 Who doesn't like a little Dr. Seuss in their life's philosophy? He taught us to like new things (Green Eggs and Ham), to care for the environment (The Lorax), we are all equal (Yertle the Turtle), and so much more. In "Oh! The Places You'll Go," the last book he wrote, he teaches us about life, courage, and perseverance. This time of year, this book is frequently given to graduates starting down a new path. But it's also a good thought about travel. "You'll be on your way up! You'll be seeing great sights! You'll join the high fliers who soar to high heights." So, where will you go?
#2 – "Wherever you go, go with all your heart."
– Confucius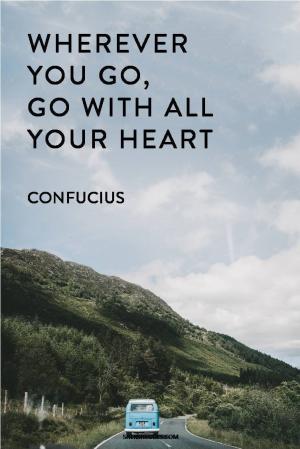 Confucius was an ancient philosopher that also taught us about life. There are so many different meanings to this quote, but from a travel perspective, I think he's saying when you travel, go with all that is you. Your heart will be filled with joy and memories. Be open to new experiences. Tony Bennett couldn't have left his heart in San Francisco if he hadn't first traveled there to discover the beauty of the city by the Bay!
#3 – "Take vacations. Go as many places as you can. You can always make money. You can't always make memories."
- Anonymous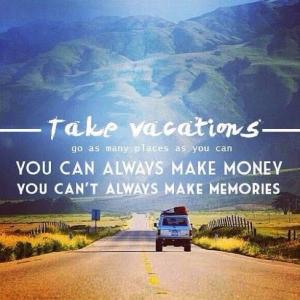 Yes! A thousand times, YES! Go! Travel. See the world. Get out of your bubble. Learn new things. Experience new cultures. Pack up the family, and take a road trip across Texas. Never pass up an opportunity to go somewhere on your travel wish list. I find myself dreaming these days of my next vacation to Hawaii, a place that's like my second home.
#4 – "The world is a book. And those who do not travel read only one page."
– Saint Augustine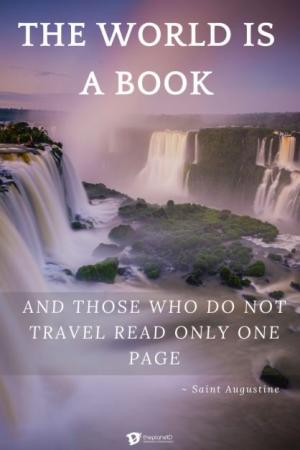 How's that bucket list of yours? Start dreaming about where life takes you. Travel can be one of the most life-changing aspects of your life. If you never travel, do you have a complete perspective of the world? You don't have to travel the globe to turn a new page. Sometimes it's to a new neighborhood, just in your own backyard. Maybe it's experiencing new cuisine, or trying that new seafood and sushi restaurant in Las Colinas. Or maybe it's going on an African Safari. Or maybe it's somewhere in between. Go explore! Add more pages to your book.
#5 – "Don't let your anchor hold you down forever. Eventually you'll have to sail to a new adventure."
– Anonymous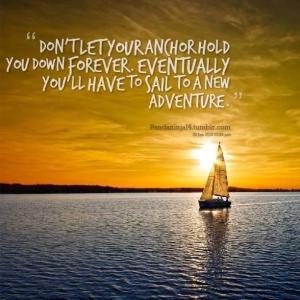 I've used this phrase when I've started new career paths, but it also follows along with what St. Augustine was saying. Don't stay in one place – go discover new adventures.
#6 – "Investment in travel is an investment in yourself."
– Matthew Karsten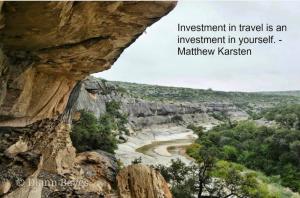 Karsten is a full-time adventure travel blogger and photographer known as the "Expert Vagabond." What he's telling us is that when you travel, you learn new skills, you meet fascinating people, you learn about yourself, and you become a better person because of what you've seen and what you've learned.
Photo: Diann Bayes
#7 – "Travel is the only thing you buy that makes you richer."
– Anonymous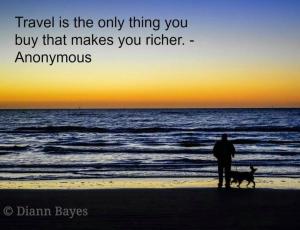 Along with what we hear from Karsten, this continues that message. Invest in travel, and you will be a richer person because of it – richer in experiences, in memories in knowledge, in cultures, and in so much more.
Photo: Diann Bayes
# 8 – "A mile of highway will take you just one mile...but a mile of runway will take you anywhere."  
- Anonymous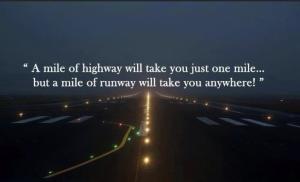 The airline/aviation geek in me loves this one. It's so true. Whether it's a short hop to see the family or a long-haul flight halfway across the globe, a flight is a gateway to new adventures. I remember my first flight – a trip to Walt Disney World when I was nine years old. I remember my last flight – from Orange County in early March right before the virus was declared a pandemic. I can't remember every flight in between the two, as there have been hundreds, maybe thousands. But I do remember where I've been and the memories that will stay with me forever!
Start local then go global

We've all been cooped up for months. We're anxious to get out and explore and travel once again. We are nervous as to what the new normal means. We all will go at our own pace, but we will travel again. When we do start to travel again, we'll start small. We will stay local. One of the best staycations my wife and I had was a Valentine's Day weekend at the Four Seasons in Irving – a day at the spa and pool, dinner across the street at Via Real's with a huge swirl. I'm ready. I could do that again. Find an adventure right in your own backyard. Find somewhere local you haven't been. Try that new restaurant.

After we've done the local travel, we may feel more comfortable venturing a little further. We might not want to fly, but we can get in our cars and explore. Texas alone has so many day trips or weekend trip opportunities. Or maybe it's a venture slightly further. I know what I'm missing this summer – it's Omaha - there's something about a mid-June evening at TD Ameritrade Park watching the College World Series. My Horned Frogs were off to a great season this year. This could have been the year we made it back to Omaha. But then the pandemic hit, and the season ended. I can still dream of being there this year.

Then, again, once we're comfortable, we can go more global. Maybe it is time we plan that African Safari. Or finally, go to the land down under. Or maybe we go back to Italy for the third straight year. Or go discover one of the Eastern European jewels I have yet to visit. Where ever it is, I will be dreaming about travel. We will travel again. We will! Keep on dreaming.

Where will you go?