Welcome to August 3rd on the National Day Calendar. Today we celebrate the juicy deliciousness of the refreshing summertime watermelon, and who doesn't heart watermelon? So here are some watermelon-inspired cocktails, treats and even a few not-so-secret recipes from Irving eateries that are going to make your participation in this summer holiday lots o fun! 
Y'all Gonna Make Me Lose my Rind Cocktails
Mexican Sugar
Machete Margarita
Sweeten up your summer at Mexican Sugar when you sip on a Machete Margarita made with fresh squeezed watermelon juice.
The Lakehouse Waterfront Lounge at the Omni Las Colinas Hotel
Summer of Spritz Cocktails - Salted Watermelon Highball
Enjoy this sparkling delight at the Omni Las Colinas at their new Lakehouse Waterfront Lounge... or make your own at home!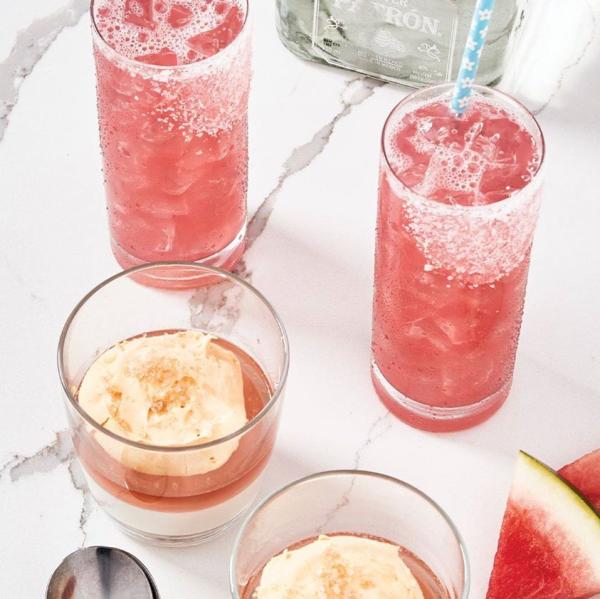 SALTED WATERMELON HIGHBALL RECIPE
1.5 oz. Patron Silver Tequila
2/4 oz. Lime juice
1 oz. Finest Call Watermelon Puree
1 oz. Chandon Brut
Salt for rim to taste
1 Watermelon slice each
INSTRUCTIONS
Rim a glass with lime juice and salt.
Fill glass with ice and add all ingredients.
Roll ingredients into a mixing tin and back into glass.
Garnish and serve.
Yard House
Salted Watermelon Margarita
Yard House has a wide selection of unique libations including this refreshing little concoction of el jimador silver tequila, cointreau, citrus agave, watermelon purée, and lime with a lightly salted rim. 
Po' Melvin's
Watermelvin Margarita
Named after restaurant owner Mel Lemane, this delightful drink is sure to please. Pop into Po' Melvin's for some cajun comfort food to pair with your New Orleans style cocktail or whip it up at home!
WATERMELVIN MARGARITA RECIPE
Mix Together:
9 oz Tequila
6 oz Triple Sec
3 oz Watermelon Pucker
3 oz Sweet & Sour
10 oz Watermelon Puree
Two Mules at the Texican Court
Mexican Candy Poptail
You can try the Mexican Candy Poptail at home right now! (recipe below). Tequila (obvi), watermelon and Sprite are punched up with some hot sauce and a Tajin rim. (Just because it's hot outside doesn't mean our mouths can't be on fire.) To temper the cocktail back down, you can take a lick of the mango or lime Pop Factory popsicle stuck right in it.
If you want to check out this watermelon delight at the Two Mules Cantina, you'll have to wait til the end of the week. Heck, why not make it a Summer Staycation and book a "Poptails for a Purpose" Package for the weekend. Two Mules Cantina is open Thursday - Saturday from 4:00 PM - 10:00 PM! Poptails are available through the end of August.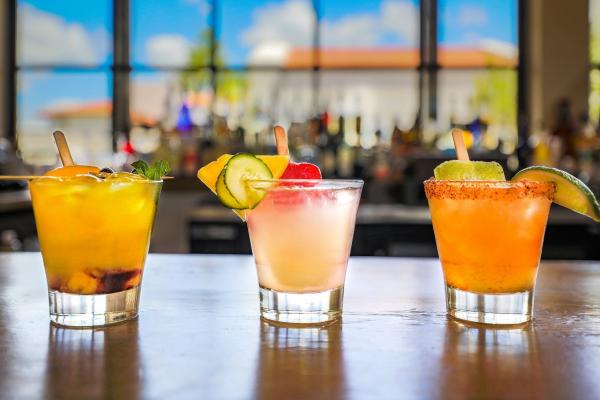 MEXICAN CANDY POPTAIL RECIPE
(Recipe makes one beverage)
1.75 oz. Silver Tequila
.5 oz. Watermelon Liquor
3 dashes of Hot Sauce
2 oz. Sprite
Mango or Lime Popsicle
Tajin Rim garnished with Lime Wedge
Add Tequila, Watermelon Liquor and Sprite into Cocktail Shaker with Ice. Shake and strain into Tajin rimed glass with ice top with (3) dashes of Texican Hot Sauce. Add Popsicle and Lime Wedge Garnish.
Wanna be healthy? No need to be melondramatic. Check out these smoothies!
Sweet & Juicy Healthy Smoothies at
Nekter Juice Bar
Sip on Watermelon drinks from Nekter Juice Bar - $5 today only.
Sweet & Spicy - Twice as Nice"y" at
Zero Degrees
Add a little spice to your #NationalWatermelonDay at Zero Degrees!
One in a Melon Ice Cold Treats
TCBY
Wet your whistle at TCBY in the Toyota Music Factory with a refreshingly, sweet swirl of Watermelon sorbet or even try it as a fizz!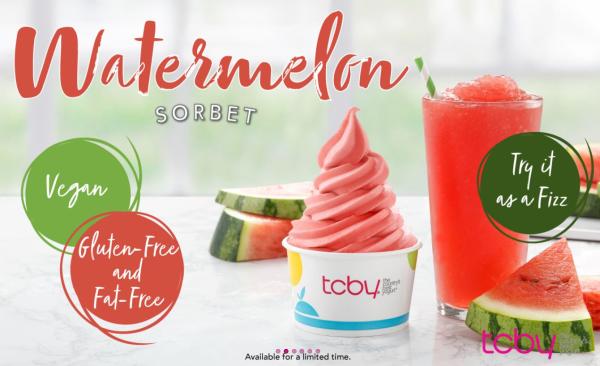 Pop Factory
Pop Factory pops were born out of the tradition and culture of the Mexican-style paletas naturales and are made with 100% all-natural ingredients (whole fruit). They taste just like the ones you loved in your childhood, but there's a huge difference – the pure, delicious goodness that goes in them. Now, no one will judge if you choose to dip them in chocolate or top them with sprinkles. It's a national holiday after all. 
Happy Watermelon eating, drinking and sweet treating day!