Visit Irving supports all of our local restaurants, afterall what would we do without them? Shutdowns, occupancy limits and, well, a pandemic is hurting the restaurant industry, and no one is feeling it more than family-owned eateries. We're highlighting some of Irving's oldest establishments popular with both residents and visitors – and encouraging everyone to grab a take out item or two from one tonight. And the next, and the next, and the next. Can you say Dine-A-Round?
Po' Melvin's
4070 Belt Line Rd, Ste 100
972-255-3919
I can still remember walking into that converted Dairy Queen with my family back in the 80s and Big Mel yelling across the dining room, "Hey baby, I'm getting ya table ready now." I was never sure who baby was … me, my mom, dad, brother or someone behind us in line, but it didn't matter. We always got that table. And the mason jar with green onions and homemade rolls quickly followed. Now, nearly 30 years in a new location, not much has changed at Po Melvin's. Big Mel passed away last year (RIP), but that role had long been taken over by his son, Little Mel, who commands a bigger dining room with the exact same Cajun mannerism as his daddy, while his sister and wife run operations behind the scenes. The menu has evolved (my fave, the Fried Louisiana White Shrimp). But all the old staples are still made to Big Mel's taste, including those black-eyed peas that started it all. Homage is paid to Big Mel's pea slogan of "Sooo good... It'll make ya wanna slap yo mama" with the "Yo Mama," a frozen margarita/frozen hurricane mixed with raspberry and melon liquor. And with the governor's new liquor law, you can now get that to go as well through their convenient on-line order form.    
Big State Fountain Grill
100 E. Irving Blvd
214-307-5000
Big State Fountain Grill dates back to the 1900s as a haberdashery. In 1948 it became a pharmacy, and in 1951 it's head pharmacist and store manager would become part owner of the store and stay such until 1992. In 2014 Big State closed, and it would have been permanent had it not been for lifelong Irving residents Rick and Susan Fairless, owners of the famed Strokers Dallas, who transformed Big State Drug into Big State Fountain Grill. It still has that 1950s charm of a counter drug store, just a larger dining area and shop that includes novelties items and an old fashioned candy store. Favorites are still cooked on the same grill, and the old fashioned soda fountain is still there, but the Fairless' brought over the Stokers Ice House cheese fries; fully loaded with cheese, bacon, jalapenos and a side of ranch, they're just about the best you can find anywhere and perfect for take-out.
Joe's Coffee Shop
425 W. Irving Boulevard
972-253-7335
There are Irving institutions, and then there are Irving INSTITUTIONS. Chalk  Joe's up to the latter. It certainly lives up to its brand of "Where Irving Meets and Eats." Located a stone's throw from Irving's City Hall, Joe's has long been known as a place where you can find the town's movers and shakers. Opened in 1969, Joe's was run by Carol Wood; her daughter Tammy Cain has taken over those duties. What's good on the menu? Depends on who you ask – the chicken fried steak and french toast are popular - but what they are universally known for are their pies. So popular are Joe's pies that a year's worth can sell for more than $2,000 at local charity auctions. Yes, you read that correctly.Two thousand-plus for pies.  Available by the slice or whole, it's a perfect and easy dessert to pick-up tonight (call first as pies are homemade daily).
Spirit Grille
4030 N. MacArthur Blvd
972-717-7575
Little known fact: When the Spirit Grille opened in 1995, it was partially owned by none other than the Cole brothers of i Fratelli Pizza. The Cheers-like sports bar where everyone knows your name is now owned by Jean and Jerry Kelly. Another little known fact: I went to prom with Jean's son, which has nothing to do with Spirit Grille's inclusion in this blog. Their Flag Sticks, however, do. Long, thick mozzarella dipped in homemade batter, fried golden brown and served gooey hot is a fat finger-shaped piece of heaven. But my quarantine go-to has been Jeres Chicken – pan roasted chicken breast served with a creamy mushroom sherry sauce. It comes with rice pilaf and asparagus, but because of an "allergy"/phobia, they are great about subbing mixed veggies. My mom's favorite burger anywhere is The Sandbagger, a classic bacon cheeseburger with cheddar. Spirit Grille is open for dine-in, and Thursday Night Trivia is a lot of fun.
Via Real
4020 N. MacArthur Blvd
972-650-9001
Everything about Via Real oozes class. From the candle-scented aroma when you walk in the door, to the wall of fountains and especially to its owner Fran Mathers. Via Real had only been open for 15 months when, in 1985, she purchased the restaurant to keep it from closing. When the pandemic hit, Fran paid her employees their full salary out of her pocket. Those employees were so appreciative they enlisted the Irving Police Department and the community to throw her a drive-by thank you parade. Because Via Real's Mexican and Southwestern cuisine has stayed true to its original form, they've kept a loyal following of residents and visitors alike. Fish dishes are popular, such as fish tacos, pecan encrusted sea bass, and adobo shrimp & crab enchiladas. I try to keep it light with the black bean soup with chipotle sour cream or the Via Real Chicken Salad with avocado, tomatoes, aged parmesan and garlic tortilla strips. Handcrafted margaritas are their specialty, but be careful ordering a large size. It's not for beginners. You can now order lunch or dinner for curbside pick-up conveniently on-line.
Irving Locals Supporting Locals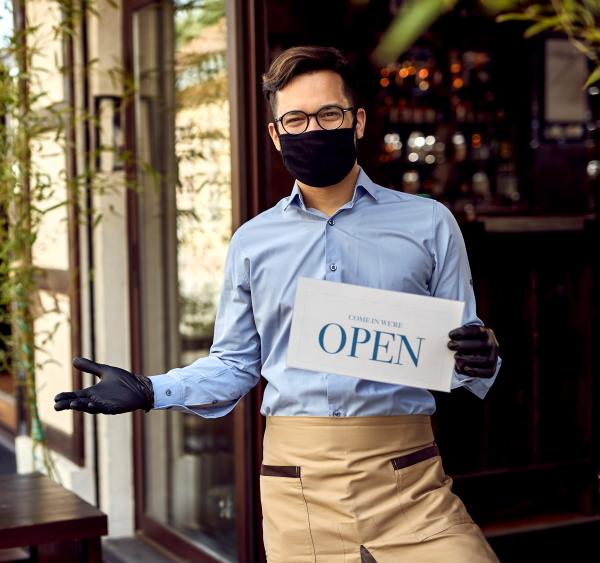 There are so many more locally-owned and mom and pop restaurants. Many cannot afford delivery services and their fees, but they welcome you to order takeout. Whatever your taste, show your neighborhood favorites some love by ordering today! And don't forget to visit our comprehensive list of dining options, complete with their current status of dine-in/curbside/delivery/patio.