After exercising our right to vote this week, it is time to honor the Veterans who fought for that right to vote, and all other American freedoms we get to enjoy every day. Irving's salute to our men and women in uniform culminates into a wide variety of celebrations, beginning with just offering our deep appreciation for their service. Over the next several days be sure to thank a Veteran, and be proud that you're an American. Listed below are five ways to commemorate Veterans Day here in Irving.  As always, there are many more events going on this weekend, just take a peek at our full activity calendar at www.irvingtexas.com.
#1 Donate to Operation Homefront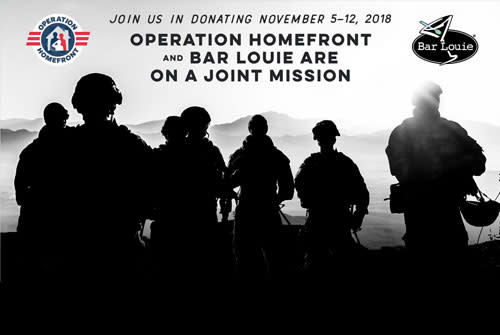 WHEN: Between Nov 8 - 12
Bar Louie is collecting donations to support Operation Homefront, an organization that assists military families during difficult financial times by providing food assistance, auto and home repair, vision care, travel and transportation, moving assistance and much, much more.  Just stop by Bar Louie and tell your server you'd like to donate.  In fact, Veterans are invited to dine at Bar Louie on Veterans Day, November 11, and enjoy a free burger or flatbread (up to $15) with ID.  LEARN MORE
---
#2 Unite for Troops Veterans Day Celebration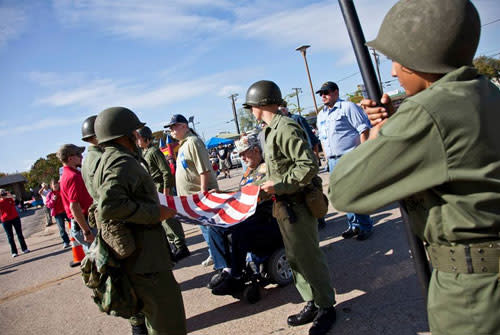 WHERE:  Porter's Army Navy, 600 E. Irving Blvd. 75060
WHEN: Fri, Nov 10 @ 10 am - 4 pm
Join in for a day of patriotism supporting our troops overseas and honoring our Veterans. The festival features stage entertainment, including two bands and a Big Band Orchestra. Guests will enjoy several food and community booths as well as kids activities, with petting zoo, face painting, bounce houses and more. Both the Police and Fire Departments will bring vehicles including the SWAT Bear and Fire Trucks. Plus, there's an antique car and jeep show and other patriotic vehicles. 
A program honoring Veterans begins at 12:00 noon and following is the flag retirement at 2:30 pm. You are invited to bring supplies and letters requested by our troops. These items will be shipped directly to over 40 FOB's (Front Operating Bases) and USO's worldwide in the most desolate and dangerous places. Parking and Shuttle are provided at the Irving Heritage Center.  LEARN MORE
---
#3 Veterans Day Ceremony

WHERE: Former Central Library Auditorium, 801 W. Irving Blvd. 75060
WHEN: Sun, Nov 11 @ 2:30 - 4:30 pm
Irving is so very blessed to have such a beautiful Veterans Memorial Park. Every year the Memorial Park Committee hosts a program starting at the old Central Library.  There'll be music, moments of reflection by military personnel, and remarks by city officials.  After the program, attendees will gather at the Veterans Memorial Park at 644 Rock Island Road where a wreath will be placed on the Wall of Commemoration.  LEARN MORE
---
#4 Veterans Day Recognition of Soldiers
WHEN: Tue, Nov 13 @ 11 - 11:30 am
Drop by the Heritage Senior Center on Tuesday to join in honoring all veterans.  There will be a presentation and fun crafts to make. This event is free and open to the public.  LEARN MORE
---
#5 Veterans Day Lunch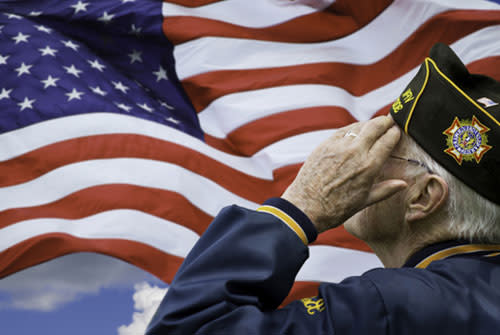 WHEN: Wed, Nov 14 @ 11:30 am - 1 pm
COST:  $4, free for Veterans
As a way to say "thank you" to all veterans, Senter Park Recreation Center is providing a luncheon for seniors age 55 and older.  The cost is only $4, or free if you're a Veteran. Seating begins at 10:30 am and lunch is served at 11:30. LEARN MORE
---
And just because I love trivia, I present to you a few facts about Veterans Day.
Spelling. You may think it's "Veteran's Day" or "Veterans' Day," but it's actually "Veterans Day."  It's not a day that "belongs" to veterans, which is what an apostrophe implies. It's a day for honoring all veterans — so no apostrophe needed.
Memorial Day.  What's the diff? Memorial Day is a time to remember those who gave their lives for our country.  Veterans Day honors all who have served, dead or alive.  It's a day to thank them for their and their families' sacrifices.
The Date.  Well, WWI pretty much ended on November 11, 1918 when the Allies and Germany effected an armistice on the 11th hour of the 11th day of the 11th month, thus Veterans Day is on November 11. But in order to encourage travel over a 3-day weekend, which helped to stimulate the economy, Congress signed the Uniform Holiday Bill in 1968 making Veterans Day the fourth Monday of every October.  With the public vying to return it to November 11, President Gerald Ford signed another law putting it back on its original date.
Do other countries celebrate Veterans Day? Considering WWI was a multinational effort, it makes sense that our allies also celebrate Veterans day.  The name and commemorations differ, however.  It's called "Remembrance Day" in Great Britain, Canada and Australia.  Canadians wear red poppy flowers to honor their war dead.
And now you know. 
(Ref: defense.gov)