Enjoy food trucks with a side of LPGA golf at the Volunteers of America North Texas Shootout at the Las Colinas Country Club, April 29 - May 3.  
Events are fun, but food definitely makes them better. Spectators can enjoy a wide range of food trucks from BBQ to Sushi at this year's North Texas Shootout. The food trucks were such a big hit at last year's event, they're bringing them back!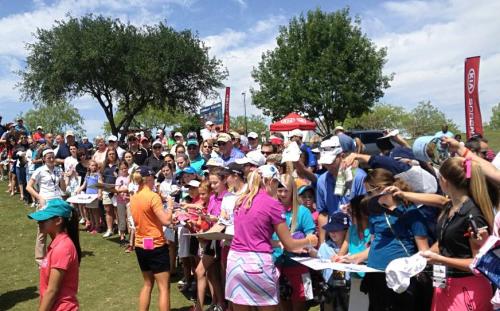 Get ready to sink your teeth into these favorites:
Brown's BBQ - Food you know, Texas-style flavors you'll love.
Simply Dosa - Bombay Street Food specializes in bringing you the cuisine and flavors of traditional Indian comfort food. 
Not Just Q - More than just BBQ. Tacos, sandwiches, meats by the pound and complimentary sides. 
Spin Sushi - Asian fusion specializing in specialty sushi rolls and Japanese snacks – all with a twist.
Yummy Pizza - New York-style pizza made with fresh dough and fresh ingredients. 
Food Station - Wide variety of menu items including gourmet burgers, homemade mac n cheese, lobster quesadillas, street tacos, glazed salmon fillets, and bacon wrapped pork tenderloin.
Eat Jo Dawgs - Custom dawgs, brats, polish & hot link sandwiches. 
Maui Wowi - Serve the most delicious, all-natural smoothies and coffees from the islands of Hawaii. 
Parrot Icce  - Beat the Texas heat with premium Hawaiian shaved "icce."
The food trucks will be located throughout the course. See map for details, and look for the cute little food truck icon. 
Main Entrance near the Golf Shop: Food Station presented by D Cares (open Wed-Sun)  & Spin Sushi (open Thurs – Sun)
Practice Range: Maui Wowi & Not Just Q (open Thurs – Sun)
#1/#10 Green near GO RVing display: Yummy Pizza & Eat Jo Dawgs (open Thurs- Sun)
#15: Simply Dosa (open Thurs – Fri & Sun)  & D'Lish (open Wed at the Clubhouse location then Thurs – Sun at #15)
Another notable food highlight is the NEW Texas Land and Cattle Corral. Located adjacent to the 18th Fairway behind the short game area. Local Texas food and drink will be served up Wednesday-Sunday. 
Giveaway! To kick-off the event and get you there, we have FIVE sets of any one day tickets to giveaway. That means we're sending 10 people to this week's North Texas Shootout! Here's how you enter:
Leave a comment below that you shared it.
Winners will be picked by the end of day on Wednesday, April 29. Tickets will be available for pick-up onsite at the Will Call Office at the tournament's main entrance. You must show a valid ID. Ready, set, go! 
Quick Facts:
Dates: April 29 - May3 | Website | Spectator Guide | Facebook | Twitter | Instagram | Buy Tickets