Strike up the band and slap on the sunscreen, this weekend begins on Thursday!  The party starts with a hometown parade, then some great live music, kids games, juicy watermelon, more live music, and it all ends with a bang - several colorful bangs, in fact.  Get ready for a four-day all-American fun-filled weekend right here in Irving, Texas. It's where your summer begins and your boredom ends. (All activities have free admission, unless otherwise noted)
INDEPENDENCE DAY PARADE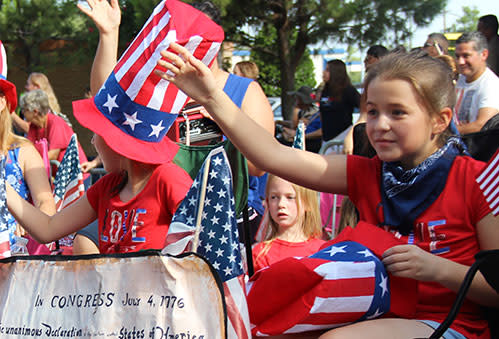 Photo credit: Maura Gast  
WHERE:  Begins @ Sowers St & Irving Blvd 75060
WHEN:  Thursday, July 4 at 9 am
Kicking off this year's Music of America-themed Independence Day celebration is the Downtown Irving parade.  Encompassing several blocks, the 80+ entry parade will begin at Sowers Street and Irving Boulevard, near Millennium Park, and travel eastbound on Second St. Then turning left on Lucille, the parade returns westbound on Irving Blvd. Bring the family, including leashed pets, your lawn chairs and your excitement, the parade is a hometown salute to our nation's independence.  LEARN MORE
---
UNITY RECEPTION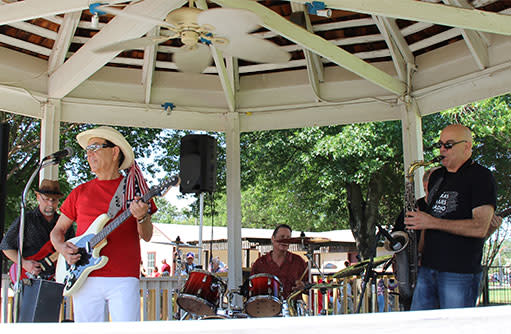 Photo credit: Maura Gast  
WHERE:  Heritage Park at 217 Main Street 75060
WHEN:  Thursday, July 4 immediately following the parade 
Just at the corner of hometown and Americana lies Irving's Heritage Park. Here you'll get to enjoy some juicy watermelon, visit with neighbors, listen to live music and more. Bring the kids because there'll be activities for them too. But don't dally because the reception is over at noon.  And it's all complimentary, of course.  LEARN MORE
---
LOCAL BBQ RESTAURANTS
Just when your tummy realizes it's lunchtime, and it being Fourth of July and all, why not head down to one of Irving's great BBQ restaurants for lunch. Let's see, there's Post Oak Smokehouse - they use 100% Post Oak wood to smoke their meat. Farther south there's Tommy's BBQ - they have a great family pack.  Another good place is Red, Hot & Blue - slow-smoked pulled pork, pulled chicken, award-winning ribs and oh-so-tender beef brisket.  We can't forget Dickey's and Spring Creek, both serve great Texas-style barbecue. 
---
UNCLE SAM JAM

WHEN:  Thursday, July 4 @ 3 - 7 pm
You're inching closer to the fireworks in Las Colinas when you visit the Uncle Sam Jam, featuring PriMadonna (Madonna tribute band) and In Halen (Van Halen tribute band) at the Texas Lottery Plaza. Food, drink and fun surprises for the whole family will be available throughout the event, so round up your crew and bring your blankets (no chairs, please!) and pre-party on Texas Lottery® Plaza before the fireworks this IndepenDANCE Day!  LEARN MORE
---
FIREWORKS SHOW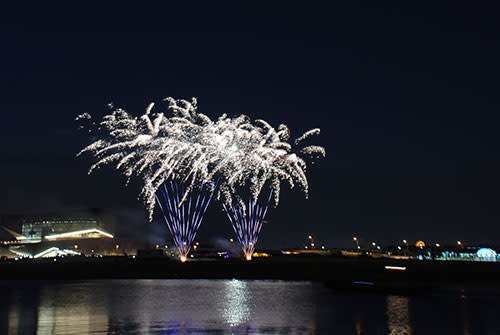 Photo credit: Goodgame Photography  
WHERE:  Levy Event Plaza, 501 E. Las Colinas Blvd. 75039
WHEN:  Thursday, July 4 @ 6 - 10 pm
Enjoy the line up of live music in the evening down at Lake Carolyn.  At 6:30 pm the Powell Brothers perform, and at 8:00 pm, it's Downtown Fever Band. Bring a blanket, lawn chair, cooler or umbrella, but especially bring your kids. There'll be a fun zone, food court and the fireworks will launch at 9:30 pm.  LEARN MORE
---
MORE LIVE MUSIC!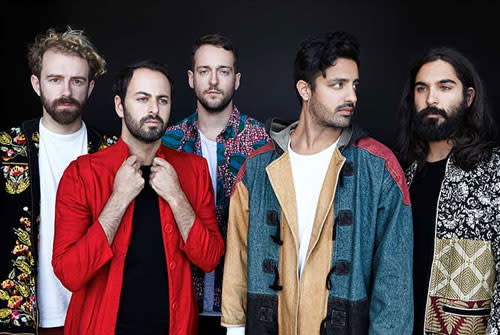 Photo credit: youngthegiant.com
THURSDAY, JULY 4
FRIDAY, JULY 5
SATURDAY, JULY 6
---
Have a fun and safe Fourth of July weekend! While you're out enjoying everything Irving has to offer, be sure to tag us in your posts and stories with #VisitIrving and/or #IrvingRocks.  We want to see pictures of you having fun!  Also follow us on Facebook, Twitter and Instagram to stay in the know.  For additional area events not listed in this blog, visit our website at www.irvingtexas.com/events.  Enjoy the weekend!