Although my tolerance towards spicy food is not that high, I am married to a dude who puts a crazy amount of hot sauce into everything he eats. So when we found out about a festival dedicated solely for spicy food/condiments, we knew we had to check it out. Especially because there were contests and celebrity chefs doing live cooking demo too!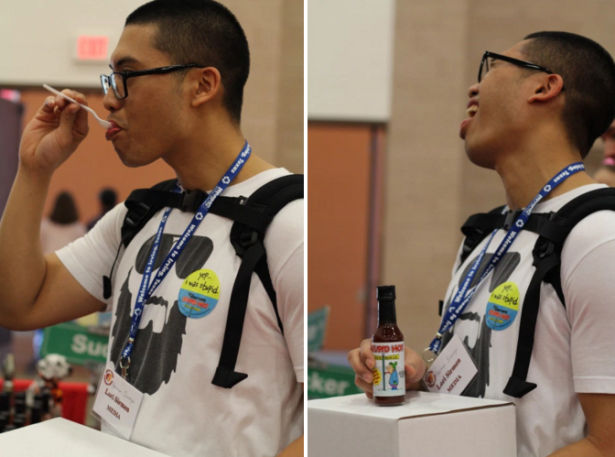 That's Mr.Man, trying the Mild to Wild Pepper & Herb Co.'s "Stupid Hot" Sauce. It is stupid hot y'all. As in, the kind that could make your brain stop functioning for a few seconds- kinda hot. We didn't know who was going to eat it at home if we got a bottle of it, so we got their Red Savina Garlic sauce. Mr. Man actually shook the guy at the booth's hands, because the sauce has successfully got him all sweating and speechless.
Each year, vendors compete to win the Fiery Food Challenge through a blind tasting involving the event-goers. If they win, vendors get to bring home this award right here. Like Smokin' Texas Gourmet, that has won quite a few times now, and not only for their food but for their cocktail mixers too!
With a storefront in Keller, TX, Smokin' Texas Gourmet offers a variety of gluten free spices, all-natural and artisanal condiments, seasonings, hot sauces and custom products by chef Peter Mollett.  The one on the picture above is their delicious Jalapeño Honey Mustard. You can order online and have it delivered to your home!
Now, it was time for us to get some lunch. All of these spicy sauces got us craving for some serious grub. So I ordered some ribs with some Eddie Deen BBQ sauce that we had previously sampled with some pickle and sausage (right picture).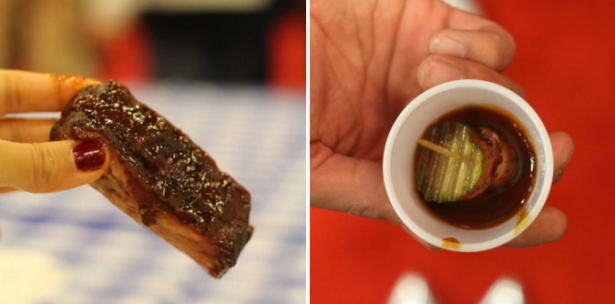 Next, it was time for some dessert! We're so glad that we found the Texas Toffee booth after all of the spiciness we've had that afternoon! Loved the 'Gotcha Toffee' (cinnamon & ghost pepper), but my favorite was the dark chocolate pecan! You can find out more about their candy selections here.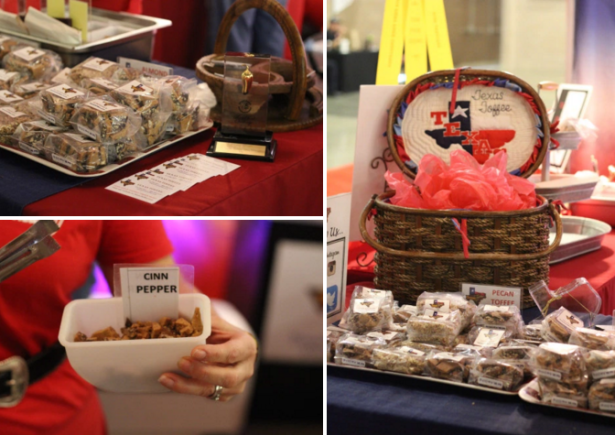 Notice on the picture on the top left, they have the trophy? Yes, we weren't the only ones obsessed with Texas Toffee. You should definitely check it out too :)
You can catch glimpses of what went down at Zest Fest by clicking play on the following video. And…don't forget to subscribe!
Now if you're a fan of spicy food who wants to try out different products every month that you can't get in a regular retailer, Heck That's Hot might just be what you need.