Today is all about love. The love of food. The love of restaurateurs and their restaurants, chefs, line cooks, bussers, servers, bartenders, bookkeepers, accountants and restaurant managers. The love of bloggers. And the love of Takeout Tuesday DFW - helping restaurants stay afloat by serving up diner deals every week. The effort was born out of a partnership between local restaurateurs and the food bloggers who love them. Their plan is to rally around area restaurants to share the love one neighborhood at a time. Participating eateries will offer specific take-out deals to their beloved customers, and our much-loved local influencers are getting the word out. It's a lovefest and this week Takeout Tuesday DFW is lovin' on Irving/Las Colinas! 
Irving's Takeout Tuesday DFW Deals YOU will love!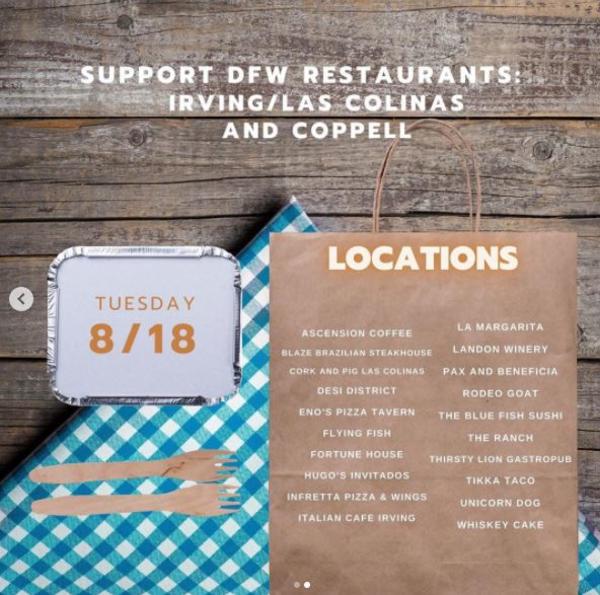 Ignite your Flame at Blaze
Toyota Music Factory, 310 W Las Colinas Blvd | (469) 208-7977  

Blaze Brazilian Steakhouse recalls the Gaucho tradition of cooking on the pampas of southern Brazil. And not just juicy and delicious, fire-roasted steaks, but also fresh, mouth-watering chicken, pork ribs, legs of lamb and more.

TAKEOUT SPECIAL: @blazebsh: 10% off Blaze Dinner Pack for Two  (Use code: SUMMER) Sounds like the perfect date night to me! 

 
You'll Be Looney Tunes for Cork & Pig Tavern
Water Street, 5224 N. O'Conner Blvd | (972) 364-7412  

Cork & Pig Tavern is a unique, chef driven blend of signature entrees, gourmet salads, sandwiches, wood-fired pizzas, and mouthwatering apps and sides. 
TAKEOUT SPECIAL: @corkandpiglascolinas: 15% all to-go orders just mention "Takeout Tuesday"
Lucy I'm Home: Let's go to Desi District Market & Eatery for Dinner
6451 Riverside Dr | (972) 913-4730  
Desi District - modern urban Indian street food eatery and your neighborhood market
TAKEOUT SPECIAL: @desi.district: $5.99 Kathi Rolls //$7.99 Fried Rice// $7.99 Manchuria
Hey Dumplin': Go Find your Fortune 
8150 N MacArthur Blvd | (972) 831-9888  
Fortune House, best known for their sensational soup dumplings, prepares delicious traditional Shanghai recipes.
TAKEOUT SPECIAL: @fortunehousecuisine: $8.88 Steamed Dumplings
Love on the Rocks at Hugo's Invitados
Water Street, 5240 N O'Conner Blvd | (214) 496-0590  
Hugo's - fresh modern Mexican cuisine & cocktails, where every occasion is a celebration!
TAKEOUT SPECIAL:@hugosinvitados: lots of drink specials incl $20 Quarts of House Margaritas or Sangria
Start Spreading the News: We heart New York (Pizza) at In Fretta
3341 Regent Blvd | (972) 600-8526  
In Fretta serves up the best pizza in Texas made with water from NYC and "life-changing wings," plus pasta and salads.
TAKEOUT SPECIAL: @infretta_pizza: Buy 1 Pizza, Get One 1/2 off (Same Size)
Italian Café: That's Amore!
387 East Las Colinas Blvd | 972.401.0216  
Italian Café dishes up delicious pizza, pasta, salads & more!
TAKEOUT SPECIAL: @italiancafeirving: $10 off $40 Online Orders (Use code: 10OFF)
You'll Find the Whole Enchilada at La Margarita Mod Mex Kitchen + Rita Lounge
2922 N. Belt Line Road | (972) 570-1137  
 La Margarita Mod Mex Kitchen - boutique neighborhood spot serving chef driven hand-crafted food.
TAKEOUT SPECIAL: @modmexkitchen: $7.99 Enchilada Plates
Pax & Beneficia Coffee: Where Have You Bean all my Life? 
5244 N. O'Connor Blvd | (214) 390-6883  
Pax & Beneficia  - cultivating craftsmanship, camaraderie & contribution through coffee (and toast!) 
TAKEOUT SPECIAL: @paxandbeneficia: Purchase any toast, get a free drip or cold brew.
Sushi & Wasabi: Better Together & Going Swimmingly at The Blue Fish 
Toyota Music Factory, 320 West Las Colinas Blvd |  (469) 482-3474  
The Blue Fish is a Japanese Restaurant that serves the finest sushi, sashimi and rolls with an emphasis on quality and freshness. 
TAKEOUT SPECIAL: @thebluefishsushi: Two Signature Rolls for $20 (exclusions apply)
On the Prowl at Thirsty Lion
Toyota Music Factory, 350 West Las Colinas Blvd | (214) 496-0400  
Thirsty Lion features from-scratch cooking, a culinary commitment to local and seasonal ingredients, and food that is both authentic and bold. 
TAKEOUT SPECIAL: @thirstyliongastropub: 10% off food orders // $10 Frozen Texas Tea & Margarita Mason Jars
The Ranch: For your Texas-Sized Romance with Food
857 W.John Carpenter Freeway | (972) 506-7262  
No blues allowed on #TakeoutTuesdayDFW! The Ranch dishes out delicious quintessential Texas fare with a twist.
TAKEOUT SPECIAL: @theranchlc: 15% off takeout orders
A perfect match: Tikka Tacos where Sparks Fly when Indian & Mexican Fuse
825 W Royal Ln Ste | (972) 707-7277  
Tikka Taco combines the Indian spices with the "hotness" of the Mexican cuisine.
TAKEOUT SPECIAL: @tikkatacous1: 15% off all takeout orders over $25
Must Love Dogs: Unicorn Dog will have you Believing in Unicorns too
3048 N Belt Line Rd | (469) 565-2157  
TAKEOUT SPECIAL: @unicorndog.us: Purchase Large K-Popcorn Chicken, get any Corndog for $1 ($2 Bacon) // Purchase Five Corn Dogs, get One Original Corn Dog
Whiskey + Cake = an Affair to Remember & a Night You'll Forget
3225 Regent Blvd | 469-941-2253  
Whiskey Cake serves up tasty farm-to-kitchen dishes & cocktails out of their from-scratch-only kitchen and bar.
@whiskeycakelascolinas - Complimentary slice of Whiskey Cake with purchase of a dinner kit OR cocktail kit to go!
Share the Love
Be a giving partner in this affair! Liking, sharing, and posting on Facebook and Instagram takes minimal effort but has the potential to make an impact. Another quick, easy way to support local right now is by writing positive reviews on Google and Yelp. This simple gesture will have a longer-lasting impact: when restaurants re-open—and tourists inevitably return— glowing words can only help attract more people.
Written with sincere gratitude to Val Jean-Bart, owner of Val's Cheesecakes and the bloggers that are leading this labor of love. xoxo