While it's very tempting to just relax at home and binge on our favorite shows (and our favorite snacks), now is the best time to start or maintain a physical health regime. These days, with fewer shopping trips and working from home, we've gained more time to take care of ourselves, to get outdoors and be active. Deep down we all know that a healthy body is a happy body and that nothing tastes as good as being fit feels. So with our moderate days and cool evenings, now is the perfect time to start exploring the many trails and nature parks found all over Irving. Grab your favorite fall jacket, sneakers, and let's hit the trails! 
Lake Carolyn
Lake Carolyn Pkwy  
Possibly one of my favorite places to run/walk in all of DFW is Lake Carolyn in Las Colinas. There is a smooth, paved pathway that hugs the water's edge, ensuring a scenic jog at every turn. In total, the path around the lake will rack you up three miles and will have you feeling extremely accomplished. I prefer to start at Water Street, but there are several spots all around the lake with path access. You will pass through the dreamy Mandalay Canal on one side and get spectacular views of the Las Colinas skyline on the other side of the lake. People of all fitness levels will be out enjoying the beautiful Venetian architecture. On the water, you will see couples in gondolas and families trying their skills at paddleboarding. You'll almost forget you're exercising as this trail is eye-catching around every corner.
Centennial Park
444 W 2nd St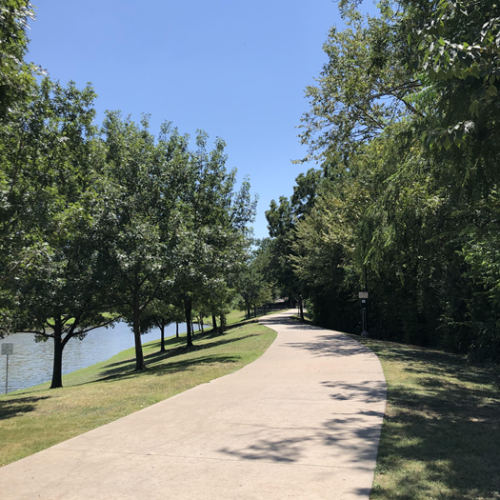 Located in the heart of Irving, Centennial Park is a gorgeous trail along Delaware Creek. Lots of greenery and a tree-shaded, paved path make this trail the perfect place to start your way toward more outdoor fitness. You can try a few loops up and down the creek to achieve three miles or take the trail all the way down to Senter Park and back. After your run, take a cool-down walk around Founders Plaza to see the 100-year history of Irving. Then, walk over to Millennium Fountains for an impressive water display.
Campion Trails
One of the largest and most nature-y trails in Irving can be found at Campion Trail. With 22 miles of greenery, 12-ft wide sidewalks to ensure social distancing, and multiple access points, this trail is the perfect route for beginners, experts, and those just looking to catch some fresh air. Multiple dog-bag stations along the trail invite you to bring your furry friend along for the fun. The extra-wide sidewalks make it easy for walkers, bikers, and rollerbladers to all share the space. My favorite access points are at Sam Houston Park near Valley Ranch and Bird's Fort.
Let's all take a chance this week to explore the many trails of Irving. You may find your new favorite spot for fresh air, relaxation, and exercise.