It's hard to name anything in American culture that's more steeped in tradition than the Kentucky Derby. 145 times...and then 2020 comes along and custom is getting a swift kick in the horse's butt. The coronavirus pandemic has forced the 146th Derby to be bucked back to Labor Day weekend, the first time since 1945, and fans won't be in the stands. Cinco de Derby is not a "thing" this year. But puhleez y'all, no neigh-sayers here. This Triple Crown event may be the "Most Exciting Two Minutes in Sports," but right now we need a party that lasts a little longer. Irving has Kentucky Derby traditions - Texas-style - and that add up to food, drinks and fun this Labor de Derby Day Weekend!
So, Off to the Races… and These Fabulous Places! 
You Can Leave Your Hat On at Whiskey Cake 
Join the Whiskey Cake Las Colinas  team who will be dressed to the nines! Derby Day, the most fashion-forward sporting event,  is the perfect excuse to go big or stay home, so ditch the covid casual and go all out! Find your "Pretty Woman-esque" best dress and splurge on an outrageous hat or classic Kate-style fascinator. Gents, pull out that seersucker suit and bowler! Then sip in style while Whiskey Cake's mixologists serve the Derby- famed Mint Juleps for just $5 all day long. 
Best Bets for Bourbon & Bites, Texas-style
Bourbon and Kentucky go hand-in-hand, and coincidentally Bourbon and Texas do too! Check out these Irving hot spots to sip swanky cocktails on the Irving Bourbon trail… and delight in Derby delicious Southern favorite foods... with a Texas twist.   
Cork & Pig Tavern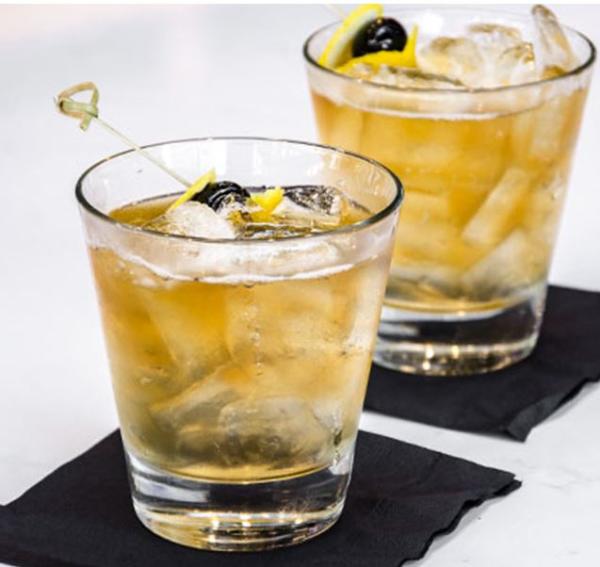 It's happy hour weekdays and weekends at the Cork & Pig Tavern at Water Street, so race on over between 2 and 6 pm for delicious bites and a $6 Retro Old Fashioned. 
LAW at the Four Seasons Resort at Las Colinas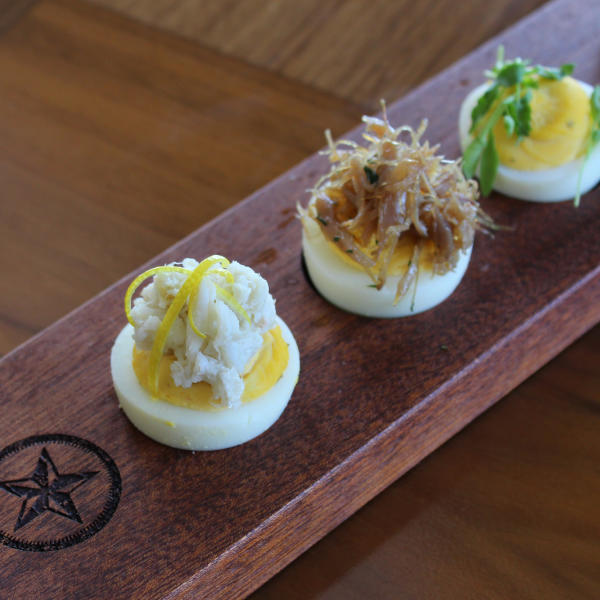 Kentucky Classic Dish & Drink: LAW dishes fancy Deviled Eggs and a smoking Smoking Gun (smoked old fashioned  pictured above)! They also have sixteen of the finest bourbons ready and waiting for the most staunch of connoisseurs...including Woodford Reserve, the official Bourbon of the Derby. 
LRH Restaurant & Bar at the Omni Las Colinas 
At LRH, the swanky new restaurant in the beautifully renovated Omni Las Colinas Hotel, you won't feel out of place all decked out in your Derby best. Our pick for eating like a Kentuckian at LRH is none other than Shrimp & Grits with that Texas twist - local grits | smoked cheddar |  sweet pepper & tomato ragu. 
Mercy Bar & Lounge
Mercy me...  is right. You're in the money when it comes to Mint Juleps at Mercy.  Take your pick of:  Whiskey/Scotch/Bourbon (Jack Daniel's Tennessee, Crown Royal, John Jameson's Irish, Bulleit Rye Whiskey, Eagle Rare Straight, Fireball Cinnamon, Sazerac Rye 6yr, TX Blended Whisky, Hibiki Harmony, Yamazaki 12YR Malt, Glenlivet, MaCallan 12 Yr, Johnny Walker Black, Blanton's 93 Proof, Bulleit Bourbon, Jim Beam Square, Knob Creek Kentucky Straight, Maker's Mark 90, W L Weller 12YR, Woodford Reserve Straight Bourbon Whiskey).
And hey, don't forget the mint and simple syrup. 
It's a Trifecta at Reservoir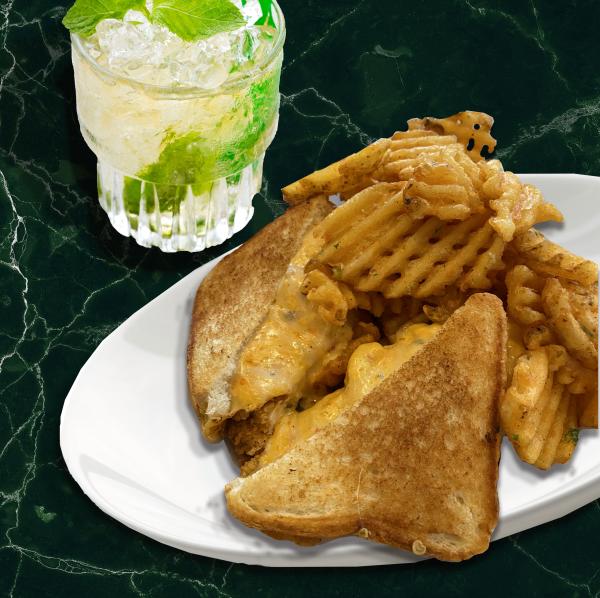 At Reservoir pair the Crispy Pimiento Chicken Sandwich with a Mint Julep for the Exacta. This mouthwatering handheld combines two Kentucky foodie favorites - Buttermilk battered fried chicken breast with house made pimiento cheese stacked on griddled Texas toast with Swiss, pepperjack, fresh tomato and local pickles. For the Trifecta, they're showing the race! 
Double Down at The Ranch at Las Colinas
Wet your whistle with The Ranch Old Fashioned or the Sage in Bloom (Garrison Brothers Bourbon | elderflower liqueur | demerara syrup | pineapple|  lemon). Available to go too - just add ice! Then sink your teeth into these tried & true Kentucky food faves with a Texas twist: Fried Green Tomatoes ( local beer battered | avocado green goddess | gremolata) & Smoked Fried Chicken that's finger lickin-good!

Thirsty Lion Expert Picks for Southern Foodies
Thirsty Lion's Spicy Fried Chicken Sandwich (marinated with jalapeño and buttermilk, dusted in spicy flour, crispy fried and topped with chipotle Napa slaw and dill pickles) is definitely a contender in this race. And who knew beer cheese originated in Kentucky? This giant pretzel with scratch-made beer cheese, jalapeño jam & sweet mustard sauce is a top contender too. 
Here's How We See the Field at the Yard House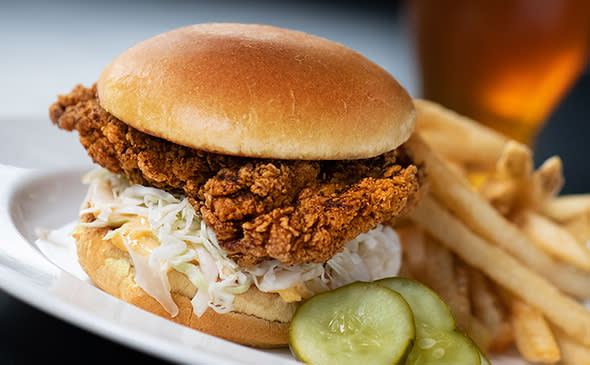 Food Front Runner: The Yard House Nashville Hot Chicken Sandwich is made with all white meat, spicy sweet slaw, aged white cheddar, fries.
Bourbons: Appropriately named for the Derby Day attire, the Bold Fashioned is a contender with maker's mark bourbon, orange liqueur, hickory smoked black cherry syrup, orange bitters, smoked black cherry. But odds are that the Old 43 will be the runaway winner when it comes to cocktails at Thirsty Lion. It's a delicious concoction of  Woodford Reserve bourbon,  licor 43, citrus agave and orange bitters.
Run for the Roses
You will definitely be in the winner's circle if you celebrate this iconic Southern tradition with homemade Hot Brown and Mint Juleps! What is a Hot Brown, you ask? Let me tell ya! 
The Hot Brown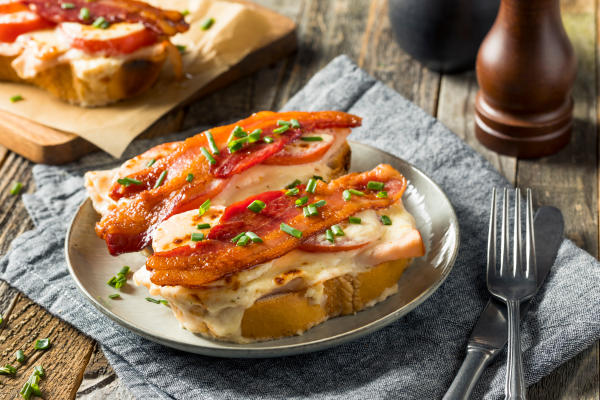 The fancy fashions are over the top at Churchill Downs, so why would you expect anything less from the Derby city's signature sandwich. Created by the chef at Louisville's  Brown Hotel to satiate the thousands of guests that went to the hotel every evening to dance...the chef wanted something more than just bacon and eggs or grits, and that ended up being an open-faced sandwich with turkey, bacon, and Mornay sauce! Well, let me tell you, our Chef Eduardo  at the Irving Convention Center knows a thing or two about serving decadent deliciousness to thousands of guests, too. 
Double Down with Chef's Mornay Sauce on the Traditional Hot Brown 
ICC Chef Eduardo's Mornay Sauce 2 T Butter solid 1 t diced shallots 2 T flour 4 Oz white wine 2 cups heavy whipping cream Pinch grated nutmeg (or ground) 4 Oz grated gruyere cheese (or swiss) Salt and white pepper to taste In medium sauce pan melt butter over medium heat.
The World-Famous Hot Brown 14 oz. Sliced Roasted Turkey Breast, Slice Thick 4 Slices of Texas Toast (Crust Trimmed) 4 Slices of Crispy Bacon 2 Roma Tomatoes, Sliced in Half Paprika Parsley For each Hot Brown, place two slices of toast with the crusts cut off in an oven safe dish - one slice is cut in half corner to corner to make two triangles and the other slice is left in a square shape - then cover with 7 ounces of turkey.
Derby Day your Way!

Go out, order in, dress up, dress down, cook a Hot Brown or grab a sandwich around town... phenomenal food & delicious drinks are yours for the taking. Just be sure to bring the merrymaking.
And remember... if ever there was a time to eat like a horse… well this would be the day of course, of course!