Just when you settle your brain for a long winter's nap, you're awakened, not by a clatter on the lawn but by knowing that Christmas is just a few days away. How many gifts do you have left to buy? Will they be delivered in time? And what are the chances they're still in stock? Well, don't chase those sugarplum visions away with worries about last minute gifts, because we have the answer for you. We've added below a jolly list of goodies to throw under the tree, found right here in Irving, and just in the time of Nick.
Charcuterie Board and Gift Basket Items
Nosh & Bottle, 370 W. Las Colinas Blvd.  |  (469) 442-0808
$35 Artisan Cheese Board, $45 Charcuterie & Cheese Board
Like their name implies, Nosh & Bottle offers a great variety of things to nosh on and bottles of wine to pair with said noshing. For something tasty AND pretty enough to present, try one of their Charcuterie Boards. Their Artisan Cheese Board includes four artisan cheeses, honey combs, seasonal fruits & jam, spicy & sweet nuts, and a sliced French baguette (feeds 2-3). Their Charcuterie & Cheese Board includes three cured meats, three artisan cheeses, house-made mustard, jam giardiniera, spicy & sweet nuts, sliced French baguette (feeds 2-3). Just call the store to confirm pick up time. 
Prices vary per item
You can also try your hand at making your own noshable gift basket. Nosh & Bottle offers artisan crackers, gourmet cheeses, bottles of wine (of course) and a wide variety of sweets and goodies to satisfy the most discriminating tastes. Arrange in a basket, wrap with cellophane, tie on a bow and you've made an impressive gift! The truth is in the wine, but without the nosh, it's just another bottle.
Adult Eggnog Kits
The Ranch at Las Colinas, 857 W. John Carpenter Fwy.  |  (972) 506-7262
$30
Take my money! This is one of the best gifts we've seen all year. It makes a great host/hostess gift or you can bring it to an office exchange party. Heck, you can even keep it for yourself. You've been through quite a tumultuous year, right?  It comes with a personalized bottle of house-made eggnog featuring Makers Mark™ Bourbon, a 6 snowflake official Makers Mark™ ice mold, plus 2 official Makers Mark™ glasses! It's the perfect way to treat yourself, or a special someone, and make your mark as a great gift giver. Call today to reserve yours for Christmas Eve pickup!
Ergo Soy Candles
Mexican Sugar Cocina, 3215 Regent Blvd.  |  (469) 313-1300
$25
Mexican Sugar is offering their super popular Ergo Soy Candles that they burn around the restaurant. Just ask your server or call for details! Also, with every $100 gift card purchased, you can receive a free flight of margaritas. Pair the candle with a margarita and you're sure to get some sugar!
Gourmet Coffee Beans
Via Real, 4020 N. MacArthur Blvd.  |  (972) 650-9001
$12
Via Reál, where one-of-a-kind fine dining meets the unique taste of Southwestern Cuisine. You only have to visit once to know you're dining among friends. And good friends tell you their secrets, right? It's no secret that Via Real has great food, but did you know they have just the gift for the coffee connoisseur on your list? Pick up a bag or two (or more) of their Macaroon House Blend Coffee Beans for a flavorful morning treat. Gift cards and other merchandise are available too!  It's time to wake up, friends, and smell the sweet aroma of the Southwest!
Sabores Internacionales
Irving Hispanic Chamber of Commerce, 135 S Jefferson St.  |  (469) 212-8345
$20 Soft Cover, $25 Hard Cover
How often do you find authentic Mexican food recipes that are passed down through generations? This cookbook is perfect for your favorite chef or aspiring foodie. It brings to your table some of the most diverse and fascinating dishes you've ever tasted. You can place your order online and then pick up at the Hispanic Chamber office on Tuesday & Thursday from 10 a.m. - 12 p.m. Winner, winner, pollo dinner!
Apron Strings, Ties to the Past
Irving Archives and Museum, 801 W. Irving Blvd.  |  (972) 721-3714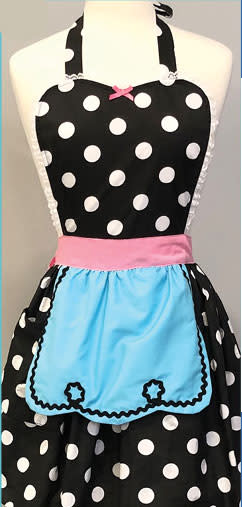 $28.95 Children Size, $38.95 Adult Size
In addition to its permanent exhibits, the Irving Archives & Museum brings you "Apron Strings, Ties to the Past," a collection of aprons dating from the 1900s through the present.  To commemorate the exhibit, IAM added this sweet retro apron in their line up of gifts available for purchase in the Gift Shop. In fact, you can view most of their gifts online, no strings attached! Just call to purchase, then pick up curbside at the museum.  
Irving History Playing Cards
Big State Fountain & Grill, 100 E. Irving Blvd.  |  (214) 307-5000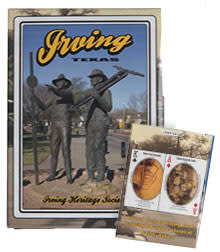 $10
At Big State, they not only serve some of the best food in town in a 50's-style diner, but they have a Gift Shop too! In addition to scented candles, lotions and soaps, stuffed animals, children's books, retro candy, and gobs of other fun stuff, they also sell these Irving History Playing Cards. Learn about Irving's past in a fun way with the Irving Heritage Society's vintage playing cards that list different facts and comments about Irving on the back of every card. Deal me in, Daddio!
Paper for Water
Four Seasons Resort and Club, 4150 N. MacArthur Blvd.  |  (972) 717-0700 
$7,500 Donation
What if you could put clean water under the tree for those who live without a clean water source? Well, now you can. The Four Seasons has partnered with Paper For Water for the third consecutive year, and they're offering two 12-foot Christmas trees for sale. Currently on display in the hotel lobby, these trees are decorated with beautiful and unique hand-folded origami ornaments. For a donation of $7,500, you can take home one of the trees. Proceeds support COVID-19 response efforts to provide bathrooms and clean water hand washing stations for schools in need. Paper for Water has already funded over 200 water projects in 20 different countries. 
20% off Room Rates
For one of the most memorable Christmas presents ever, give the gift of an experience together. Invite the whole family or just enjoy a couple's getaway, you'll never forget the luxury of staying at the Four Seasons. Visit the world renown Well & Being Spa, dine at the award-winning LAW Restaurant, or simply stay in and order room service. A staycation at the Four Seasons is a gift to be remembered. This is YOUR season to be unforgettable.
Wag Bags
Homegrown Hounds, 5260 N. O'Connor Blvd.  |   info@homegrownhoundfood.com
Prices start at $15/month
Paws for a moment and remember your best friend for the howlidays, or any time throughout the year. Homegrown Hounds offers a customizable Wag Bag™ full of treats, toys and food, and you get to decide what goes in it. You can have it delivered right to your door, or to your favorite dog-lover's door.  Plus, with free shipping or delivery, this is the best deal since free kisses! This monthly service makes a great gift. Hot, diggety for your dog!
Visit Irving has also compiled a list of Irving restaurants who offer discounts or freebies with their gift cards. So when you need a little Christmas, right this very minute, head your sleigh toward any of these great places for a one-of-a-kind, honey-I-love-you gift from just down the street.