It's National Root Beer Float Day and we know just where to go to quench your thirst. Big State Fountain Grill is the place to head. Of course we'd pick the 1950's diner, it was a given!
They have a variety of floats, from Dr Pepper to Sprite. Not sure Sprite would be my first choice. I'm definitely more of a root beer kinda girl. You have two sizes to pick from, regular and huge. Regular did the job, so I can't image what huge looks like. Must be for the cute couples who want to share.
Best part about the float is it comes in a frosted mug. They are generous in the portions and my cup runneth over! 
While on my field trip to Big State, the Irving Convention and Visitors Bureau told me to have a little fun and put smiles on five people's faces with complimentary root beer floats. Boy, was that treat for me and for them! Here's a few things I heard from the root beer float recipients...
Mom and son smiled and said, "This is cool, thanks!"
The gentlemen enjoying lunch by himself informed me, "It [root beer float] totally offset my wife wrecking her car this morning." Point proven, ice cream + root beer is good for the soul. 
The sweet little boy was having lunch with his Dad and said he had never had a root beer float before. I asked him what he thought and he said, "Oh, it's weird when they mix together." So weird he took another bite. ;)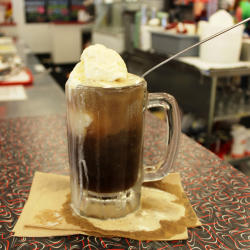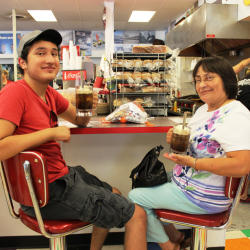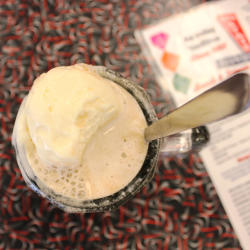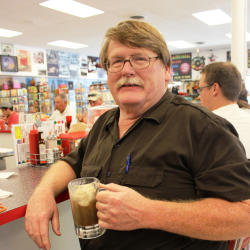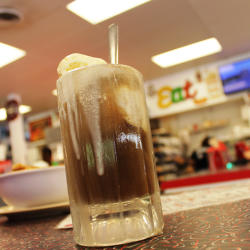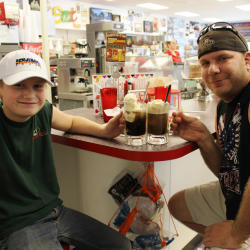 Have a great day and if you get a chance float on by Big State and celebrate.