WHEN IT'S TIME TO TUNE IN AND CHILL OUT
There's nothing like a good movie to draw your mind away from current events. Now that most of us are working from home, it's especially important to break away at the end of the day. Ordinarily, that would include shutting down our desk, leaving the office and heading home.  But now our office IS our home. 
Perhaps you've borrowed a corner of the dining room table, or maybe you're lucky enough to have a spare room. Nevertheless, I'm guessing that your work pulls you back in to "the office" even after it's quitting time. I mean, it's sitting right there beckoning for just one more minute of your day. That minute then turns into an hour and before you know it, it's time for bed. 
Now it might not take more than just a few steps to get to the living room, but getting wrapped up in a great movie will take you far away from your office. To help out, we enlisted our office staff (who indeed are working from home) to describe their favorite Netflix movie. Or better yet, why not catch one of these great movies AND a great dinner. Check out our list of Irving restaurants providing curbside and delivery service. Maybe one of these combos will tempt you away for an evening of chilling on the sofa. 
THE IRISHMAN (2019)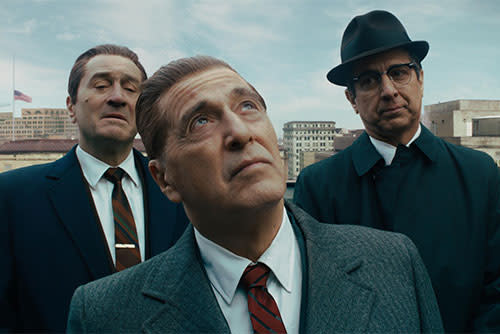 Image courtesy of Netflix
Picked by Diana Pfaff, VP Marketing & Communications
Loosely based on the book I Hear You Paint Houses, the film follows mob hitman Frank "The Irishman" Sheeran as he looks back on his longtime involvement with the Bufalino crime family and labor leader Jimmy Hoffa.  
There are so many reasons to put this on your Netflix list. First, it's long. At three and half hours, it's perfect when you have time to kill, and let's face it, these days we all do. It also has the dream team mob movie cast: De Niro, Pacino, Pesci; and director Scorsese. And where history failed Hollywood steps in by solving the mystery of what happened to Jimmy Hoffa and who really killed JFK. 
EL CAMINO (2019)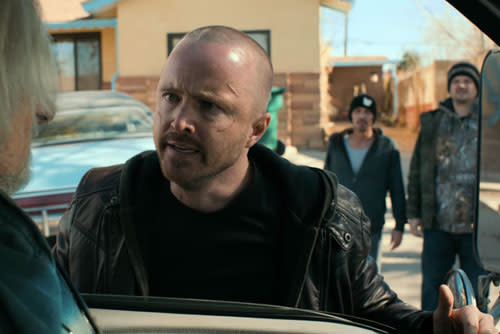 Image courtesy of Netflix

 
Picked by Monty White, Director of Marketing
The movie picks up immediately where the series left off with Jesse fleeing the Brotherhood compound where he had been held prisoner. It follows him as he tries to escape his past and the police and find the money he needs to disappear.
I love this movie because it continues one of my all-time favorite shows, Breaking Bad. It's fun to see how my favorite characters turn out. It's also every bit as good as the original series; it's funny, dark, shocking and most of all, entertaining.
HE'S JUST NOT THAT INTO YOU (2009)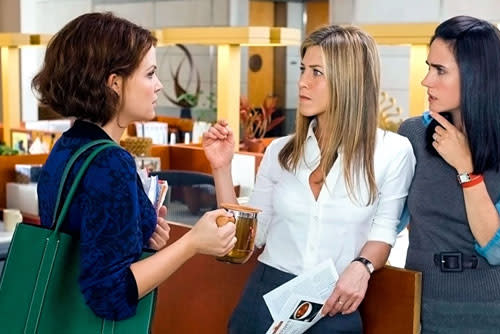 Image courtesy of Warner Bros. Pictures

 
Picked by Lori Sirmen, Communications Manager
All the single ladies, I promise you can relate! The film is a cheesy rom-com with a classic ensemble cast that narrates the story of my (your?) love life. It's based on the best-selling self-help book, He's Just Not That Into You, and follows the complex love lives of a dozen or so characters navigating modern relationships. Ginnifer Goodwin stars as Gigi, a twenty-something attempting to understand the mixed signals she gets from the men she's dating. Beth (Jennifer Aniston) wants commitment from Neil (Ben Affleck), who sees nothing wrong with the status quo. Gigi is tired of waiting by the phone, while Mary (Drew Barrymore) has a slew of supportive male friends, none of whom are straight.
If I took the quiz "Which movie character are you?" … I'd be Gigi, but a bit less psycho! Actually, I've been Gigi for much of my dating life.  My first encounter with the self-help book was in the Toronto airport on January 2, 200? (year purposefully forgotten). I spent New Year's Eve with an ex and his parents. That was my first mistake. He was an ex for a reason. When I discovered that this ex had been texting his secret and current girlfriend over the holiday, I left Toronto suddenly and paid a premium to change my ticket. Then to recoup my expense, I offered to give up my seat on the oversold plane for a flight voucher and passed the hours in the airport reading the relatable self-helper cover to cover. That said, when the movie released, it was a must-see for me.
Bottom line: Men, you've been warned,  this is a chick flick. Ladies, if you've been waiting for him to text or call, this is for you. If you're a sucker for rom-coms, it's entertaining. It's both funny and thoughtful, happy and sad. It's relatable, but not to be taken too seriously. If all that doesn't grab you, the star-studded cast features Bradley Cooper. Need I say more?
SELF MADE (2020)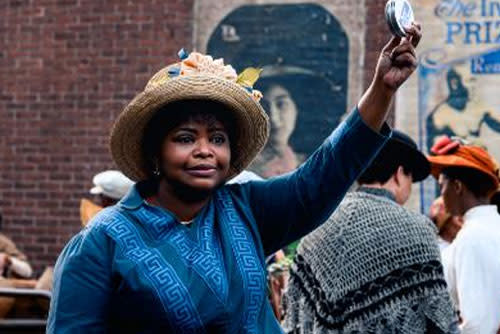 Image courtesy of Netflix

 
Picked by Kayla Mansour, Marketing Manager
The movie is actually a 3-part series where an African American washerwoman rises from poverty to build a beauty empire and become the first female self-made millionaire. Based on a true story.
It was so sweet and inspirational! I love watching characters who resolve to achieve the impossible, no matter the odds or their circumstances.  If you need something to lift your spirits, this is a must for your watch list.
THE GUERNSEY LITERARY AND POTATO PEEL PIE SOCIETY (2018)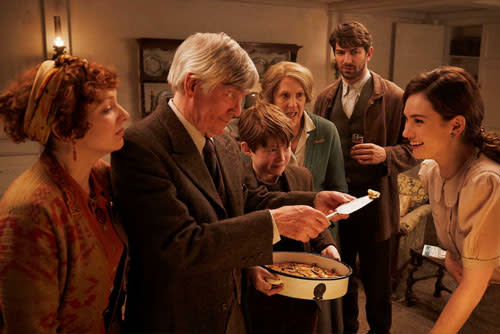 Image courtesy of Blueprint Pictures

 
Picked by Carol Stoddard, Sr. Marketing & Communications Coordinator
Set in pre and post WWII, London author Juliet Ashton travels to the island of Guernsey to visit new friends found through an extreme happenstance. Learning how the war affected everyone individually, she comes to realize her heart must decide between her new friend, an unassuming farmer who loves books, or her handsome American fiancé soldier.
I chose this movie because it ticks so many boxes.  There's romance, travel, adventure, great cinematography, suspense, and best of all, it draws you into the characters' lives where you want to know more about them.  And you fall in love with them all.