I don't know about you, but I'm getting pretty good at binge-watching these TV series I missed on the first go-around.  Sitting in my comfy chair with a Diet Coke and a bag of buttered popcorn (the calories cancel themselves out, right?), then turning on a great movie or binging on a show is like Netflix Nirvana to me. 
In our previous blog you learned all about the Visit Irving Marketing and Communications staff picks, so today I get to share with you what our award-winning Sales Team is watching.  They, too, love their movie time. Let's see what's playing! 
WHEN IT'S TIME TO TUNE IN AND CHILL OUT
The Bounty Hunter (2010)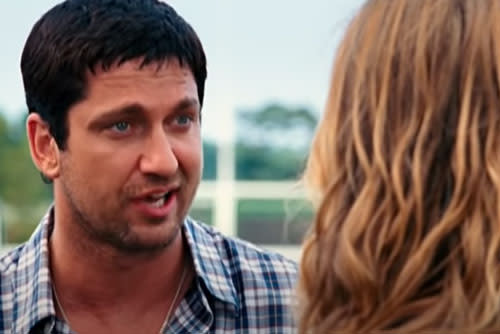 Image courtesy of Columbia Pictures

 
Picked by Lori Mansell, National Sales Manager
Milo Boyd (Gerard Butler) is a former New York Police Department detective who works as a bail enforcement agent. He learns that his next target is his ex-wife, Nicole Hurley (Jennifer Anniston), who's a reporter working on a murder cover-up. In fact, the whole reason why her bail was revoked was because she chased down a lead on her story instead of appearing in court for assaulting on an officer. But that lead, her informant, is kidnapped before she can talk to him. Soon after their reunion, the always-at-odds duo find themselves on a run-for-their-lives adventure.
I picked this movie as my favorite because it's a cute romantic comedy with a lot of action too!  You never know what's going to happen next. Plus, Gerard Butler is not so hard on the eyes.
Hollywood (2020)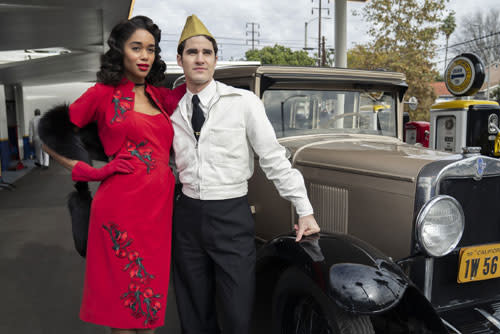 Image courtesy of Netflix
Picked by Kelly Roche, National Sales Manager
This series follows a group of aspiring actors and filmmakers in post-World War II Hollywood (1947–1948) as they try to make it in the film industry—no matter what the cost. Each character offers a unique glimpse behind the gilded curtain of Hollywood's Golden Age showcasing power, and challenges to that power, intertwined with many types of biases which continue to this day. The show is described as exposing and examining decades-old power dynamics, and what the entertainment landscape might look like if they had been dismantled.
I chose this one because Netflix sent me an email suggesting I might like it. It also piqued my interest when the cast members began promoting it on social media and talk shows. And now, of course, all of my friends are watching it. Quite surprisingly, these behind the scene scandals really took place, or so Hollywood says. It's just amazingly intriguing and is one of those shows where I can't wait for the next episode, heck, even the next season.
Ozark (2017-present)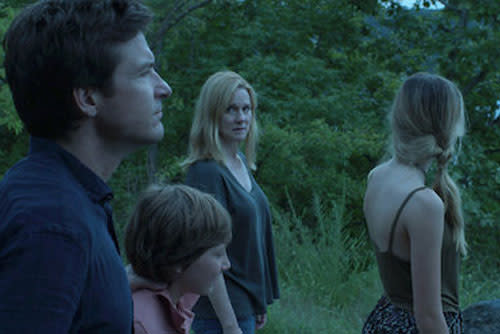 Image courtesy of Netflix

 
Picked by Wendy Foster, Senior Convention Services Manager
The fast-paced plot follows the Byrde family, led by financial advisor Marty (Jason Bateman) and political campaigner Wendy (Laura Linney), who are forced to leave Chicago and go on the lam in the Ozarks when a money laundering scheme goes south, putting them under the thumb of a Mexican drug cartel and under the scrutiny of the FBI.
While a little gritty at times, I love the writing. It really builds upon their family dynamics and best of all, there's the tenacious Ruth Langmore! Even though she comes from "the wrong side of the tracks," she's really just working hard to make a living and protect her dwindling family.  I love that her character breaks free from the traditional politically correct expectations we all live by, especially when the lines begin to blur between family resolve and the law. 
Virgin River (2019)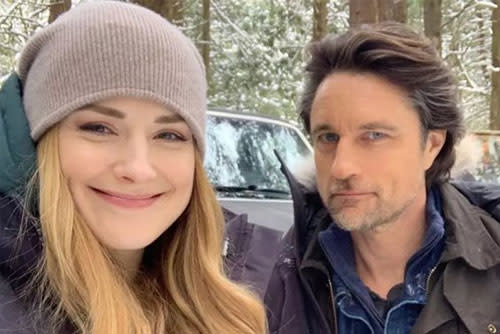 Image courtesy of Netflix

 
Picked by Debbie Roberts, National Sales Manager - Sports & Entertainment Markets 
When nurse practitioner Melinda Monroe (Alexandra Breckenridge) leaves Los Angeles to seek a fresh start (there is a back story) in a remote Northern California town, she is surprised by her new (not) home, her new job and who….she ultimately finds...maybe even herself.  She glimpses at the realization that she must learn to heal herself before she can truly make Virgin River her home.
This is a binge worthy series, but do take your time….the characters are very interesting, quirky, suspicious and fun.   I chose this series because it's about the struggles of every day life. You may find love and hope when your life is mostly out of control and dreams are impossible.