If you have visited the Toyota Music Factory, you may have seen this local gem; Nosh & Bottle Market. A wine shop, market, restaurant, and a place to simply hang out; Nosh & Bottle is anything and everything you want it to be. The "Living Room of Irving" is the perfect spot for a date night, girl's day, game night with friends, a place to enjoy live music, or the perfect space to plan your next private event. I feel like I could go on and on about all the possibilities Nosh & Bottle offers to the community. Amazing food, great wine options, craft beers, and features throughout the market show their love for the local small businesses of Irving and DFW. I had the honor of sitting down, over a bottle of wine of course, with the power couple owners of Nosh & Bottle and discussing how this space came to be, their vision for the future of the market, and all the incredible services they can offer to patrons.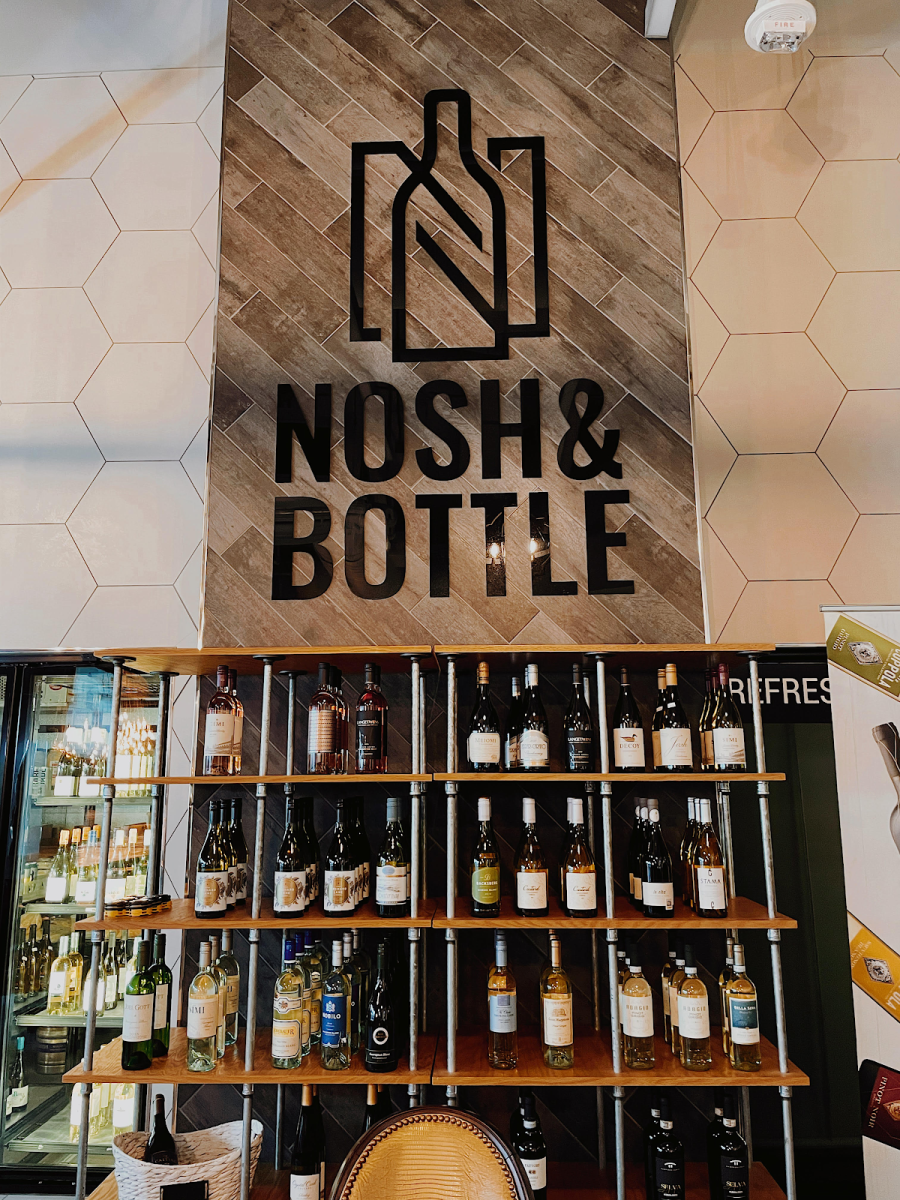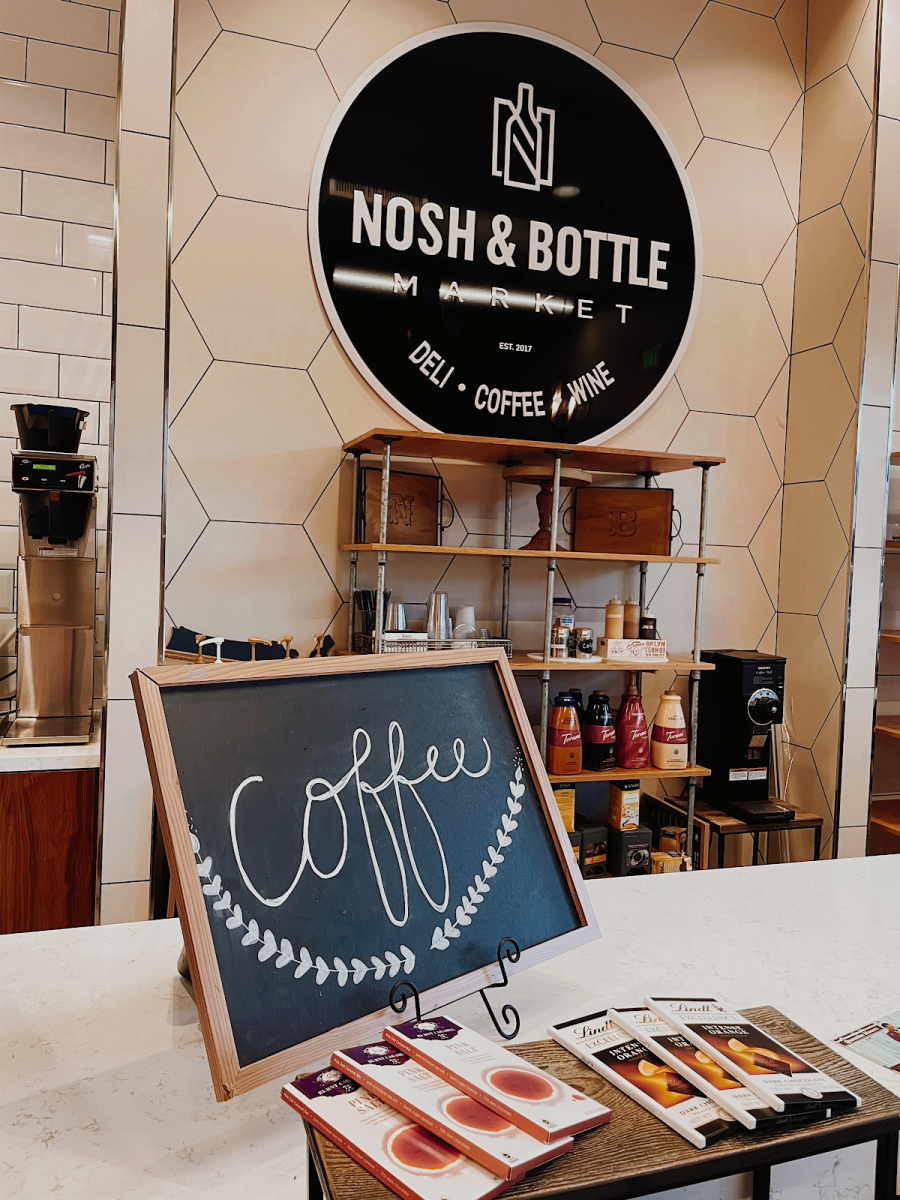 How would you describe Nosh & Bottle to someone? 
Nosh & Bottle started as a bucket list dream that took to life when owners Jim and Nacy found their way to Irving, Texas. Inspired by the market stores in the California wine country, Nosh & Bottle opened with a large focus on the market sections which included, wine, craft beers, non-alcoholic drinks, and perfectly pairable grab-n-go food options. While the market is still a staple of the space, more focus has been placed on the food and entree menus that turned this place once a quick stop for a glass of wine into a full course dining experience (and you can still buy your wine bottle and snacks for to go after).
For the early risers, a full coffee bar and delicious breakfast options are available and a full brunch spread on the weekends! Mimosas anyone? The beauty of Nosh & Bottle is that this space can meet the needs of whatever you or your group would like.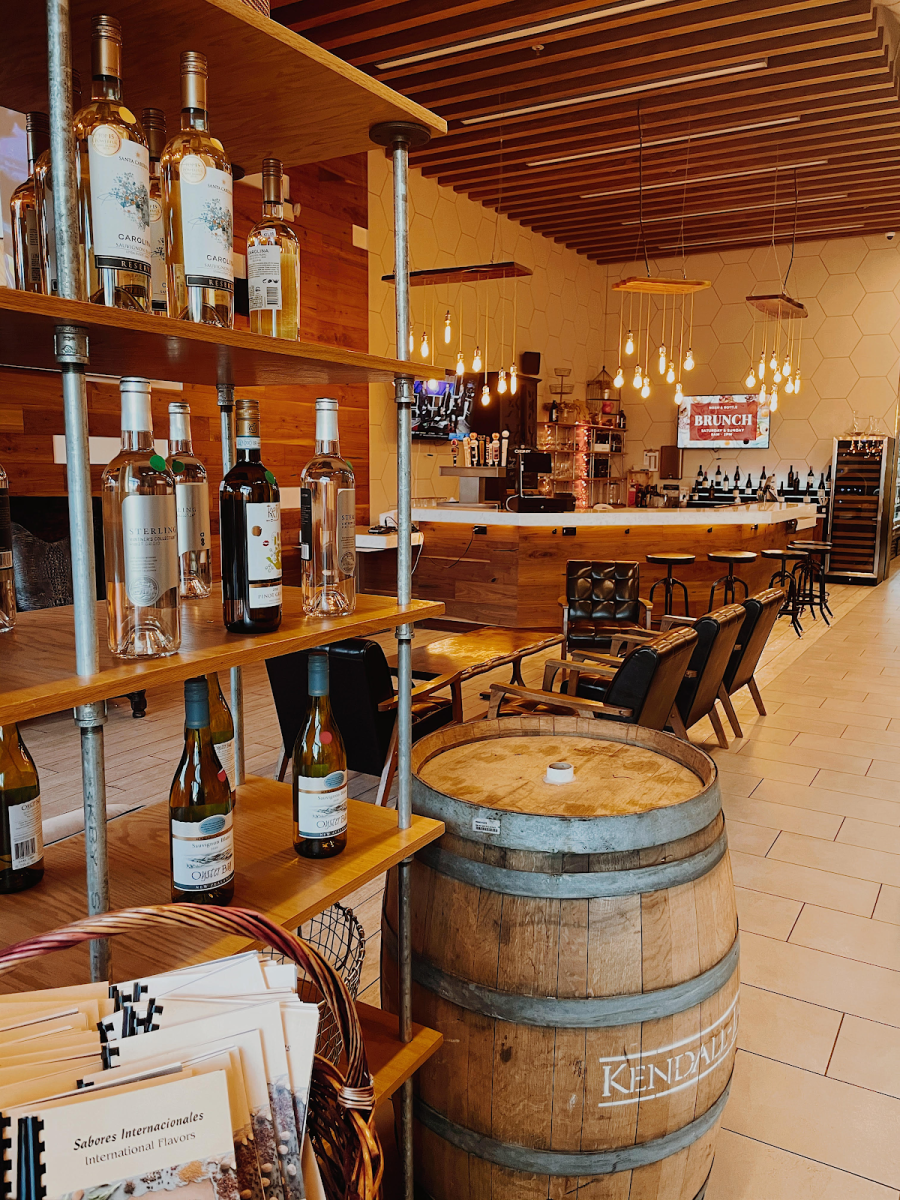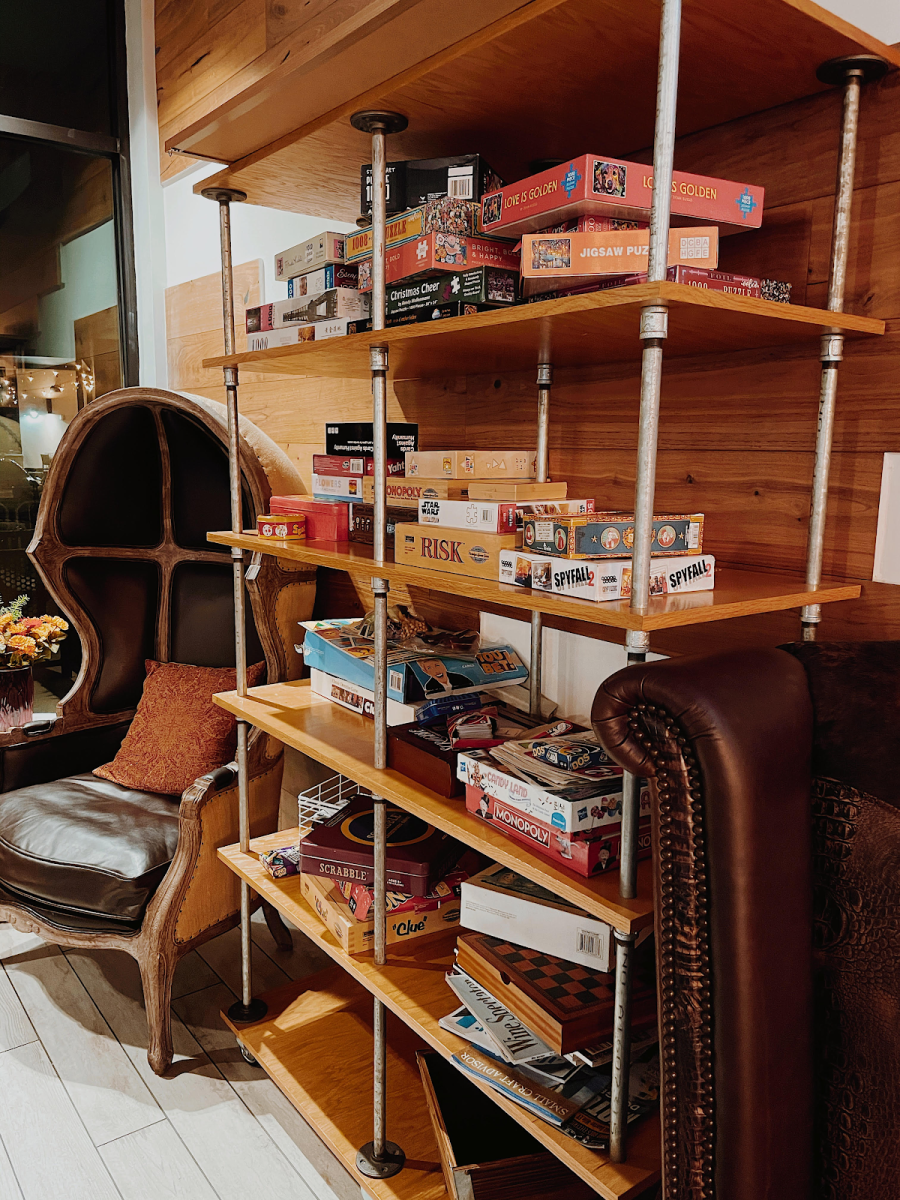 Date night, a girl's day, hanging out with friends, or a private event; Nosh & Bottle has it all. 
Several TVs and an assortment of board games set the mood for a relaxed wine night with friends and bring the "Living Room of Irving" to reality. You always feel welcome here and actually at home as if you are a regular even on your first visit. 
Looking for a place to gather your group for a birthday, bachelorette party, or any excuse to sip some wine and enjoy freshly prepared food? Call to book your next event and Nosh & Bottle will literally make your visions come to life. Even if a dish isn't on the menu, given a few days' notices, the team at Nosh & Bottle will prepare your ideal meal and have lots of wine and beer options to keep everyone happy. 
Bellied up at the bar, intimate table for two, enjoying the breeze on the patio, or laid back in large lounge style chairs—Nosh & Bottle is the ultimate date night spot. Start with a bottle of bubbly and a charcuterie board for two. Then enjoy a glass of your favorite wine paired with delicious hand-crafted salads, sandwiches, and dinner specials. For dessert, choose from an array of pastries from a local bakery or in-house pastry chef.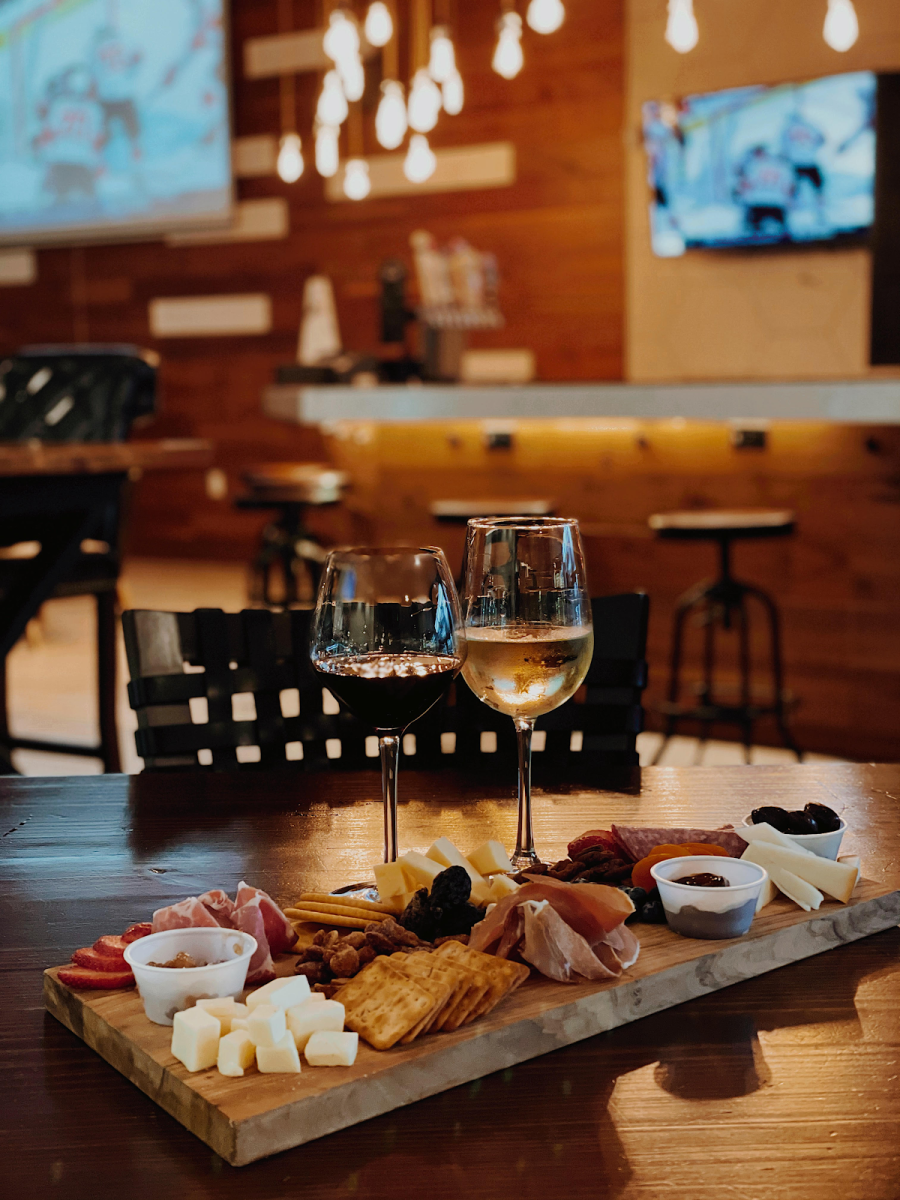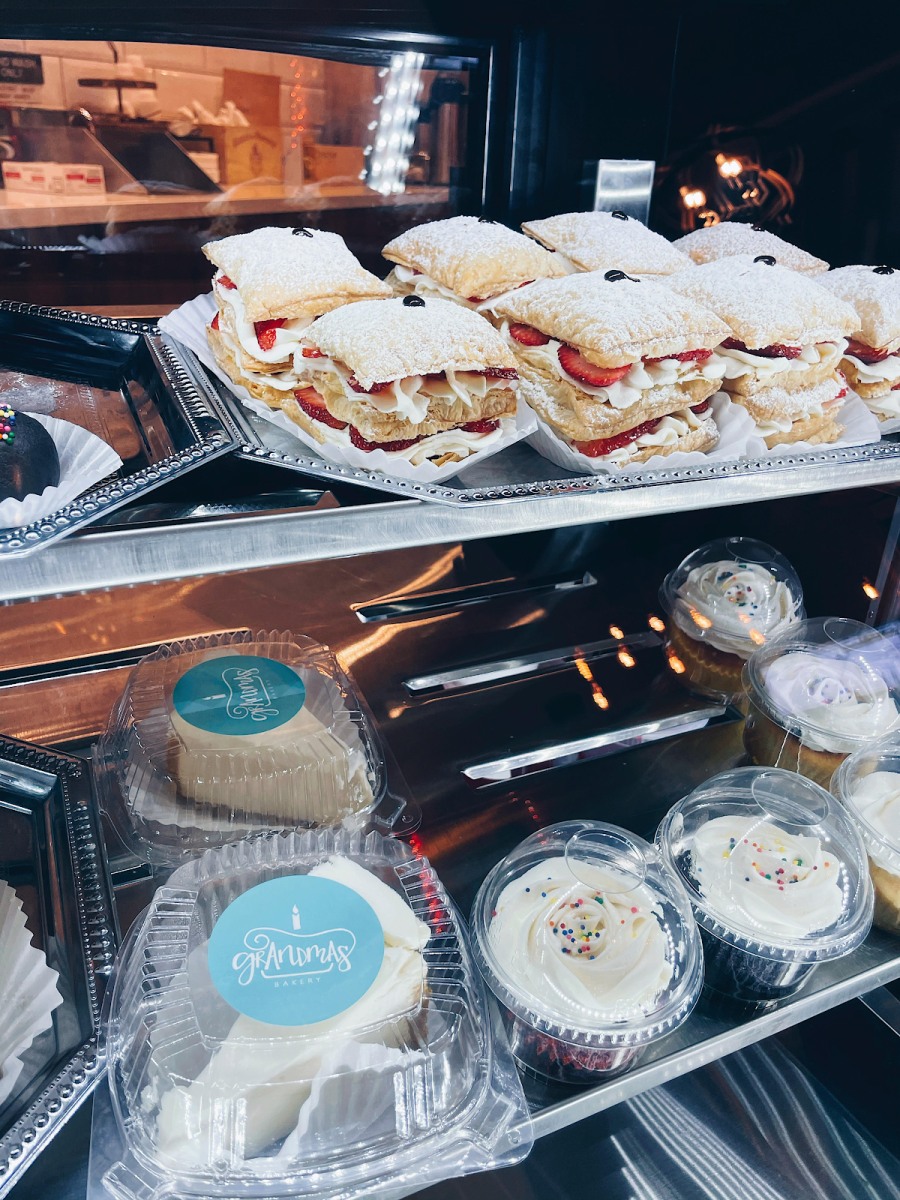 Any new adaptions you have implemented since COVID began? 
For those who do not feel ready to enjoy dining in yet or want to bring Nosh & Bottle to their home, there are several options for pick-up and delivery. And yes, the question we are all thinking; can they deliver wine? YES! Use the Uber Cornershop app for beer, wine, and prepackaged food delivered. For food menu options, you can find Nosh & Bottle on DoorDash and GrubHub. Don't want to pay for delivery fees; call in your to-go order and grab some goodies from the grab-n-go counter.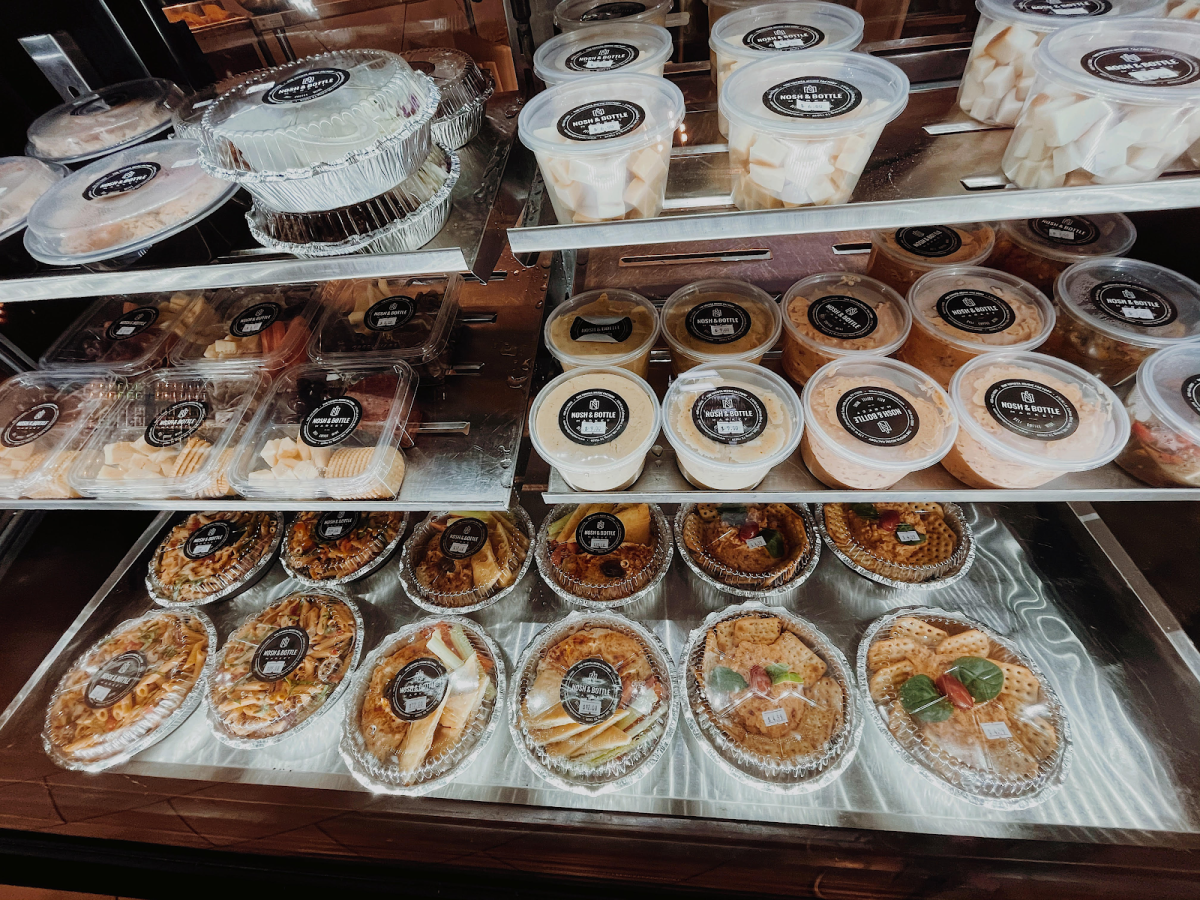 Nosh & Bottle can also create unique gift baskets, perfect for your next special occasion or elevated picnic in the park. With an array of wine, cheese, and charcuterie accessories; the team at Nosh & Bottle can put together your perfect combination. Also, look for gift items from local artists and vendors in the market to complete your amazing creation.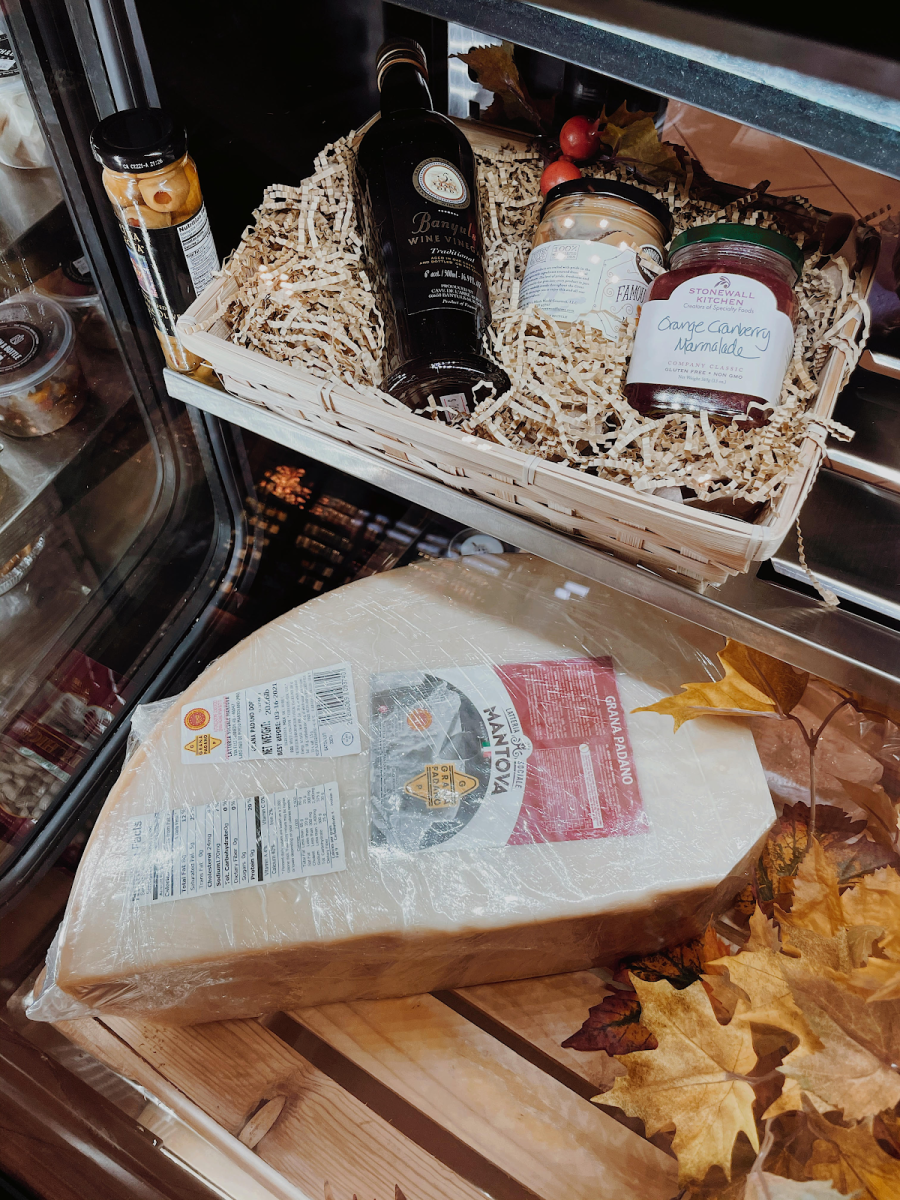 What are your favorite items on the menu? 
The first thing that immediately came out from owners Jim and Nacy was the Cubano sandwich. Layered high with pulled pork, applewood smoked ham, house-made hot pickles, mixed greens, swiss cheese, and mojo on ciabatta bread. This sandwich is definitely a must-order. Pair this savory flavor bomb with a glass of Pinot Noir, Tempranillo, or Sangiovese.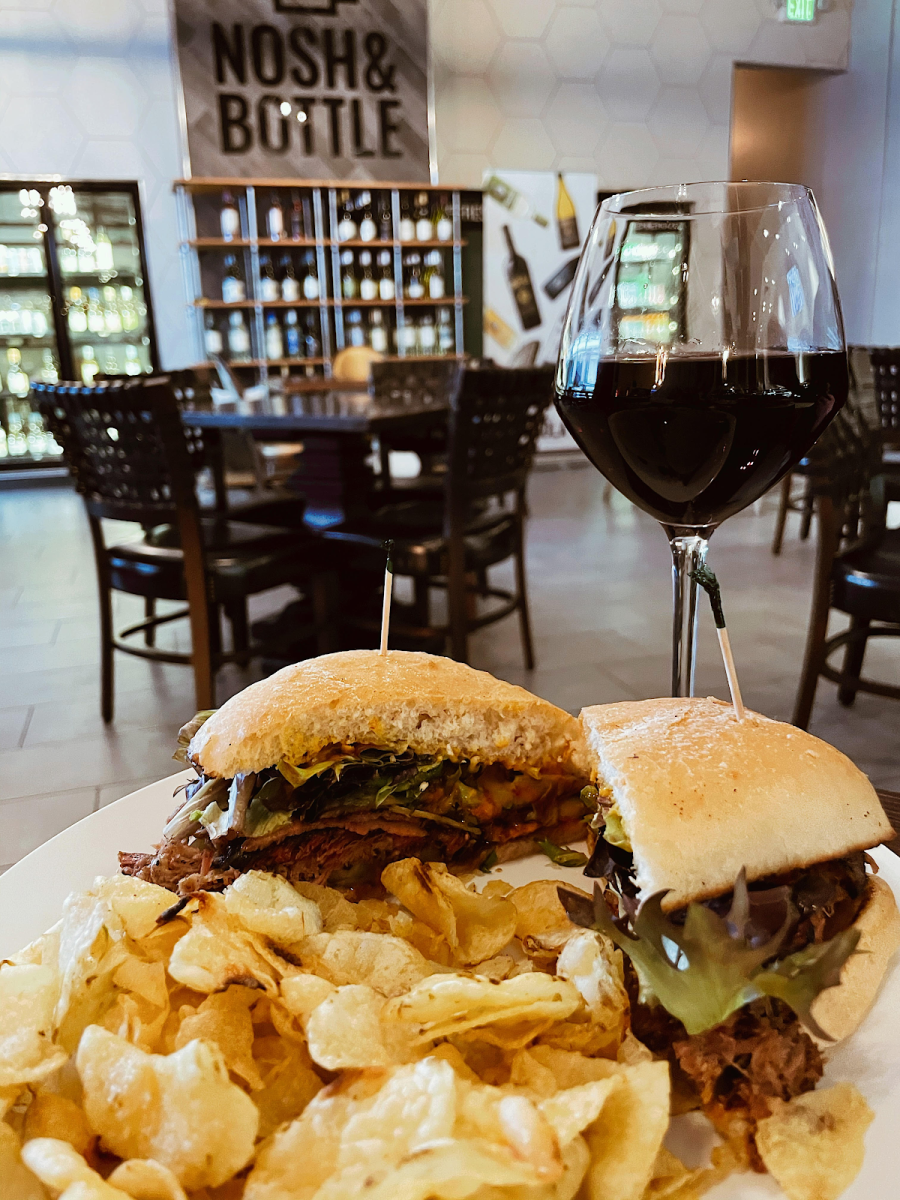 Next on the list is the smoked gouda pimento cheese dip. Creamy, smokey, and flavorful; pair with crispy potato chips for the perfect appetizer or snack to take to-go. Pair with Pinot Gris or Cab Franc. 
Another great suggestion is the burger which is offered as build your own! Design your burger to your preference with toppings like swiss, gouda, cheddar, feta, raw onions, grilled onions, house pickles, tomato, lettuce, garlic aioli, dijon, mojo sauce, balsamic glaze, fried egg, bacon, bacon jam, and pimento cheese spread. I can see my dream burger in my head now. Perfectly paired with a glass of Cabernet Sauvignon.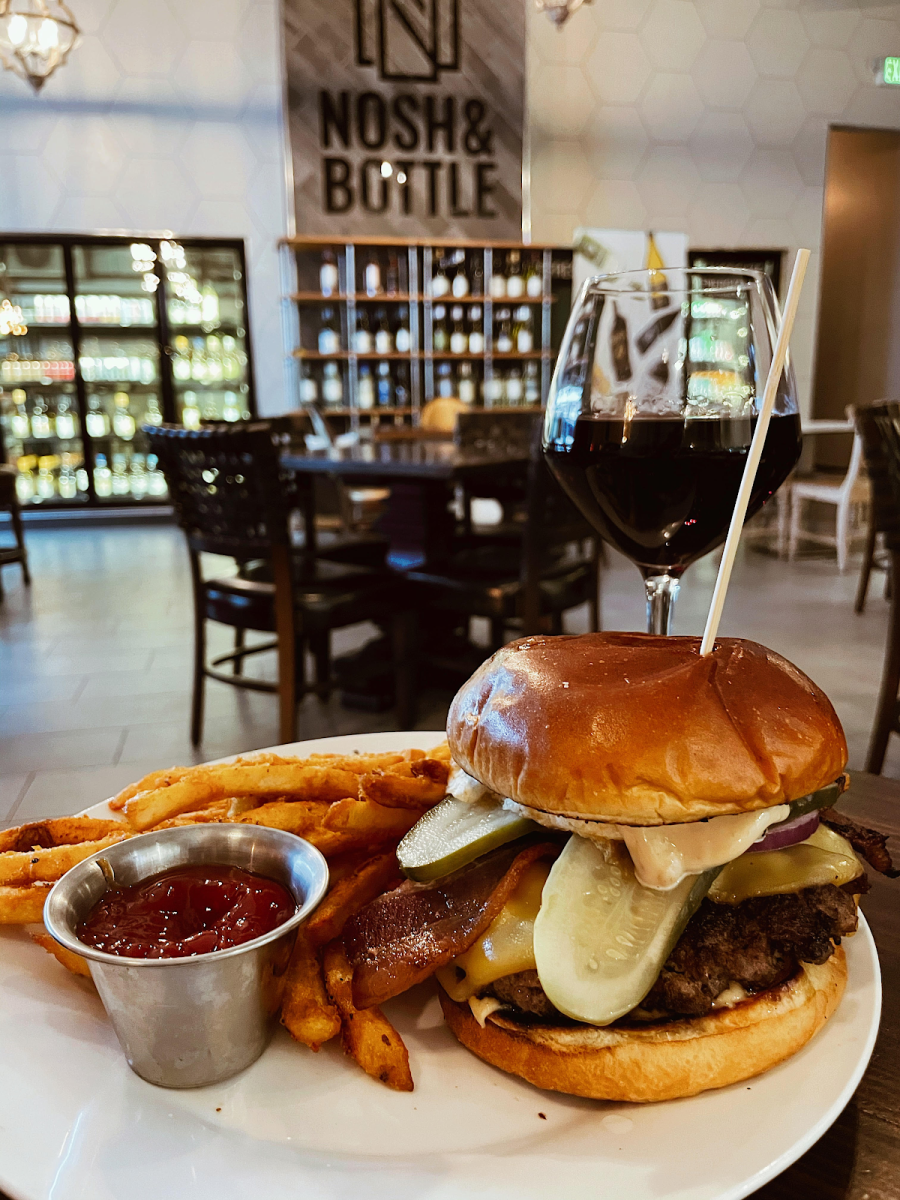 Any upcoming events? 
After the success of their Valentine's Day wine pairing 4-course dinner, Nosh & Bottle plans to continue this theme with upcoming holidays like Easter and Mother's Day. Keep an eye on their social media for updates on all upcoming events. Weekly festivities include live music, karaoke, wine tasting, and poker nights! You are sure to find a good time any day of the week you come to visit. 
What would you like to say to encourage a new customer to come in? 
The biggest takeaway to know about Nosh & Bottle is their passion for the local community. This is the place to meet with friends, family, co-workers, and maybe get to know your neighbors. While this past year has made it difficult to gather together, Nosh & Bottle will be ready to welcome all when they feel comfortable. Evidence of their community spirit is clearly visible through things like the baked desserts on the counter, gifts available for sale from local artists, live music from Irving favorites, and even the chandelier hanging above couches that from afar looks to just be light bulbs mixed with glass details, but when you take a closer look, local patrons have signed their names into the chandelier pieces.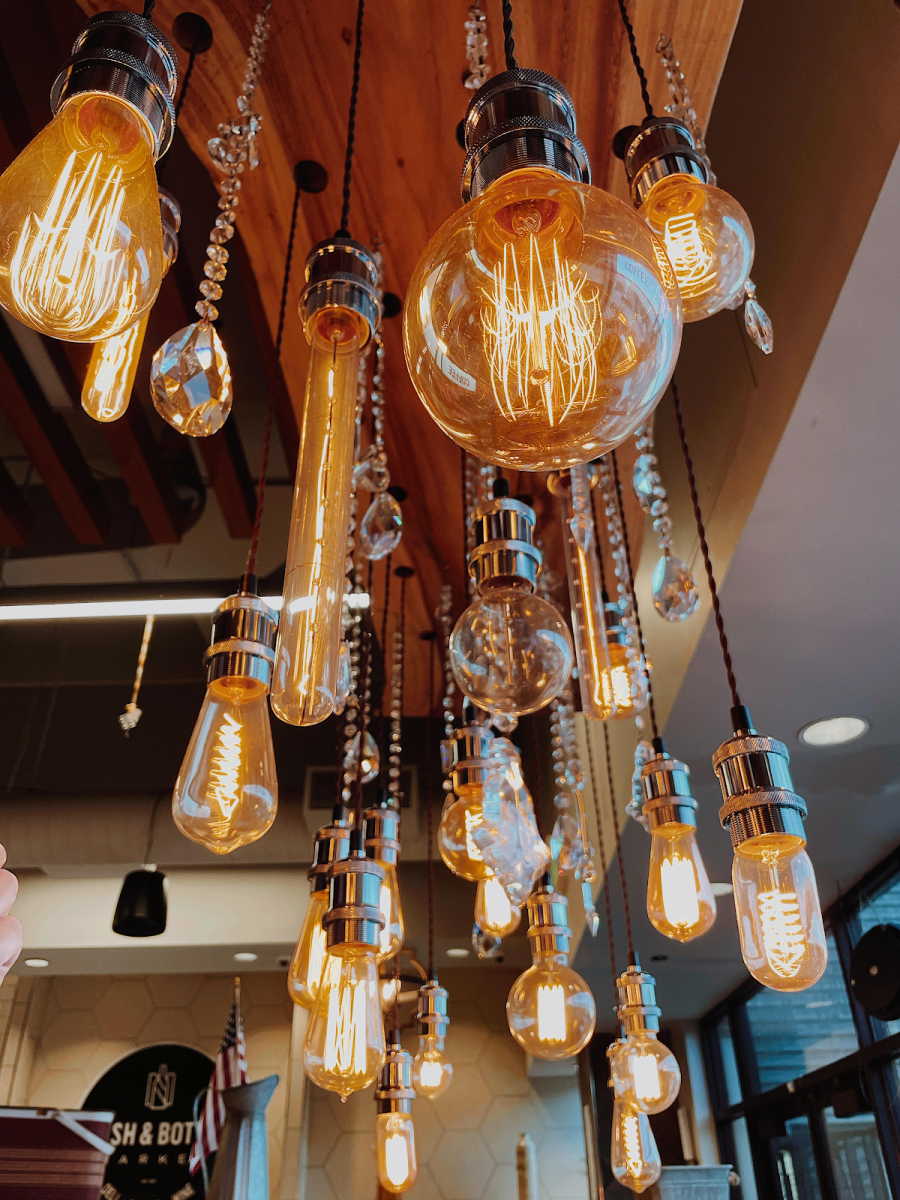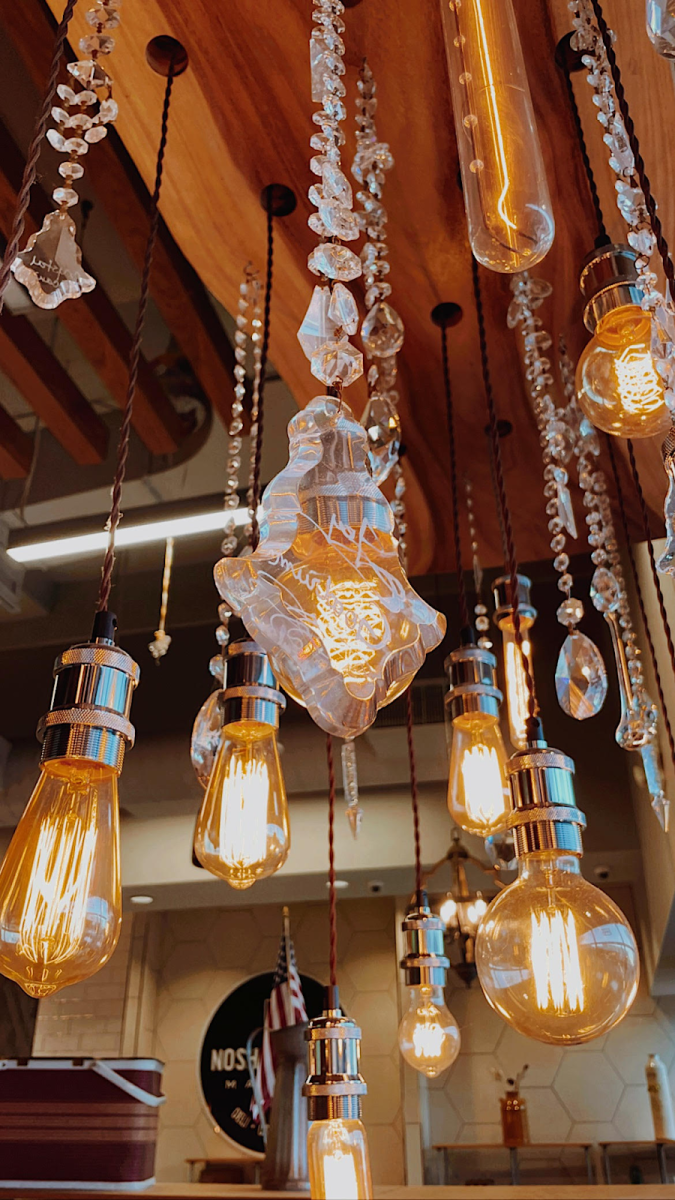 If you have not visited yet, I encourage you to experience this amazing place. If you are a frequent visitor, continue to show up for this independent, family-owned business that makes Irving such a special place. Let's all pour a glass and cheers to Nosh & Bottle!