Shake off the winter and Loco-motion into Spring this weekend with some great Motown hits and more! The line up of live music listed below is sure to get you outdoors and enjoying this beautiful weather here in Irving.  Dine out on the patio listening to a variety of tunes or move to the groovy music of Spectrum, the Motown Men.  It's a great weekend to explore Irving's music scene.
FRIDAY, MARCH 29
How often do you get to listen to a U.S. Marine Sergeant and Academy of Texas Music's Entertainer of the Year pour out her heart and soul with her own style of music?  Drop by The Ranch at 8 pm and you'll find out what Aubrey Lynn is all about. LEARN MORE
This hotshot southpaw guitarist from Nimes, France has earned the right to play some blues, following his rough and tumble 20 years from when he was a 17-year-old high school dropout jamming with blues legend Lucky Peterson at a French festival. Becoming an American citizen inspired Kevin "Frenchie" Sciou to follow his path of becoming an all American band, with a little bit of French cajun sound. Enjoy the Music Factory's newest restaurant with Green Gator and Frenchie's Blues Destroyers from 9 pm to midnight. LEARN MORE
More great sounds around Irving:
---
SATURDAY, MARCH 30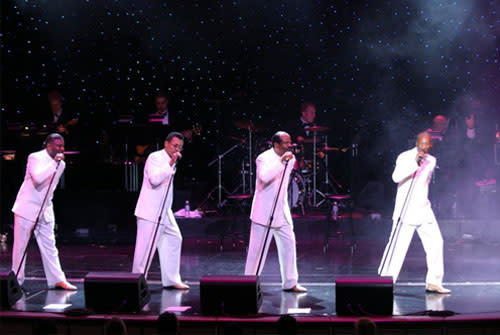 Spectrum, the Motown Men | Irving Arts Center
The ISO concludes its spectacular season presenting a tribute to Motown and R&B with guest artists: Spectrum, the Motown Men. Relive the musical magic of Motown greats such as The Temptations, The Four Tops, Smokey Robinson & The Miracles, The Spinners and much, much more. This super group recreates the style and sounds of the greatest Motown music, classic soul and R&B. Visit the Irving Arts Center for this fitting conclusion to a great season, beginning at 7:30 pm.  Cost is $31 - $49.  LEARN MORE
TruTV Impractical Jokers "Cranjis McBasketball World Comedy Tour" Starring The Tenderloins | The Pavilion
Critically acclaimed, world-renowned comedy troupe, and stars of truTV's it series Impractical Jokers, The Tenderloins' "The Cranjis McBasketball World Comedy Tour – Starring The Tenderloins" comes to Irving on the heels of the group's hugely successful "Santiago Sent Us" tour.  Featuring completely new material and hi-jinx for audiences across the globe, this is a show you won't want to miss. It's another world-class event brought to you by Live Nation at The Pavilion at Toyota Music Factory. Doors open at 6:30 pm, show starts at 8:00 pm.  Cost is $39 - $79+.  LEARN MORE 
More great sounds around Irving:
---
Be sure to take in all that Irving has to offer this weekend, but don't forget to be social.  Tag us in your post and stories with #VisitIrving and/or #IrvingRocks. Also follow us on Facebook, Twitter and Instagram to stay in the know.  For additional area events not listed in this blog, visit our website at www.irvingtexas.com and view the events calendar.  Now, get out and enjoy this beautiful weather!