Summer is in full swing, and it will be gone before you know it. Whether you're a visitor or a local, here are the top 20 quintessential Irving experiences you need to add to your summer bucket list! Come turn up the volume and have some fun. 
1. Plan a Picnic
Make a feast for the family at home or pick up sandwiches at your favorite local shop, then head to one of several great places for a picnic in Irving. The city is full of scenic locations, and we can tell you just where to find the best spots. 
2. Send the kids to art camp
The Irving Arts Center is offering fun art and theatre camps for the kids. Check out the website and grab that last slot from August 2-6.
3. Get that hot girl (or guy) summer bod
At 4:50 a.m. and 6 a.m. every Monday, Wednesday, and Friday, Camp Gladiator offers classes on the Texas Lottery Plaza at the Toyota Music Factory (TMF); their community class at 7:30 a.m. on Saturdays is free. 
But those aren't the only ways you can get your fitness on at TMF, check out Commit to Hiit every Wednesday at 7 p.m. and Poses on the Plaza on Saturday at 9 a.m. Be sure to check the Texas Lottery Plaza Calendar for dates and times.
If organized fitness is your jam, check out the many beautiful trails and nature parks and get your steps in around town. 
4. Head to the movies for a summer blockbuster
You can catch the latest shows at AMC Irving Mall and watch recent movies at discounted prices at the AMC Classic Irving. Toyota Music Factory's Alamo Drafthouse will reopen on August 13.
5. Check out the local Farmers Markets
Stroll through the Las Colinas Farmer's Market and look at all the food, gifts and goodies. Local businesses offer up their wares every Saturday morning from 9 a.m. to 1 p.m. in the MacArthur Park shopping center parking lot near Lamberti's.
The Irving Junction Farmer's Market takes place every Saturday and Sunday from 8 a.m. to 4 p.m. in the Southern Junction parking lot. Enjoy shopping for food and local crafts. 
6. Cool off in a swimming pool
There's nowhere the kid in me would rather be in the summer than at the pool. You can take your pick around town. Check out a cool hotel pool like the one at the Omni Las Colinas Hotel. You can enjoy the pool during a staycation or buy a day pass for a fabulous day of sun and fun.
If you're looking for a public pool that's open for the summer, visit the Cimarron Family Aquatic Center or the West Irving Aquatic Center. Both are open through Labor Day. 
7. Enjoy a summer evening of music on the patio
Summer nights can be magical and music makes it better. The Ranch at Las Colinas hosts live music five nights a week at The Pavilion inside their bar area. The sweet sounds even spill out onto the spacious and dog-friendly open patio. Experience fine dining with amazing Texas flavor, sip a few cocktails and enjoy the sounds of local musicians, all in one night.
You can also enjoy music on the patio at Two Mules Cantina at Texican Court or the OUTLAW Taproom at LAW Restaurant at Four Seasons Resort and Club.
Follow our blog for weekly live music updates, or sign up for our newsletter to stay in the know about the best places to enjoy live music in Irving.
8. Explore a local park (or two)
A morning in the park is a great way to make the most of the summer sunshine without wilting in the heat. At Centennial Park, you can take a long walk, feed the ducks in the pond, or just take in the beauty of the seemingly boundless green space.
At Cottonwood Creek Park, join a friend for an early game of tennis, let the kids romp in the playground or walk the paved trail and enjoy views of beautiful flowers and trees. 
There are several other pretty parks in Irving to enjoy this summer before it slips away.
9. Eat some summer treats
There's no snow cone quite like a snow cone on a hot summer day, and you can find refreshing frozen treats all around Irving. From frozen lattes to cold fruit treats at fruterias to frozen pops and ice cream, there's a cool treat to suit every sweet tooth.
Flavor-savvy Bodacious Cones has flavors that can make anyone feel like a kid again. The Superman mixes strawberry and blueberry syrups with cream and is topped with whipped cream and sugar sprinkles. More mature palates might enjoy Da Bomb, made with cream, mocha and caramel syrups, and topped with whipped cream.
Favorite flavors from your childhood like Root Beer, Bubblegum and Tiger's Blood are likely to delight every generation in your family.
10. Reminisce on summers past
If frozen treats bring back memories of summer's past, you can indulge that nostalgia a bit more at Big State Fountain Grill in downtown Irving. Grab a seat on a swivelly stool at the counter and order up a burger and fries with a chocolate shake or a root beer float. 
While you're going down memory lane, check in on classic Irving restaurants like Angelo's Spaghetti and Pizza House, Joe's Coffee Shop, PJ's Cafe, Mama's Daughters' Diner or Irving Diner to make some new memories.
11. Get out on the lake
Lake Carolyn in the Las Colinas Urban Center is a cool place to embrace the joys of summer. Ride an aqua trike, take a gondola cruise, or just glide across the lake on a stand-up paddleboard. However you decide to enjoy it, there's waterside fun to be had.
12. Grab some cocktails on date night or a girls night out
A night out with your favorite person (or people) takes on a special glow on a summer night. The margaritas at Mexican Sugar are summer stunners and you can sip the Classico by the glass or by the pitcher. Try a hibiscus-infused margarita or the serrano-infused Machete with watermelon and cucumber. If you can't decide which one sounds tastiest, you can get a flight of all three.  
If martinis are more your style for cocktail night, we can help you find all the best ones.
13. Roam the galleries and Sculpture Garden at Irving Arts Center

If you drive by the Irving Arts Center at dusk, you can see the stunning mosaic mural and some of the sculptures in the garden at their loveliest. But be sure to plan a daytime visit so you can see all the galleries inside too. 
14. Watch some baseball at a local sports bar
Summer means baseball, but it doesn't have to mean a trip to the stadium. You can catch the game and have a great dinner and a few beers in air-conditioned comfort at a friendly Irving sports bar. Walk-Ons, Spirit Grille and Our Glass are ready to serve your game-watching appetite.
15. Catch a concert tour
The concert schedule is heating up as summer winds down. The Pavilion at Toyota Music Factory hosts Kem and Babyface on August 14, Compadres Tour: Fonseca & Cepeda on August 15, and Megadeth and Lamb of God on August 21.
Be sure to also check out these fun music events heading to The Pavilion:
Jason Mraz, Aug 1
Blackberry Smoke, Spirit of the South Tour, Aug 5
Atmosphere, Cypress Hill & Z-Trip, Aug 6
Jelly Roll, Aug 20
Los Angeles Azules, Aug 31
16. Have a laugh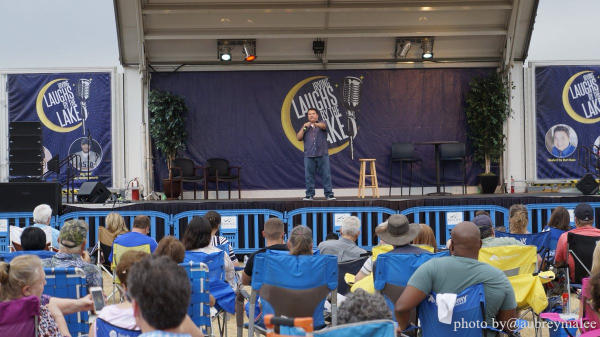 Don't miss one of Irving's signature events, Laughs By the Lake on August 27 at the newly renovated Levy Event Plaza. Bring a blanket or lawn chair to Irving's beautiful Lake Carolyn and tickle your funny bone at the largest outdoor comedy show in North Texas. 
If you want to keep the laughs going, grab your tickets for an upcoming show at The Pavilion at Toyota Music Factory. On Aug 13 Andrew Schulz is on stage and Jim Gaffigan performs on Aug 27. 
17. Throw caution (or an axe) to the wind
370 W. Las Colinas Blvd
Throwing a very sharp object at a target can be fun and therapeutic – for both your mind and your body. Head over to Stumpy's Hatchet House at Toyota Music Factory and just let it all go!
18. Get a new look for summer
Shop Macy's and other stores at Irving Mall for some fun summer wardrobe finds or visit Pure Salon and Spa for a blowout or an all-new do. 
19. See a live show
There are two great shows you can catch before summer comes to an end.
Ready for a quick-witted and glamorous show? Me & Jezebel is on stage through Aug. 7 at Dupree Theater. This is an intimate, funny, and true story of a Hollywood legend coming face-to-face with her most ardent fan. 
A classic psychological thriller,  Bad Seed hits the stage Sept. 10-25. Set in the 1950s, Christine Penmark seems to have it all: a lovely home, a loving husband, and the most perfect daughter in the world. As the details from the tragic event start to come to light, Christine questions whether her daughter is as innocent as she seems…and only her father knows the truth about her nightmare.
20. Grab some friends for a game night
Who doesn't love a good game night? There are so many to play so bring your friends, bring your brains and bring your friends' brains for Trivia Night at Spirit Grille, Aunt Cissy's or Walk-On's. Bring your game face for Texas Hold'em every Saturday at Nosh & Bottle, each Tuesday at Spirit Grille and High Stax Poker at The Green Gator each Thursday. Last but not least you're going to want to check out Music Bingo at Nosh every Tuesday and Green Gator features Melodies and Memories Music Bingo on Wednesdays.