Mom, Momma, Mother, Mommy, Mama, Mamacita, Mummy, Mum, Madre, Ma - Each and every one of them deserves a solo staycation! Seriously, there's no "paid time off" for being a mom - especially after a year of parenting during a global pandemic - a year when Mum has not been just a parent, but a teacher, chef, housekeeper, coach, activity director, entertainer, referee, and so on. And some mamas have been juggling all those roles … in addition to working from home. That's why this Mother's Day you need to gift the moms in your life a "momcation" - otherwise known as a staycation sans sig other and kids. That's right, dads, your credit card gets to go, but you don't! You'll get your day in June. 
A local, lovely hotel is not just something a mom working from home could use. It's something any mom or even grandma could benefit from, truly, anytime. But one size does not fit all when it comes to the perfect Mother's Day getaway. Whether your mamacita loves music, adventure, spas or wine, Irving makes it easy to escape without ever leaving town. Check Mom into one of these local treasures guaranteed to give her a mini-retreat from reality and return her even more rested, relaxed and rejuvenated than before. Travel not required.
 
Spa, Sleep, Sip, Dip and Dine at the Four Seasons Resort at Las Colinas
Perfect for: The Glamour Mom who loves to be wined and dined, pampered and polished
This mother sashays into school with her children each morning looking like she walked off a page of Vogue Magazine. She is usually wearing heels, oversized sunglasses and skinny jeans. Her lips are perfectly pouted and her kids are perfectly groomed.
She's as lovely as the Four Seasons Resort where her itinerary will include facial treatments, massages, a decadent mani/pedi, champagne, and spa cuisine at the Well & Being Spa. And she's likely not to make it through the spa boutique without a spending accident. You've been warned, Daddy!
Perfect for: The Hot Mess Mom who needs downtime, wine, coffee and sleep
You know this mom - the opposite of the Glamour Mom, the one who forgets her kids' appointments, is late to drop them off, has spilled coffee from her travel mug on her yoga pants, and her hair is almost always a mess. Uninterrupted sleep is more valuable than just about anything for this mom. She's likely to binge-watch rom coms, clamp the blackout shades together with a hair clip, sleep in late, like really, really late, then order whatever she wants from room service (might I suggest the French toast with caramelized bananas). During the afternoon she will hit the pool and have some cocktails. She may opt for a massage, but only if there is walk-in availability. She does not want a schedule.
Perfect for: The Gym Mom who is energized by exercise
She's a walking advert for Lulu, typically arriving at school with a brisk trot and glistening cheeks after a loop around the lake (before breakfast). She will absolutely die for the Fitness Center at the  Four Seasons Sports Club which was recently renovated to the tune of $8 million. Guests of the hotel may attend any one of a variety of fitness classes, like Pilates, yoga or the combo Pi-yo, group cycle and the ever popular AntiGravity Aerial yoga. There's even an indoor jogging track. A morning workout or two, a dip in the oasis style pool, a spa lunch and deep tissue massage is just what will make this fit momma healthy and happy. Find the perfect offer for her stay!
Perfect for: Any & Every Mom, plus the whole family
Sunday Brunch at the Four Seasons Signature Restaurant LAW
Bring the young 'uns to the hotel to celebrate with Mom on her special Sunday. Executive Chef Christof Syré and Chef de Cuisine Paolo Gama have outdone themselves this Mother's Day with a four-course brunch that is dripping with decadence and deliciousness. Even the fit mom will want to indulge in a seafood platter with Alaskan king crab, shrimp and sushi, lobster bisque, Benedict Florentine, brioche French toast ... and those are just the starters. You can order from the same four-course menu for takeout by calling LAW at 972.717.2420 by May 5. Just be prepared to do the dishes because Momma has the day off! 
Sunday, May 9, 2021 with seatings from 10:00 am – 3:00 pm 
Pricing: Adults - $95, Children under 12 - $45 (exclusive of tax and 18% service charge) 
*Includes two complimentary mimosas or bloody marys 
Lounge Lakeside at the Omni Las Colinas
Perfect for: The Mom that just wants to have fun
It's likely that the mum in your life has little time for footloose and fancy-free fun. What better way to celebrate your fun-loving mum than connecting her to her inner (classy) spring breaker at the Omni Las Colinas. With a hopping pool scene, Lakehouse Waterfront  Lounge and full-service cabanas, this dreamy hotel in the heart of Las Colinas offers the ideal location for moms looking to let loose with friends and enjoy "mommy" time. 
 
Mommy and her posse can enhance their poolside playdate with the reservation of a semi-private cabana and cushioned lounge chairs, with full food and beverage services (for an additional fee).
Perfect for: The Laid-back Momma who wants "me" time
This woman knows that self-care is valid and that she can't be the chill, laid-back mom she is without some private mommy chill-time. She will forgo the cabana boy to read a book for hours uninterrupted. Then she'll retreat to her room for a long bath, and afterward take a short lakeside stroll to Water Street for dinner at Pacific Table where she can sit on the patio and watch the sunset. Book Mom's room here!
Perfect for: The Whole Kids & Kaboodle
Mother's Day Brunch at LRH Restaurant & Bar at the Omni Las Colinas
Buttermilk biscuits, smoked salmon, goat cheese crisps and shaved Brussels sprout & Tuscan kale salad are offered first, followed by a glorious feast of mains and sides all served family-style. The kiddos get their own platter with favorites you will want to sneak bites of, and all will enjoy the Sweet Endings menu section with confections like mini Texas pecan pies, key lime graham tarts and cake pops! Find the full menu here.  Call 972.556.0800 for reservations. 
Sunday, May 9, 2021 with seatings from 11:00 am – 3:00 pm 
Pricing: Adults - $55, Children 6 to 12 - $29 (exclusive of tax and service charge) 
*Complimentary for Children 5 & under
Send Mom Back to Simpler Times with a Retro-cool Retreat to Texican Court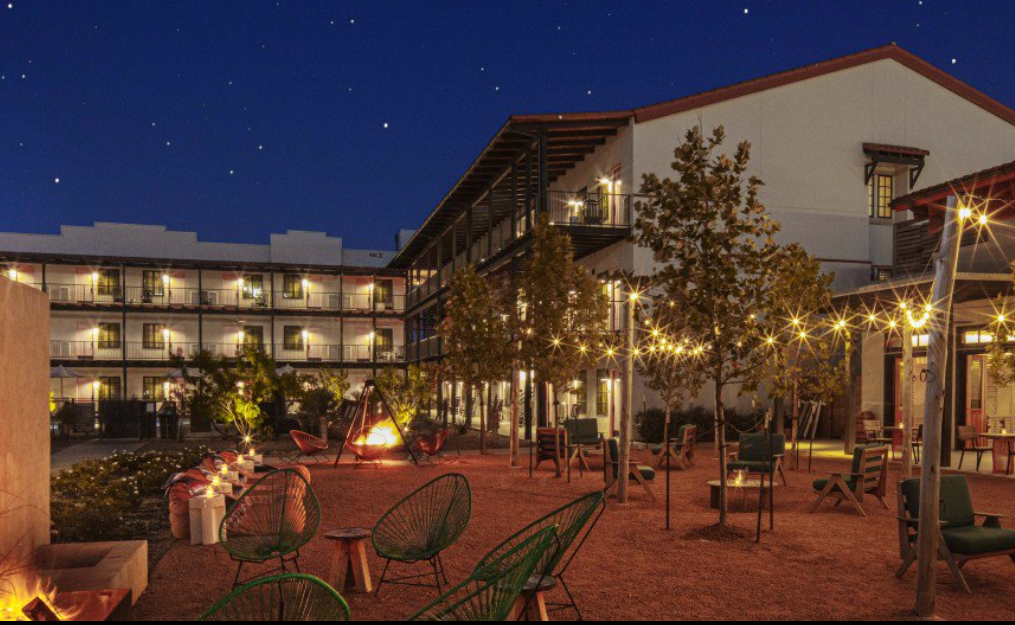 Nestled on acres of beautifully landscaped courtyards, Texican Court offers outdoor fun, lawn games, complimentary bicycles, fire-pits, an old-school outdoor circular swimming pool - all of which makes it a southwest oasis of summer vacation fun, right in the middle of the city. 
Perfect for: The Free-Spirited Mama who loves the great outdoors
This born-to-be-wild type of mama doesn't need or even like an agenda, but she does love hitting the open road without a schedule and saying yes to whatever spontaneous adventures arise. She believes that playtime outdoors is a must for her children and for herself. So, she will dig the Americana of this motor-court-style hotel where she can sip coffee in the rocking chair outside of her room, soak in the sun at the pool, groove to the live music in the twinkle-lit Texican courtyard and Two Mules Cantina, sit thoughtfully by the fire pit and gaze at the stars while letting her imagination run wild. 
When she's not blissing out, this mama will hop on a bike and get her adrenaline pumping with local adventure activities like stand up paddle and kayaking on Lake Carolyn by day and hurling axes at Stumpy's Hatchet House at the Toyota Music Factory by night. 
Perfect for: The Instagram Mom who "needs" a solo Insta post
Instagram moms have made "momming" look pretty cool. They post photos showing they can be hip and stylish while rocking a home-cooked meal and changing diapers. Well, get ready mommies to leave the kids at home. This magnificently kitschy hotel offers Instagrammable spots for your lovely selfie at every turn. Bring your besties with you to the bathtub though! 
Be Hip and Happy at the NYLO
Is your mom down for New York loft-style rooms with exposed concrete walls, plenty of sunlight and amazingly cozy beds? These moms are ...
Perfect for: The Hipster Mom who just needs to "be"
This Mom is super hip and is usually on-the-go with a child in tow. She knows what all the cool things are (whether it's on the Pre-K circuit or the latest and greatest in pop culture trends). She is the mom who makes being a mom look cool and makes the uncool moms look, well, uncool. She is the envy of other mom types. And it's no wonder - this trendsetter didn't trade her style for mom jeans when she got a positive pregnancy test.
Perfect for: The Cool Mom
She's very much like the hipster mom - she's young-ish (or refuses to grow up), she's fun, and she still shops at Forever 21. However, her coolness rating comes from the kids themselves. She's the mom that is totally down with having her house act as home base for all the neighborhood kids who flock there for the abundant junk food, sodas and big-screen TV. She's kind of a kid herself, which is why she will love the NYLO and its pool. 
Photo taken pre-covid. 

 

What better way to celebrate Mom than with the Celebration Package which includes champagne! Here's to you, Mom.