Is celebrating National foodie days nacho thing? Then let's taco 'bout National Fajita Day on Tuesday, August 18. Surely those sizzling bites of meaty goodness will tempt your palate. And let's face it, we live in the best part of the world for great TexMex. So we've listed below some of the top restaurants in Irving to get your fajita-fix, and some have specials too! Take your pico these choices.
El Fenix
3911 West Airport Freeway  |  (972) 573-3980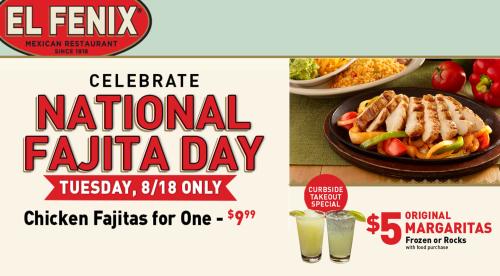 Serving traditional Tex-Mex dishes such as nachos, tacos, enchiladas, guacamole and queso, El Fenix specializes in fajita-mastery. Enjoy this sizzling dish inside, on the patio or at home with their personalized curbside delivery. Don't forget their $5 Margarita curbside takeout special to go with those fajitas.
Mexican Sugar
3215 Regent Blvd.  |  (469) 313-1300
They may be the new kid in Irving, but Mexican Sugar has been perfecting fajitas for some time now.  Serving sultry Latin comfort food, they hand-craft every dish using local ingredients and a live wood-grill for that fresh, made from scratch taste.  Their fajitas include grilled sweet bell peppers & grilled onions, cilantro-lime rice, black beans, pickled red onions, queso fresco, hand pressed corn tortillas, and best of all, your choice of Mesquite Grilled Chicken, Adobo Grilled Carne Asada, or Lobster Tail and Slow Roasted Beef Tenderloin. Serving dine-in or curbside to go.
Chili's
1300 Market Place Boulevard |  (214) 574-4574
3421 W Airport Freeway  |  (972) 255-2727
Chili's is celebrating National Fajita Day with their great Mix & Match Fajitas special, which is available for lunch or dinner, or both! Their special for $10.99 includes chipotle butter, cilantro, bell peppers, onions, Mexican rice, black beans & flour tortillas served with sour cream, pico, salsa & shredded cheese on the side and your choice of two of the following fajitas - Carnitas, Chicken, Steak or Shrimp.*
*The offer excludes the Fajita Trio, Mushroom Jack Chicken Fajitas and Black Bean & Veggie Fajitas
Gloria's Latin Cuisine
320 W. Las Colinas Blvd, Suite 130  |  (469) 242-2641
Gloria's Latin Cuisine serves fajitas Salvadorian-style, with fresh ingredients, creative recipes and a commitment to their customers. Their Grilled Skirt Steak Fajitas and Grilled Chicken Fajitas are served with Spanish rice, pinto beans, guacamole, sour cream and cheddar cheese. Come for lunch or dinner, dine inside, outside or curbside. You can also enjoy a fajita meal for two to share! 
Tio Carlos
2742 North O'Connor Boulevard  |  (972) 370-5000
At Tio Carlos you can celebrate National Fajita Day with $9.95 Chicken Fajitas served sizzling on a bed of grilled onions and bell peppers served with rice, beans, guacamole, pico, sour cream and cheddar cheese.  Dine in or take out, you'll taste their long years of experience and creativity in every bite.
With many more TexMex restaurants to choose from in Irving, check out the full list in our Eat Locally While Distancing Socially blog. Happy celebrating!