Vacationing in Irving can take many different forms: adventure, family-focused fun, intimate getaways, or a weekend with friends.
Let's face it – 2020 has been a tough year, and we could all use some comfort. As the weather cools down and the sweaters come out, it's the perfect time to reset and get cozy right in your own backyard or home away from home. Don't believe us? Maybe you'll take it from #FlatMayor. #FlatMayor is much like Flat Stanley who gets to go on extra-special adventures because he's flat and has a desire to experience lots of adventures. In Mayor Rick Stopfer's case, he helps departments from all over the city of Irving showcase their specialties. Here at Visit Irving, we promote all things travel and leisure, so we thought it was only fitting to take the mayor on one of our highly sought-after staycations, right in his own backyard. Follow #StopferStories for all his adventures around town.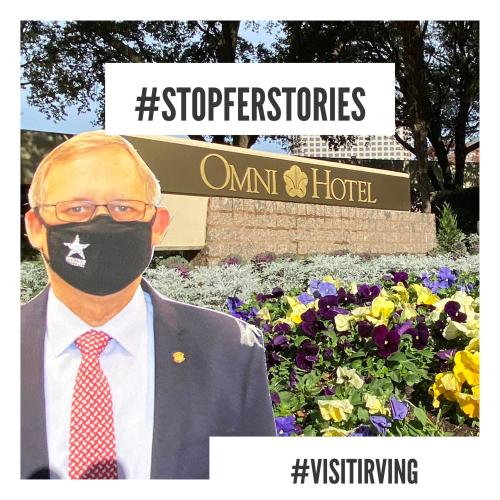 Enjoy these ideas while planning the coziest staycation this winter. 
Book a cozy stay at the coolest hotel
Whether you live nearby or are traveling from another place, might we suggest the newly renovated Omni Las Colinas. This beautiful property has been reimagined and is located in the heart of Las Colinas. The sleek 27-story hotel sits along the shores of Lake Carolyn and the Mandalay Canals. At the Omni Las Colinas you'll experience the urban energy of the Las Colinas entertainment & visitor's district, plus the tranquility of the waterfront location on Lake Carolyn.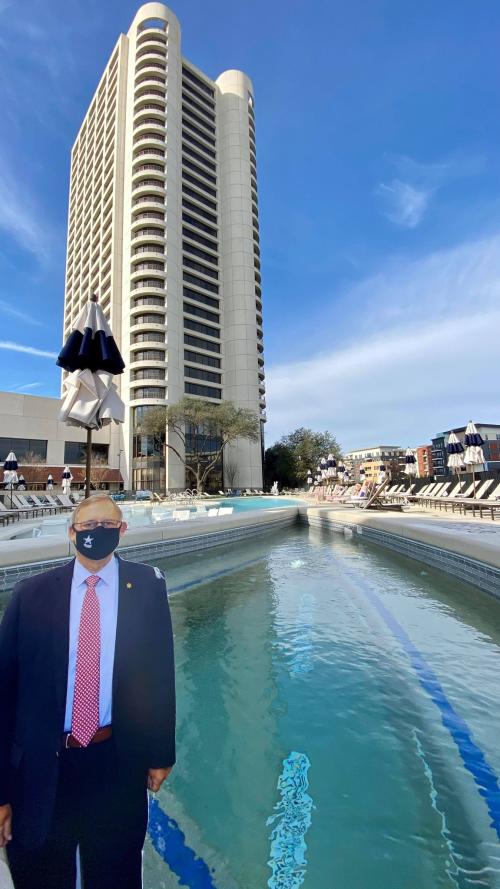 Don't count the pool out in the middle of winter. Texas still has some pretty nice days, plus the pool is kept at 80 plus degrees, not to mention they'll keep the hot tub steaming for you.
Get a little extra with your stay and enjoy this offer from the Omni Las Colinas.
Warm-up with a fire pit near you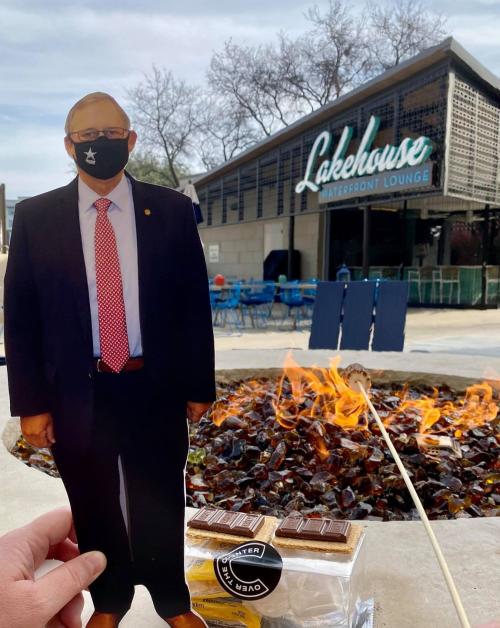 Located within the pool area of Lakehouse Waterfront Lounge at the Omni Las Colinas are three cozy firepits to roast s'mores and take in the multiple TVs, bar seating, poolside dining and more, Stay warm and toasty as you gaze over Las Colinas' lovely Lake Carolyn, with a drink in hand. The Lakehouse is sure to be the favorite hangout for locals and travelers alike.  
Boost your mood with Food and Drink
Head to Big State by day for a laid-back lunch. You'll love the trip down memory lane at Irving's corner soda shop, Big State Fountain Grill! You'll find this to be a great dining option with an unforgettable nostalgic feel. Big State Fountain Grill is located in the heart of downtown Irving right off Main Street.  You can't miss that big and bright marquee. Big State is one the most iconic landmarks in downtown Irving and locals flock there, so you know it must be good. Grab a burger and handmade milkshake while listening to tunes from the jukebox.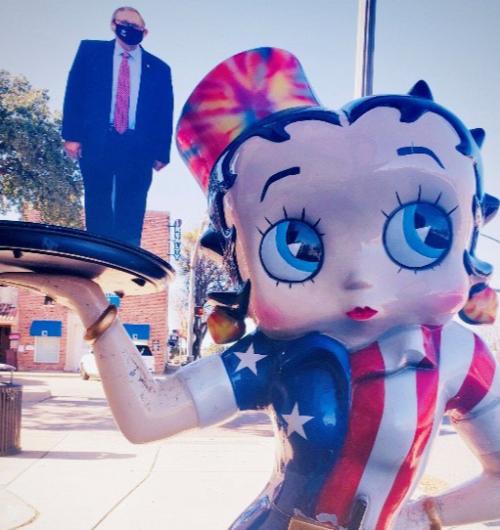 For dinner, take in the beautiful scene of Water Street. Pacific Table has great dinner vibes, stop by to warm up during your staycation. Chef Felipe's menu is inspired by the fresh fish from the Pacific Northwest, a unique twist for Texas. There are so many options – it's tough to commit to just one! The organic meat and produce are sourced from sustainable farms and ranches located right here in Texas. Pacific Table is in Irving's Water Street district and features majestic views of Lake Carolyn. Wine, oysters, water views, yes, please! Enjoy great food, apps, and drinks around another amazing firepit right on Lake Carolyn.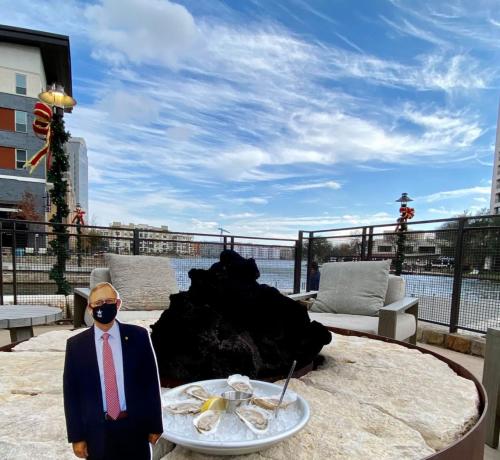 Fight the winter blues and throw down
The Toyota Music Factory, also a stone's throw from the hotel. They might be known for their rocking music scene and a stellar array of food options, but don't miss out on a chance for some physical activity at Stumpy's Hatchet House. That's where you can literally throwdown. Your staycation will truly become an Axe-perience. Ready, set, throw!
Treat yo'self to an unforgettable experience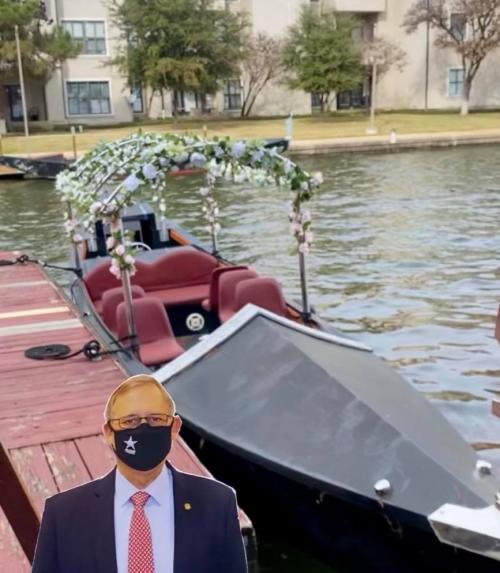 If you're looking for something you've most likely never done before, be sure to book a gondola excursion and get ready to discover Irving's number one hidden gem. Gondola Adventures' will tour you through the Venetian-inspired Mandalay Canal. Gently cruise in a private gondola for a relaxing one-hour journey past waterfalls and private inlets. Extend the cruise to 90 minutes or indulge in desserts, appetizers, a basket lunch or dinner during one of their specialty cruises.
Unwind with fine tunes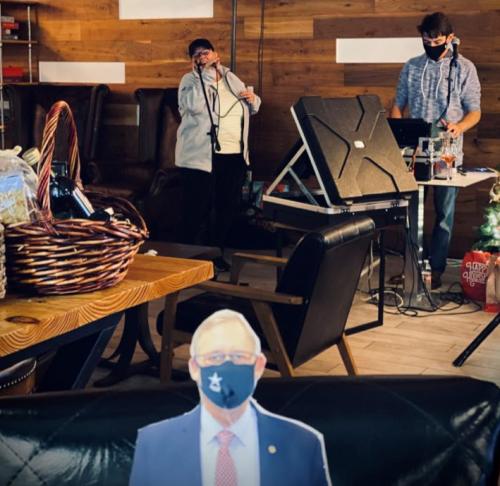 Nosh and Bottle offers something for everyone including a wide selection of cheeses, wines and delicious food. If you haven't been to Nosh and Bottle in the Toyota Music Factory, this neighborhood eatery will give you all the feels. It's a must-stop on the weekend to take in the food and drink, but also the live tunes. Wrap your stay with a night of good eats and live music! You might even get lucky and catch some karaoke. 
If the weather has you down this winter, come and stay in Irving for a while. There's plenty of special offers and packages to warm you up. Make a memory and book a cozy stay.