What Orlando was to the National Basketball Association and Edmonton to the National Hockey Association (holla Dallas Stars!), so too is North Texas to Major League Baseball (MLB). The "Sports Bubble*" has moved to the Lone Star State, and with the National League Championship Series (NLCS) between the Atlanta Braves and Los Angeles Dodgers at Globe Life Field in Arlington underway – then the winner of that series sticking around to play either the Tampa Bay Rays or Houston Astros in the World Series starting Oct. 20 – we wanted to provide a little North Texas World Series 101.
Play Ball
Both the NLCS and World Series are being played at the brand new home of the Texas Rangers, Globe Life Field, which just opened for the 2020 season. MLB has sold 11,500 tickets – which is about 29% capacity – to all games of the NLCS and World Series. Those tickets – which sold for a mere $75 a piece – are long gone, but you can certainly find them on the secondary market and last we checked, you could find tickets under value for the NLCS. However, for safety purposes, seats are sold in pods of four and can't be broken up.
Home Base
Irving is about a 15-minute car ride to Globe Life Field, and many of the city's hotels are offering special rates for both the NLCS and World Series, with rates as low as $65 per night. For more information, check out Visit Irving's Baseball Hotel Deals.
Home Plate
Not lucky enough to see a game in person? Not a problem. Irving has a load of places to watch the big games; below are few where you can also find authentic ballpark grub.
4030 N MacArthur Boulevard #112, Irving 75038
(972) 717-7575
A favorite amongst locals, this neighborhood sports bar serves up a mean dish of Nachos Royale – with chicken or steak – and has the best fried cheese around (a.k.a Flags Sticks). Thursday night they squeeze in trivia contests during the games, and Saturday night has Karaoke.
320 West Las Colinas Boulevard, Irving 75039
(214) 496-0151
Not only is Yard House packed with TVs, but they are also celebrating the world's largest beer festival with six Oktoberfest beers in souvenir steins. Pair with their twist on a ballpark favorite, a Jumbo Bavarian Pretzel served with house IPA white cheddar beer cheese and horseradish mustard. Prost!
3165 Regent Boulevard, Irving 75063
(469) 779-2500
Nothing screams "take me out to the ballpark" more than a nice, cold beer, and at Walk-Ons they have plenty by the tap or bottle. Catch the big game on one of their many big screens while enjoying Cajun food and true Louisiana hospitality. Their fall Lagniappe is pretty amazing if you're heading out to the game. A platter of Boneless Wings, Boudin Balls, Cajun Queso and Cheeseburger Sliders for only $50 can feed up to 8 people as a starter. Add a RedBull or 6-pack of your favorite beer to create the ultimate tailgate package! Place an online order.
Put Me In Coach
If you're looking for something to do in between games, check out our suggestions for the great outdoors, as well as a tour of our fabulous outdoor sculptures. Looking for a little more action? We've got you covered there!
2750 W Lyndon B Johnson Freeway, Irving 75063
(214) 765-2695
Unlike baseball, strikes are good thing at Pinstack, with modern, state-of-the-art bowling lanes. But that's not all that's under Pinstack's 45,000 sq. ft. roof – LED Rock Climbing Wall, bumper cars, video games, laser tag and maze, plus a full-service restaurant offering a chef-inspired menu featuring local and regional cuisine and a full bar.
370 West Las Colinas Boulevard #120, Irving 75039
(972) 954-2121
No better way to practice your fastball – or splitter – than to get in some good, old-fashioned axe throwing. Sometime in the last few years this has become a thing, and at Stumpy's, they'll give you lessons if needed, then let you at it. Think darts, with hatchets. Light snacks, beer, wine and non-alcoholic beverages sold.  
Been There, Done That, Lost the Shirt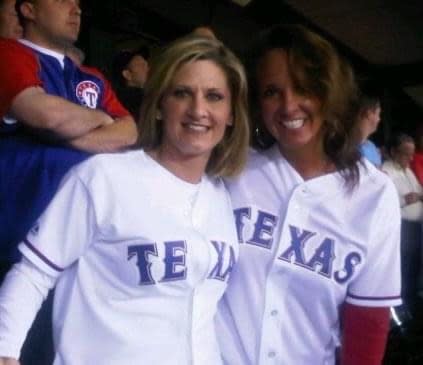 This isn't exactly our first World Series rodeo. Our mighty Texas Rangers hosted games in 2010 and 2011. As a sports junkie, I was fortunate enough to attend both series and unfortunate enough to see the bad guys hoist the Commissioner's Trophy  – Game 5 vs San Francisco in 2010 (pictured with Visit Irving's VP of Sales & Services and longtime BFF Lori Fojtasek); and Games 6 and 7 in St Louis. That one hurt. If you're one of the lucky few who gets to attend a game(s) this year – or even if your team is still playing – enjoy the ride. They don't come around often.
*Sports Bubble is the COVID-area term used for playoffs of major league sports, where teams play in one, neutral location and stay with owners, officials and media in one or more designated hotel.