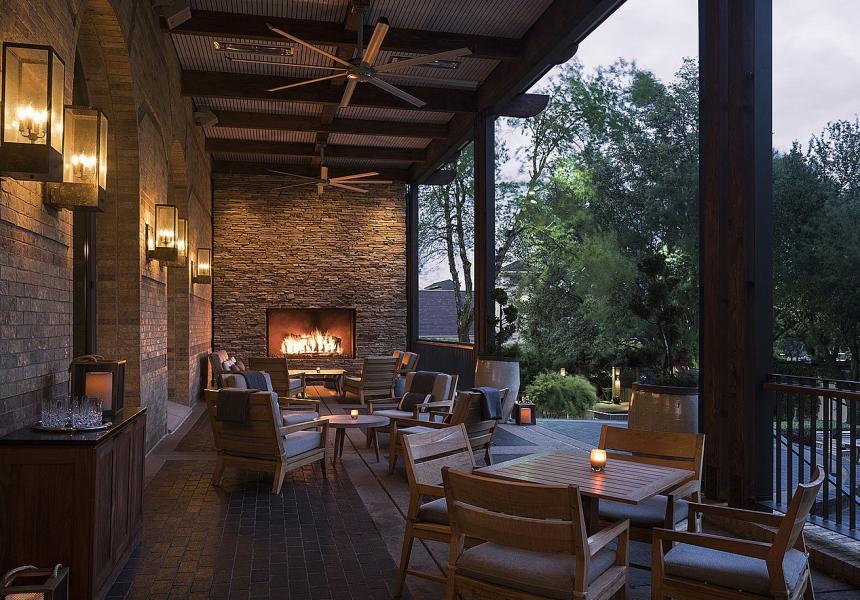 We know this beautiful weather can't keep you indoors for long. To help you get outdoors and stay outdoors, we've compiled a list of some of the best-covered patios in Irving. Drinking and dining al fresco at these Irving bars and restaurants will keep you feeling refreshed and relaxed.
1. OUTLAW Taproom
A roaring fire, soaring ceiling fans, and comfortable seating make OUTLAW Taproom at the Four Seasons Resort and Club Dallas at Las Colinas one of our favorite covered patios in Irving. Signature cocktails, refined pub grub and other sumptuous bites, and excellent service round out this luxurious patio experience. Sip a craft beer while unwinding in a lounge chair overlooking the pleasant grounds of the Four Seasons. And don't miss the chance to catch live music on the weekends.
2. Thirsty Lion Gastropub & Grill
One of Irving's favorite Old World style pubs is Thirsty Lion Gastropub & Grill, located at the Toyota Music Factory in Las Colinas. Here, you can sit on the sizeable covered patio and take advantage of a generous happy hour menu: tackle some hand-cut fries, smoked pulled pork sliders, or grilled salmon cakes while drinking cocktails under $5 and appreciating $1 off all draft beers. The Thirsty Lion patio is the perfect place to chill before a concert at Toyota Music Factory, people-watch, and take in all the happenings at one of Irving's hottest spots.
3. Bombay Sizzlers
Classic Indian fare, a full bar, and generous patio make Bombay Sizzlers an excellent outdoor hangout. Tuck into a soul-warming plate of basmati rice, savory tikka masala, and crisp Indian beer while relishing the fresh breeze through the patio. The covered patio provides shelter from the weather, ensuring you can dine with your family and friends in outdoor comfort without worrying about the elements. The expansive menu includes traditional Indian cuisine and vegetarian options, all in relaxed contemporary digs.
4. Mi Cocina
Brisket tacos, quesadillas, enchiladas, and beyond. Mi Cocina serves up simple but tasty Tex-Mex fare in a clean, contemporary space. Grab a table on the covered patio and choose from an expansive dinner menu: fish-based dishes like Tilapia Veracruz, a fresh tilapia fillet sautéed with garlic and lime served with avocado, sautéed vegetables, and arroz verde; Tex-Mex combo plates with tacos and enchiladas; or house specials like Mama's Tacos, fajita chicken in corn tortillas. Pair your meal with a cold cocktail or frozen margarita out on the ample covered patio complete with charming lights, lush plants, fans to keep the air moving, and a TV to watch the game.
5. Hugo's Invitados
Located in Water Street, you're going to love the offerings of organic, authentic and modern Mexican cuisine. Great patio, great food, and great happy hour all point towards Hugos! Hugo's Invitados has the perfect patio to beat the heat and treat yourself to fancy-schmancy cocktails that are actually healthy, but don't be fooled...they are DE-LISH! Don't get caught inside on a beautiful day, take your drink and apps and head to their colorful patio. Sit down to a bowl of chips and salsa, savor some fresh Ceviche Fresco and enjoy their popular Brisket Ahumado Enchiladas. No matter what you choose, you'll be as happy and well taken care of at Hugo's.