Are you a bacon lover? 
The aroma. The sizzle. The crackle. The taste. The smell of bacon in the morning, or any time really, is like nothing else. It can literally make your mouth water. Bacon is an American staple in homes and restaurants alike. Commonly featured in breakfast dishes and sandwiches, bacon has made its way into our desserts and cocktails too. It's not the latest food trend though, because bacon transcends trendiness. Whether you wrap a jalapeno with it, use it to garnish a Bloody Mary, or pile it high on a BLT, bacon is a versatile food that has nearly as many uses as it does lovers. Yes, bacon is for lovers! You've probably heard "you had me at bacon" or "I love you as much as bacon" or even "I love you MORE than bacon" and other odes to the savory strip. This puts bacon squarely in the camp of Love & Romance.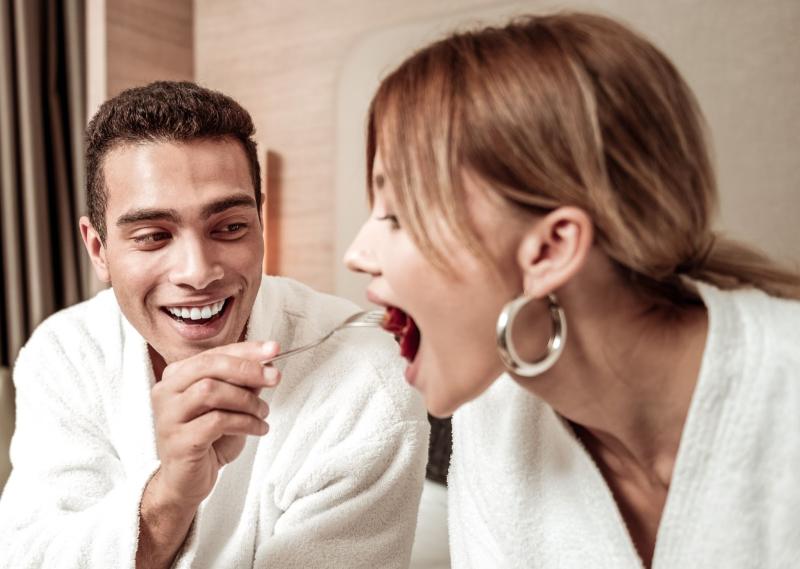 If you like bacon (who doesn't?) or especially if bacon is your love language, this blog dedicated to bacon is for you. Read on to see where you can indulge in your love of bacon for breakfast, lunch, happy hour, dinner and dessert!  
Bacon for Brekkie 
Traditionalists appreciate good ole bacon and eggs, and there are plenty of excellent options for breakfast staples in Irving. But according to the popular saying that  "EVERYTHING's better with bacon," let's explore some of those "everything's."
Four Seasons Donuts 
3561 N Belt Line Rd | 972.255.0468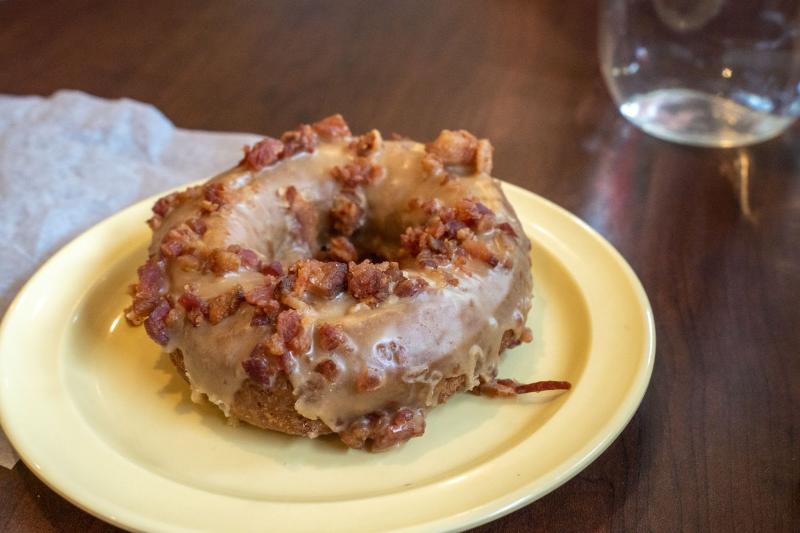 I don't do donuts very often, but I went to Four Seasons Donuts to procure a maple bacon donut for this blog — you know, for research and all — and there in the case among the eclairs, fritters and kolaches sat this sweet and savory bacon breakfast concoction. Took one bite, and I said to myself, the old adage is true. "Everything IS better with bacon!"
Empa Mundo World of Empanadas 
3977 N Belt Line Rd | 972.746.4516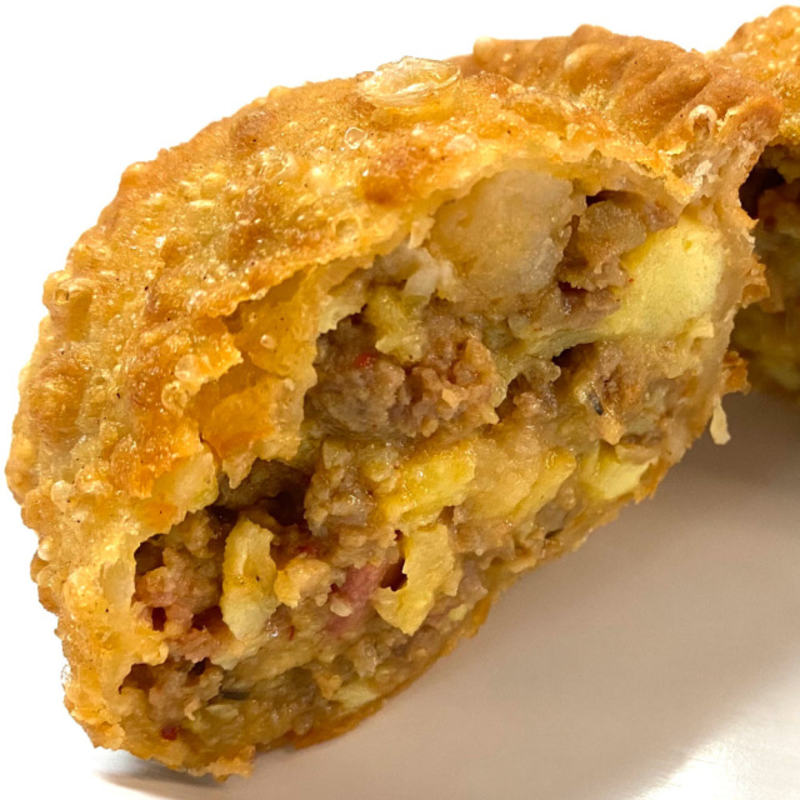 Speck-en Zee Bacon? People often think of it as being as American as apple pie, but many cultures around the world bring home the bacon. You will see a variety of international cuisine showcasing their love affair with this salty treat. For a taste of Buenos Aires infused with bacon go for the Empa Mundo Breakfast Empanada with bacon, egg, cheese and sausage stuffed in a flaky pastry.  
Dos Tacos 
Located at the Shell C-Store/Carwash at 777 I-635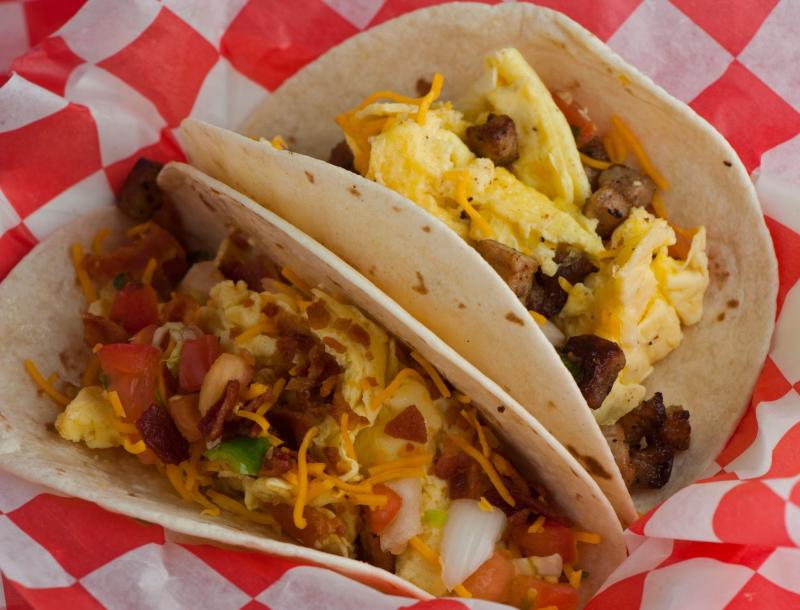 Don't be fooled by the gas station location, because Dos Tacos serves up some of the best tacos in town. You can get a classic breakfast taco with meat, egg and cheese or a loaded taco. In either case, your preferred meat = bacon, of course. You can also get your bacon fix with eggs and cheese in a burrito, croissant, quesadilla, or breakfast torta. Ay-ay-ay - too many choices! 
The Ranch at Las Colinas
857 W John Carpenter Fwy | 972.506.7262
The brunch menu at The Ranch features Fried Green Tomatoes with bacon jam; Cast Iron Cheddar, Jalapeno & Bacon Biscuits with TX Whiskey peach compote and seasonal house preserves; and lots of Hill Country brunch items that include thick cut applewood and cherrywood bacon. Double dip with bacon strips and bacon biscuits when you order the TX Biscuits & Gravy pictured above.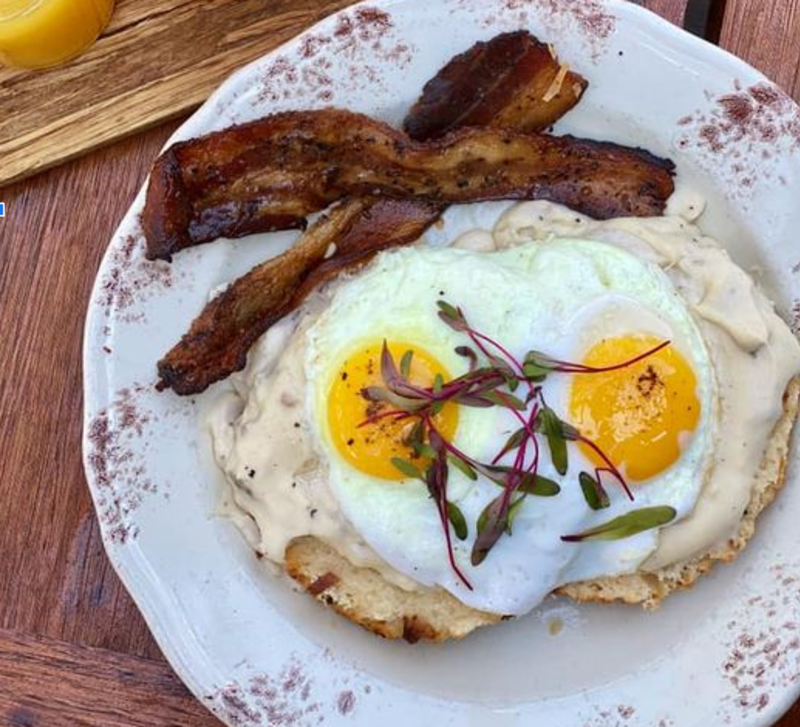 Thirsty Lion
Toyota Music Factory | 350 W Las Colinas Blvd | 214.496.0400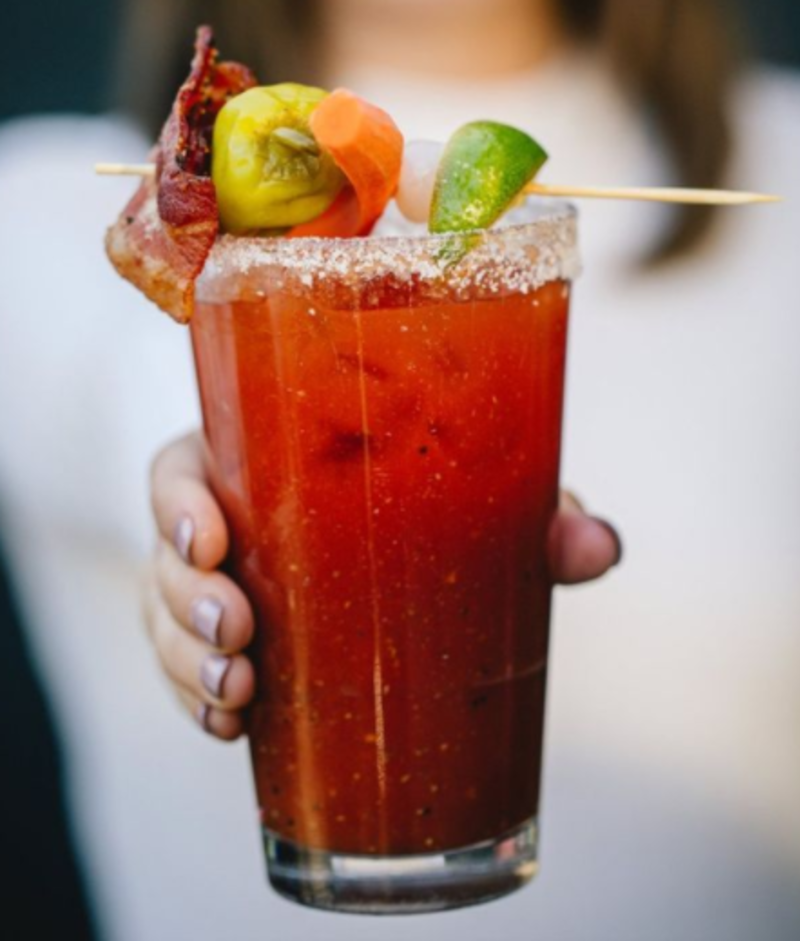 📷: Emily Piraino
If you prefer to drink your breakfast, a bloody mary (providing effective hair-of-the-dog solutions for over indulgers for years) topped off with a slice of bacon among the salty accouterments is always a good idea. 
Yo, What's Shakin' Bacon? Bacon: Burgers, Dogs & BLT's!
LA Burger
10045 N MacArthur Blvd | 972.501.9188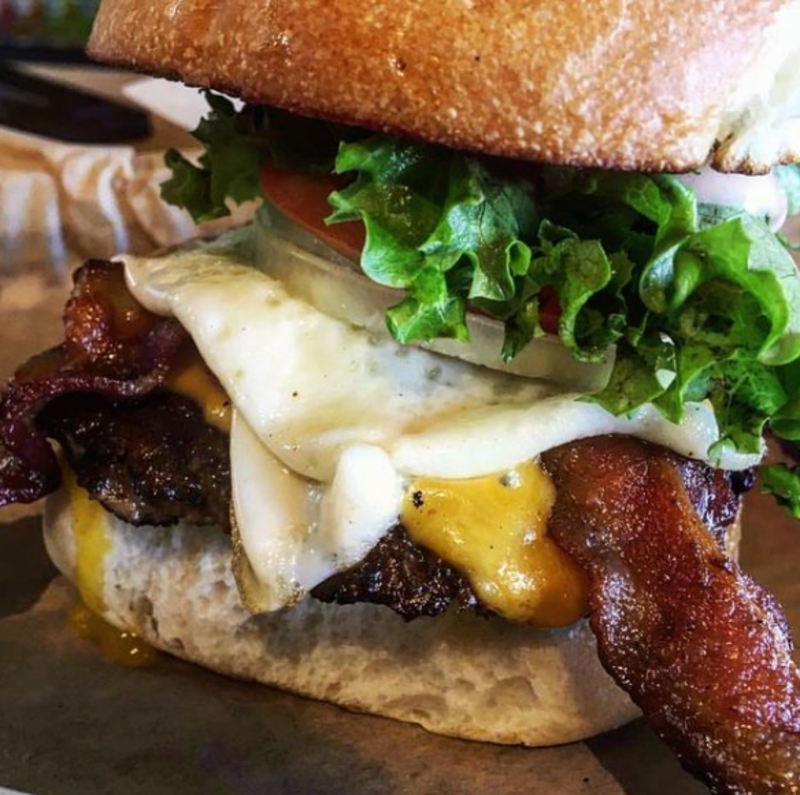 LA Burger fuses Korean cuisine with American favorites. I'm not quite sure what's Korean about this burger, but we're talking bacon in this blog, and this Cali Sunshine burger has both bacon and eggs. Their Holy Smokes Burger sounds ab-Seoul-utely delicious too with BBQ sauce, wait for it … BACON! ... onion rings and American cheese. 
The Ginger Man
5250 N O'Connor Blvd | 972.607.4227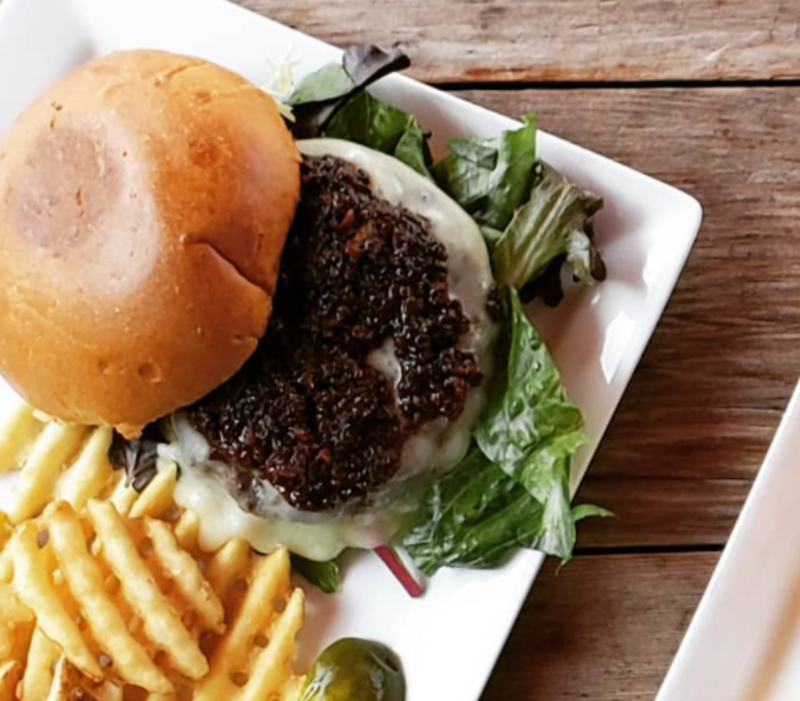 This one's for you if bacon is your jam! The Ginger Man's Ultimate Bacon Jam Burger is melt-in-your-mouth delicious. Plus, this pub has a long list of appetizers, brunch items, flatbreads, sammies and a few extras, many of which are sprinkled with a little, or a lot, of bacon. Candied Jalapeno Bacon, for example.Yes, please! 
Big State Fountain Grill 
100 E. Irving Blvd | 214.307.5000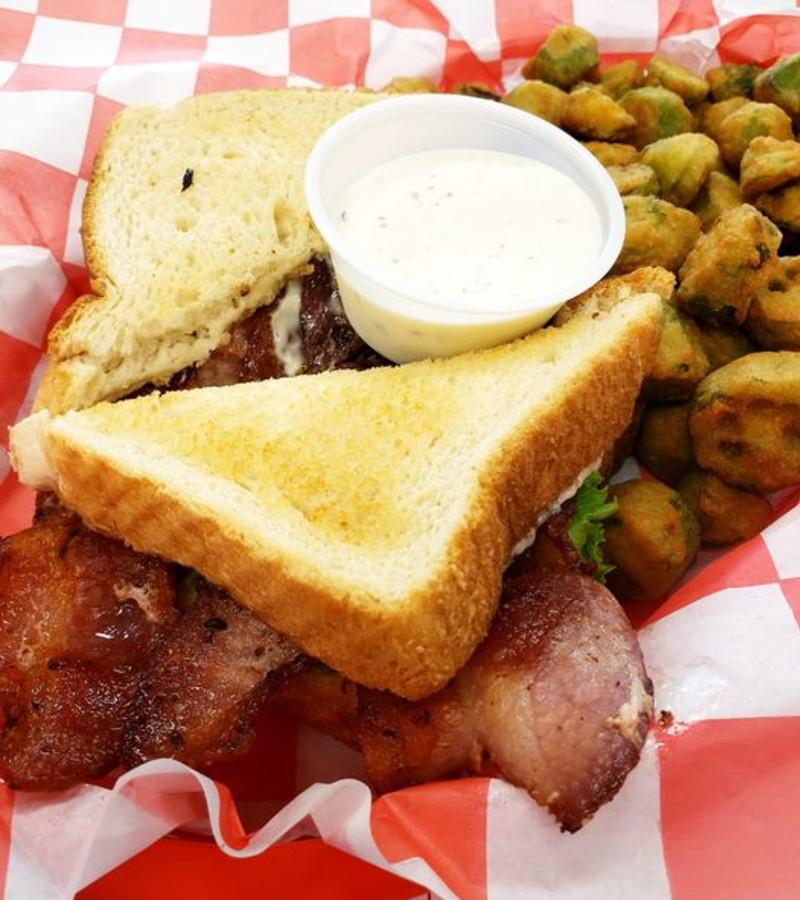 The BLT showcases how bacon can balance with other ingredients for the perfect flavor combination. The bacon's fat and salt marry seamlessly with buttery bread; fresh, crisp lettuce; and juicy tomato. At Big State, the Bettie Page BLT is served on Texas toast with mayo, and the bacon is fried to crispy perfection. 
PJ's Cafe 
2301 N. O'Connor Rd | 972.255.8400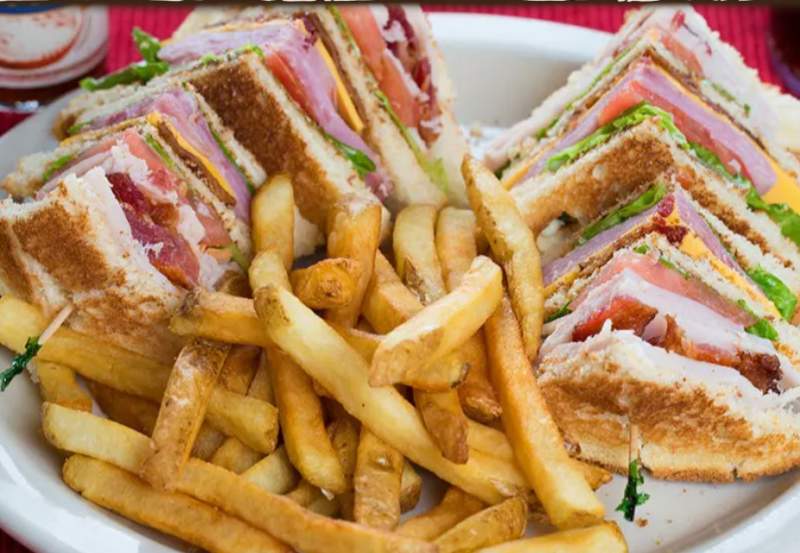 No bacon list would be complete without a Club Sandwich. It is, after all, one of the most iconic sandwiches on any menu from the diner, to the pup to the country club. Layers of ham, bacon and turkey with juicy tomatoes, crisp lettuce and cheddar cheese create the perfect bite of the Ultimate Club at PJ's Cafe. 
UnicornDog
3048 N Belt Line Rd | 469.565.2157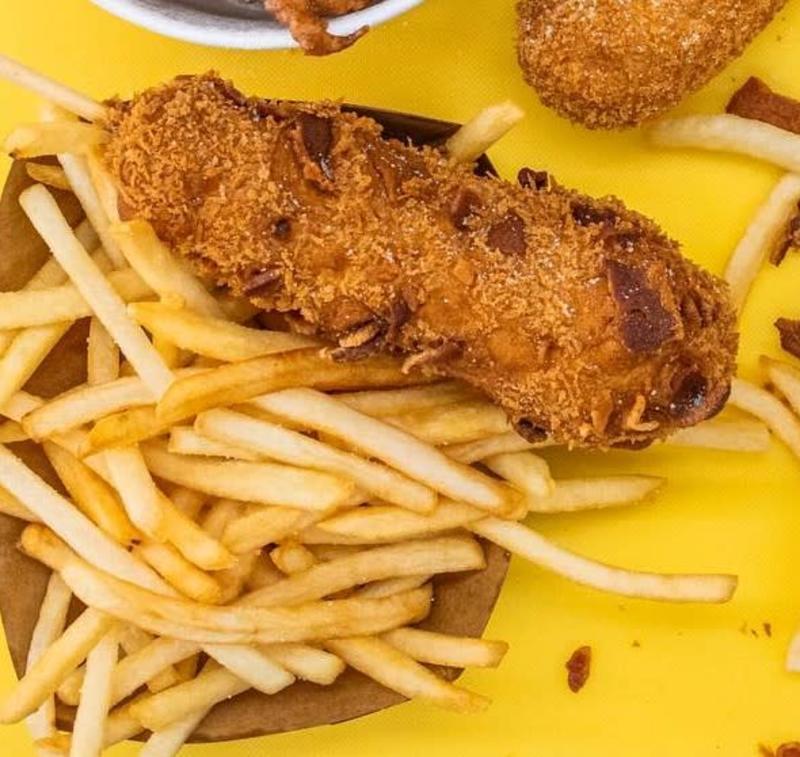 Food on a stick!  What's not to love, right? The sweet, crispy crust of cornbread wrapped around an all-beef hot dog is one of my guilty pleasures. Usually, I head to the state fair for my annual corny dog, but now, for better or for worse, I've found a year-round fix at Unicorndog. Mix up some crispy bacon in the batter, and add ooey-gooey mozzarella cheese, and you've found corn dog heaven and bacon nirvana.  
You Are the Bacon to My Tots & Fries
Bar Louie
Toyota Music Factory | 360 W Las Colinas Blvd | 469.472.1050

No editorial necessary here .Just load 'em in your mouth! And though one of the best,  Bar Louie's is not the only tater tot game in town. There are bacon-covered tasty tots aplenty in Irving.
And we're circling back to Big State, home of the previously mentioned BLT,  for the fries! Yup, the loaded cheese fries at Big State rival any I've ever had. Topped with blended melty cheese, crisp fried bacon and jalapenos, these are definitely a decadent treat for bacon and potato lovers. You'll want to ask for extra Ranch dressing for dipping. 
Savor the Sizzle at these Hot Spots
Blaze Brazilian Steakhouse
Toyota Music Factory | 310 W Las Colinas Blvd | 469.208.7977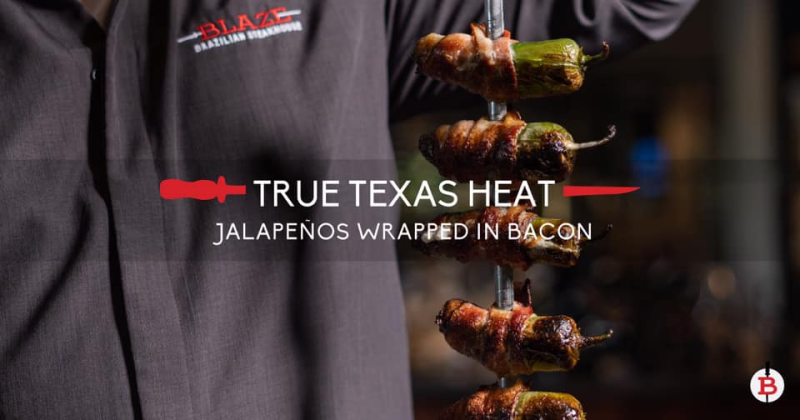 Texas-Brazilian-style bacon-wrapped stuffed jalapeños are said to be a customer favorite at Blaze where unlimited fire-roasted skewered beef, lamb, pork & poultry are sliced and served tableside. Partake in the lean, specially marinated chicken breast wrapped in bacon or the Tenderloin Filet Tips wrapped in bacon to maximize your bang of bacon for the buck! 
Hangout Sports Bar
3554 W Airport Fwy | 972.399.4264
Hangout is an elevated sports bar concept serving up contemporary American cuisine, plus Tex-Mex and authentic Nepalese Himalayan dishes. When you're in the mood for bacon (me, always), go for the bacon wrapped jalapeno poppers. 
La Margarita
2922 N Belt Line Road | 972.570.1137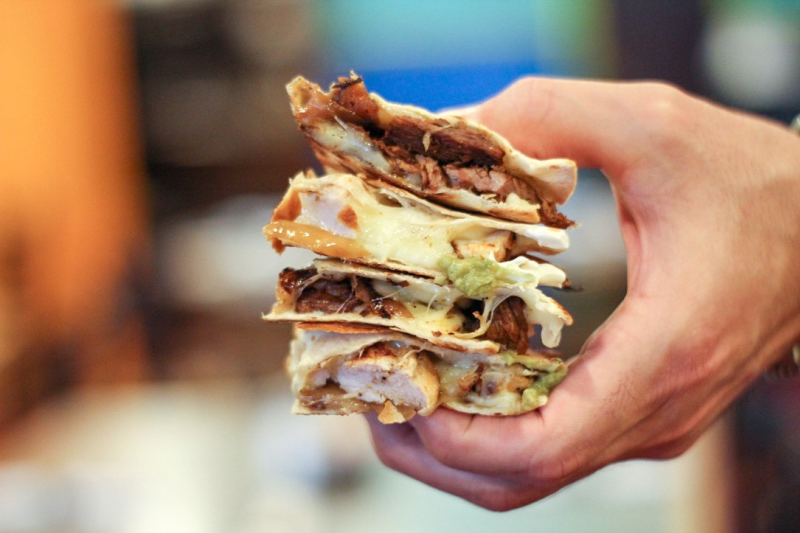 For a Tex-Mex twist, head to La Margarita and try the Chipotle Bacon Quesadillas stuffed with chipotle bacon, beef or chicken, caramelized onions and cheese. Or feast on the sizzling Applewood Bacon and Chipotle Fajitas! Both pair nicely with a spicy margarita from the Rita Lounge. 
i Fratelli Pizza 
Various locations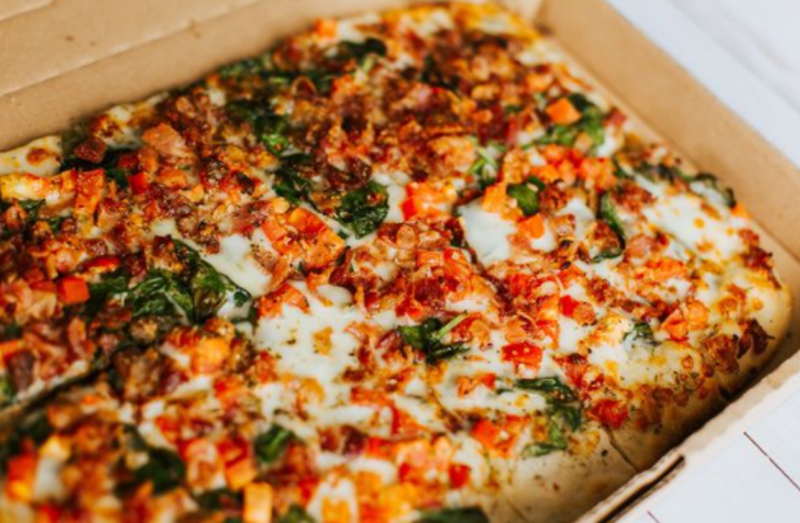 This pizza at i Fratelli isn't just pizza in everyone's book. The del Bianco is at the top of the list of pizzas. Don't believe it? Try it and you'll be sold! This pizza pie is a base of creamy Bianco sauce and melted provolone, fresh spinach leaves, bright ripe Roma tomatoes and rich crumbled bacon. Now that's a well-balanced pizza.
Pig Out on Bar Bites 
Cork and Pig
5224 N O'Connor | 972.364.7412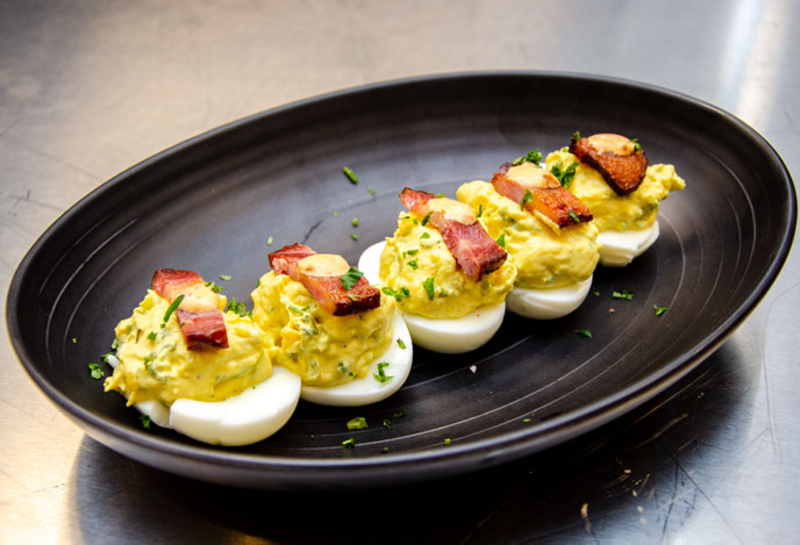 Of course, with a name like Cork and Pig, this food and watering hole has to make the bacon blog list! The delicious deviled eggs pictured above are filled to the brim with a creamy egg yolk mayonnaise and tarragon mixture then topped with a thick piece of, that's right, crispy bacon. Want something a bit more substantial? Go for the whole hog, I mean THE PIG: A wood-fired pizza topped with Italian sausage, pepperoni, pancetta (basically bacon), mozzarella, tomato sauce, and fontina. Both are featured on the Happy Hour menu (daily 2 pm to 6 pm).
Thirsty Lion gets a second mention - beyond the bacon adorned Bloody Mary - for their Bacon Wrapped BBQ Shrimp dressed with Black Butte BBQ sauce, sticky rice, soy glaze, julienne carrots and daikon radish. Shrimp + Bacon = Delish!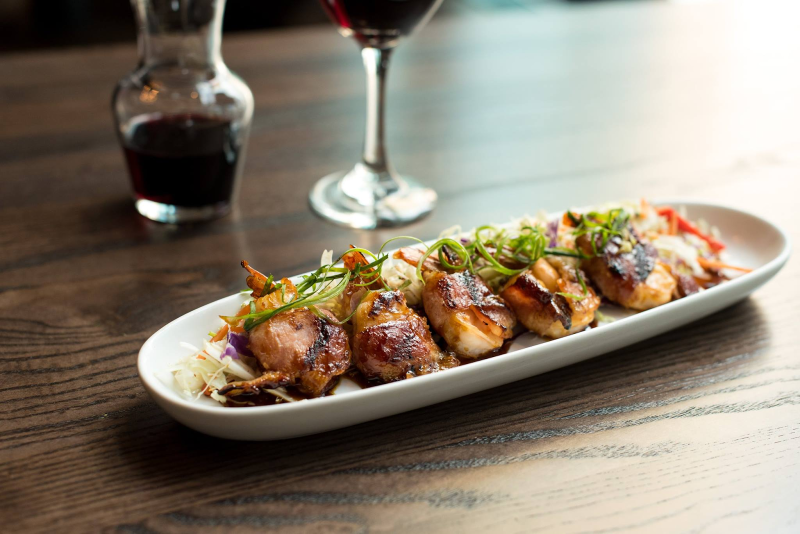 Bacon Laden Samplers, Salads and Sides
LAW
The Four Seasons | 4150 N. MacArthur Blvd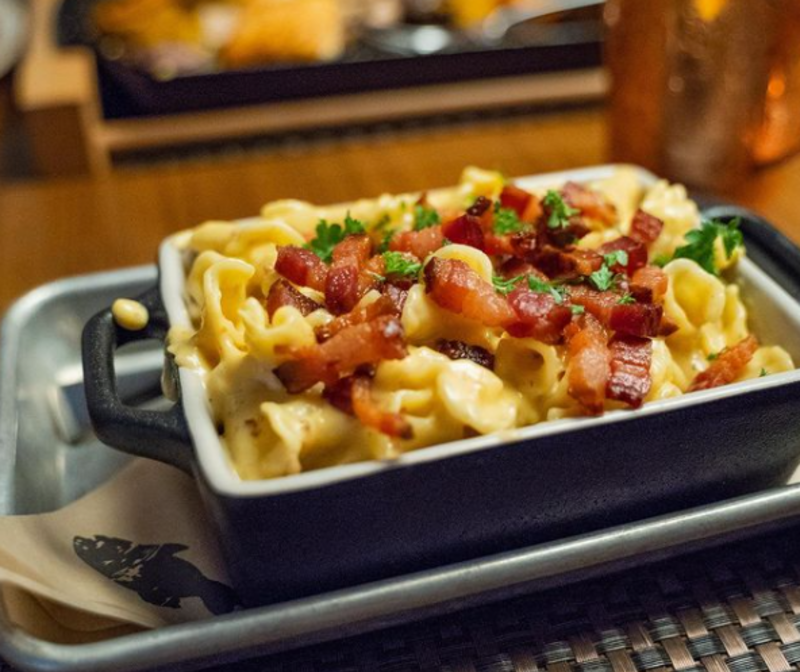 At LAW, you will definitely want to prioritize the bacon mac n cheese feast pictured above. But if you're really into "Bacon Mania," start with the Bacon & Sausage Tasting - a sampling of pretzel bites, jalapeño cheese sausage and agave chipotle glazed thick cut bacon. Yum!
Need some greens to ease the bacon laden guilt? There are a variety of salads starring bacon that are sure to satisfy too -  like the Brussel Sprout Salad with bacon vinaigrette or the Wedge.
Bananas for Bacon 
Creamistry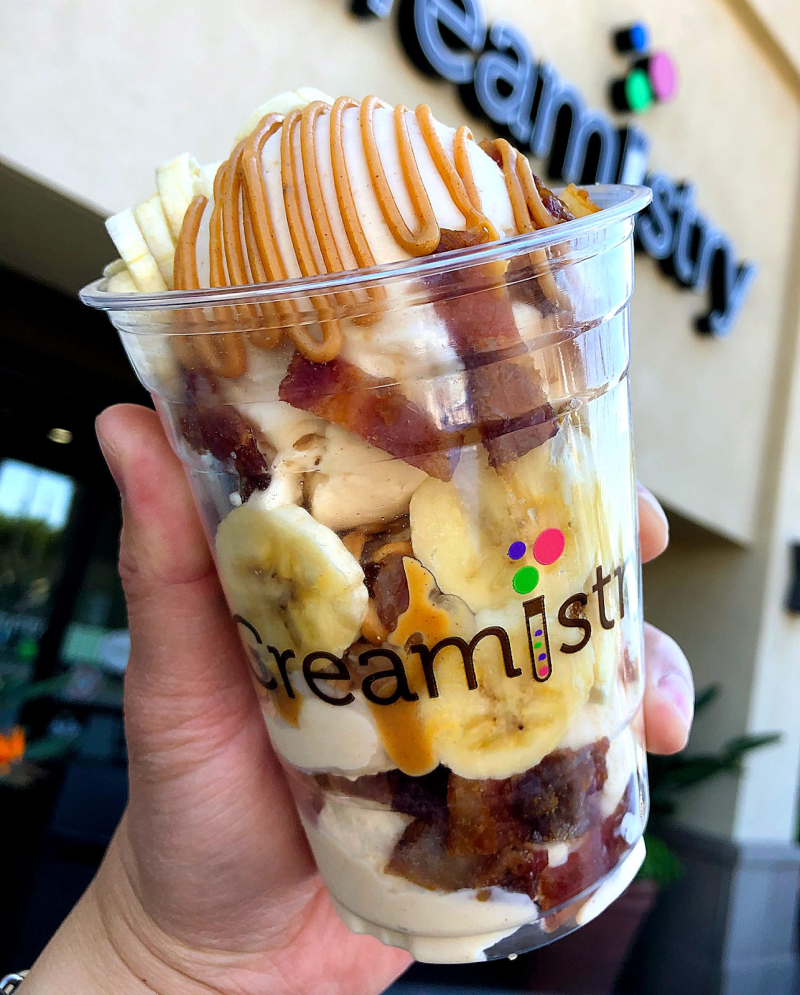 Last but certainly not least, rock your taste buds with an Elvis Presley Creation on your next visit to Creamistry at Water Street. Inspired by The King of Rock's favorite snack, this decadent dessert consists of layers of premium banana ice cream, candied bacon, fresh banana slices - all topped with delicious peanut butter sauce. Now that's a hunka hunk of bacon love!