I don't know of a better holiday to sooth our tummies with comfort food than National Mac N' Cheese Day. We've all grown up with its golden goodness since we were kids, and now Mac N' Cheese is practically a meal on its own. We've picked the top five places here in Irving where you can savor each smooth bite of cheesy heaven. Either by itself or with a lunch or dinner item, satisfy your cravings on National Mac N' Cheese Day with a bowl of cheesy happiness.
Visit these Irving destinations for their different takes on this household staple. 
Mac N' Cheese
Whiskey Cake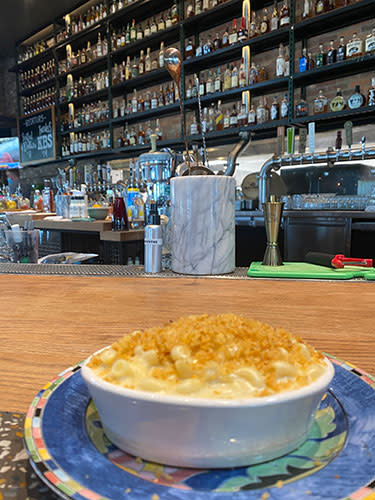 Even the name of the restaurant upholds their reputation for decadence.  Whiskey Cake offers a wide arrange of whiskeys, of course, and their dinner menu is just as smooth. After ordering a side of Mac N' Cheese to go with our 3 Little Pigs - a trio of slow-roasted pulled pork sliders, whiskey BBQ, apple slaw and crispy onion strings - it was the last few bites of cheesy pasta that we ended up fighting over. Their Mac N' Cheese is oh so creamy, cheesy and the bread crumbs give it just the right amount of crunch.  Take it from me, be sure to get your own bowl and eat it first so you don't have to share. Then pair your dinner with a Tennessee Stud - a fine blend of Jack Daniel's, local honey lemon, old fashioned bitters and orange bitters - and  call it a night. It doesn't get any better than this. Menu
Address: 3225 Regent Blvd
Phone: (469) 941-2253 (call for takeout)
Serving: Dine-in, Curbside & Takeout 
Deep Fried Mac N Cheese Bites
Wayback Burgers
What's not to love about mac and cheese in general, but come on...deep-fried Mac and Cheese Bites? Yes, please! These savory and crunchy, deep-fried little dipping bites will make your mouth water when you visit Wayback Burger. This yummy goodness is a side menu option that can easily pair with some other favorites like, the Rodeo Burger - a two patty burger, topped with cheddar cheese and their signature crispy onion ring.  Menu
Address: 6421 Riverside Drive
Phone: (972) 290-0709
Serving: Dine-in, Takeout & Drive thru
Cadi-Mac'N Chz
The Ranch at Las Colinas
Sure their ribs are delicious, but The Ranch sure knows how to whip up some down home comfort food, i.e., their Cadi-Mac'N Chz.  These curly bites of creamy pasta are smothered in a gooey, cheesy goodness and topped with crispy breadcrumbs. You won't want to tell your mama that they're better than hers, we'll just keep that between us.  Menu  
Address: 857 W. John Carpenter Freeway
Phone: (972) 506-7262
Make a Reservation or Call for Takeout
Mac N' Cheese
Cork and Pig Tavern

We decided to call ahead at Cork and Pig Tavern and take home their Crispy Chicken Sandwich with Mac N' Cheese on the side. Talk about melt-in-your-mouth goodness! Their creamy blend of gourmet cheeses drenched over rich pasta is topped with the right amount of crunchy bread crumbs. I'd say that leftovers are great the next day, but there weren't any. Maybe I'll order double next time. Dine in or take home, either way the Mac N' Cheese at Cork & Pig is a whole bunch of cheesy happiness. Menu.
Address: 5224 N. O'Connor Blvd.
Phone: (972) 364-7412 (call for takeout)
Serving: Dine-in & Takeout 
Mac N' Cheese Chuckwagon-style
Cowboy Chicken
Now you can take a whole tub of Mac N' Cheese with you and your family on a picnic. There's no better way to spend the summer than with a great meal in the great outdoors!  At Cowboy Chicken, for a limited time you can purchase their family meal - one whole chicken, a tub of their delicious golden Mac N' Cheese, two more Texas-sized sides and four rolls - for just $20 every Wednesday and Sunday after 4:00 pm. And who's to say you can't have a picnic in the living room watching a movie? Sounds like a plan!
Address: 3351‭ ‬Regent Blvd.‭ #100
Phone: (‬214) ‬496-0724
Serving: Dine-in & Takeout 
Happy Tuesday, let's GO, to-go that is! To see all restaurants currently serving in Irving, click here.