Green is in the air and in the beer! Saint Patrick's Day is here and once again Irving is ready to cheer you into a great day filled with delicious food, cold drinks and the luck of the Irish. Whether celebrating with friends, family or enjoying a to-go meal at home, check out these Irving spots for the best Saint Patrick's Day food! 
The Ginger Man 
5250 N O'Connor Blvd Suite 146 | (972) 607-4227

The place to be this Saint Patrick's Day is The Ginger Man! Live music featuring Invisible Riverside will be playing from 7 - 10 p.m. with self-led games throughout the evening. There's also a costume contest with categories including The Greenest of Them All, Best Leprechaun and Most Creative. With Leprechaun Bingo, prizes for guessing the number of gold coins in the Leprechaun hat, and the best beer selection including tons of Irish beer options, The Ginger Man is a grand place to be! Best of all, leg it to The Ginger Man for some delicious foods like the classic Reuben sandwich made with shaved corned beef on toasted rye bread or everyone's favorite fish and chips made with Guinness battered cod and waffle fries. Pair your meal with an Irish brew or sip on a cocktail made with Irish whiskey. Sláinte!
Thirsty Lion Gastropub
350 West Las Colinas Boulevard West | (214) 496-0400

One of the best Irish-themed menus this Saint Patrick's Day, The Thirsty Lion is ready to host you for an amazing night! As you may already know, The Thirsty Lion chooses several charities throughout the year to support with their seasonal cocktail sales and this Saint Patrick's Day, all Irish cocktails and whiskey flights will raise funds for St. Baldrick's Foundation - a charity committed to supporting research to find cures for childhood cancers. Cocktails available on the 17th include an Irish mule, Irish old-fashioned and Irish whiskey flights. If you're looking for a cold beer to enjoy, try their featured brews like the Four Peaks Kilt Lifter, Guinness stout, or the Black & Tan featuring Lagunitas IPA and Guinness stout. Now, it's time to look at the main event - the food! You'll have a hard time deciding between corned beef mac and cheese, shepherd's pie, artisan lamb burger, bacon cheddar potato cakes, scotch eggs, Reuben sandwich, and beer-braised corned beef and cabbage. This delicious menu is the perfect excuse to gather your friends or family and enjoy a full-on Irish spread for dinner. Don't forget about dessert! Indulge in a whiskey Bing cherry bread pudding served with whipped cream and whiskey caramel sauce. The perfect ending to a perfect Saint Patrick's Day at The Thirsty Lion will be to enjoy a wee bit o' hot Irish coffee. 
 
Bar Louie 
360 West Las Colinas Boulevard | (469) 472-1050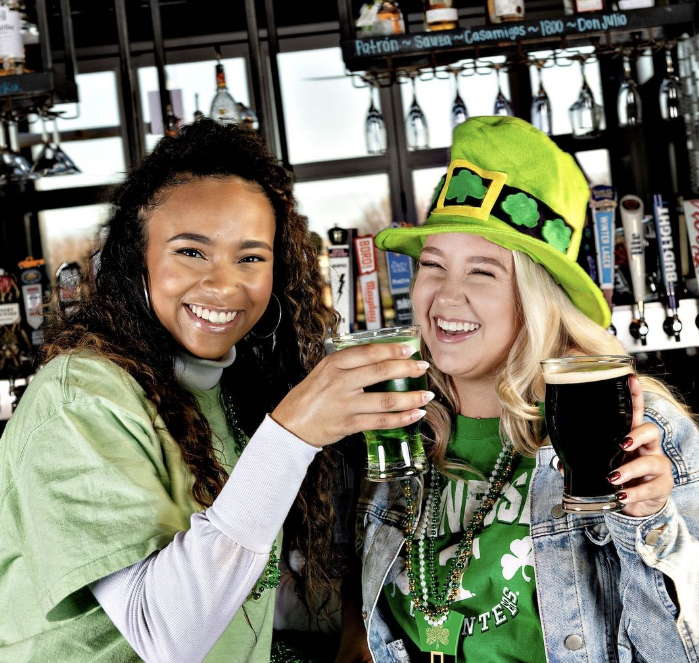 Everyone's favorite gastropub bar, Bar Louie,  is the perfect night out this Saint Patrick's Day with good vibes and amazing food and cocktails. This lively spot brings all the green with the iconic green beers, $3 Jameson sidecars, Irish slammers featuring Guinness and Baileys, all served in a personalized printed beer pint sponsored by Guinness. With these fun drinks to sip on, you will soon be looking toward the food menu for the perfect bar bites. Beer-battered fish and chips and some of the best burgers in Irving are the ultimate Saint Paddy's Day feast. Try their seasonal burger made with applewood smoked bacon, house-made bourbon jam, arugula, creamy herbed cheese and garlic aioli. Also, ask your waiter about Bar Louie's sweepstakes opportunity for a free trip to Dublin, Ireland! 
Yard House 
320 West Las Colinas Boulevard | (214) 496-0151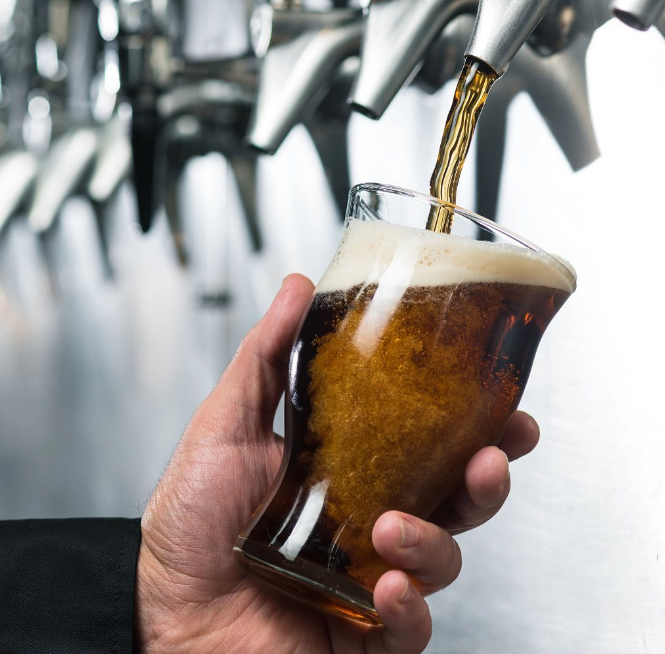 When thinking of Yard House, naturally their amazing selection of local, international and craft beers comes to mind, so it is the perfect place to enjoy Saint Patrick's Day this year in Irving. Sip on some green beer or a Dublin Mule featuring Jameson whiskey, Guinness stout, house-made ginger beer and fresh mint. Pair these Irish sips with some seriously delicious food that can turn happy hour into an all-night-long party. Wings, burgers, Asian fusion, and a tasty twist on fish and chips sandwich-style are all on the menu ready for you to enjoy. Whether going for a pint or a full yard of beer, cheers to the greenest day of the year at Yard House.