For me, childhood summers were filled with push-ups and creamsicles, plus ICEEs, Slurpees and Slush Puppies - you know the beverages responsible for giving brain freeze to millions? 7-Eleven was Saturday heaven! And there was Baskin-Robbins ... and if Instagram was a thing, it would have been filled with colorful photos of Lucky Charms, Pop Tarts Toaster Pastries, and Froot Loops: a rainbow of brightly colored cereal rings with a fruity flavor (and a brand fraught with controversy when the news broke that all the delicious, multicolored O's that make up Froot Loops don't actually represent different fruit flavors. And again, when Kellogs gave the mascot Toucan Sam a new look.) This week I am celebrating a birthday, so I'm feeling a little nostalgic. But I digress.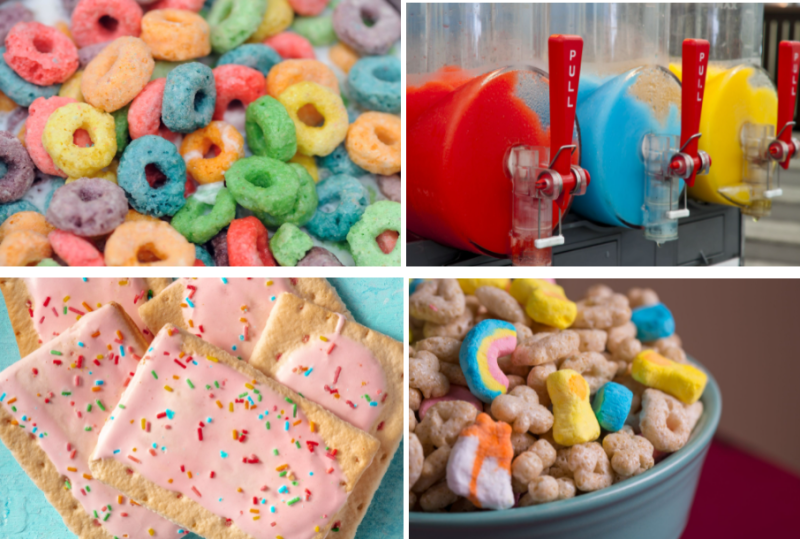 At any age, food is fun… Freak shakes. Cronuts. New for 2021: Bloody Mary Pie? Hell Mary, no! I'd like to think of myself as fashion and food forward, yet I'm conservative when it comes to pie, and somehow I'm late to the ice cream party - the party that apparently arrived in the states four-ish years ago. I'm talking about artfully-prepared ice cream rolls, and DEEP. FRIED. ICE CREAM, people. How did I not know about this? In an attempt to cure my serious food FOMO, I found myself on a hunt for fried/rolled frozen treats in Irving. Fact: ice cream always makes the day sweeter. So, here's the inside scoop (literally inside of fried cornflakes) on where to add a whole hella sweetness to your day. Come on, let's roll! 
I SCREAM, YOU SCREAM, We All Scream for Ice Cream
Say Yes to Mary's Fried Rolled Ice Cream
3524 W Airport Fwy | 972.313.9818
Let's Get Fried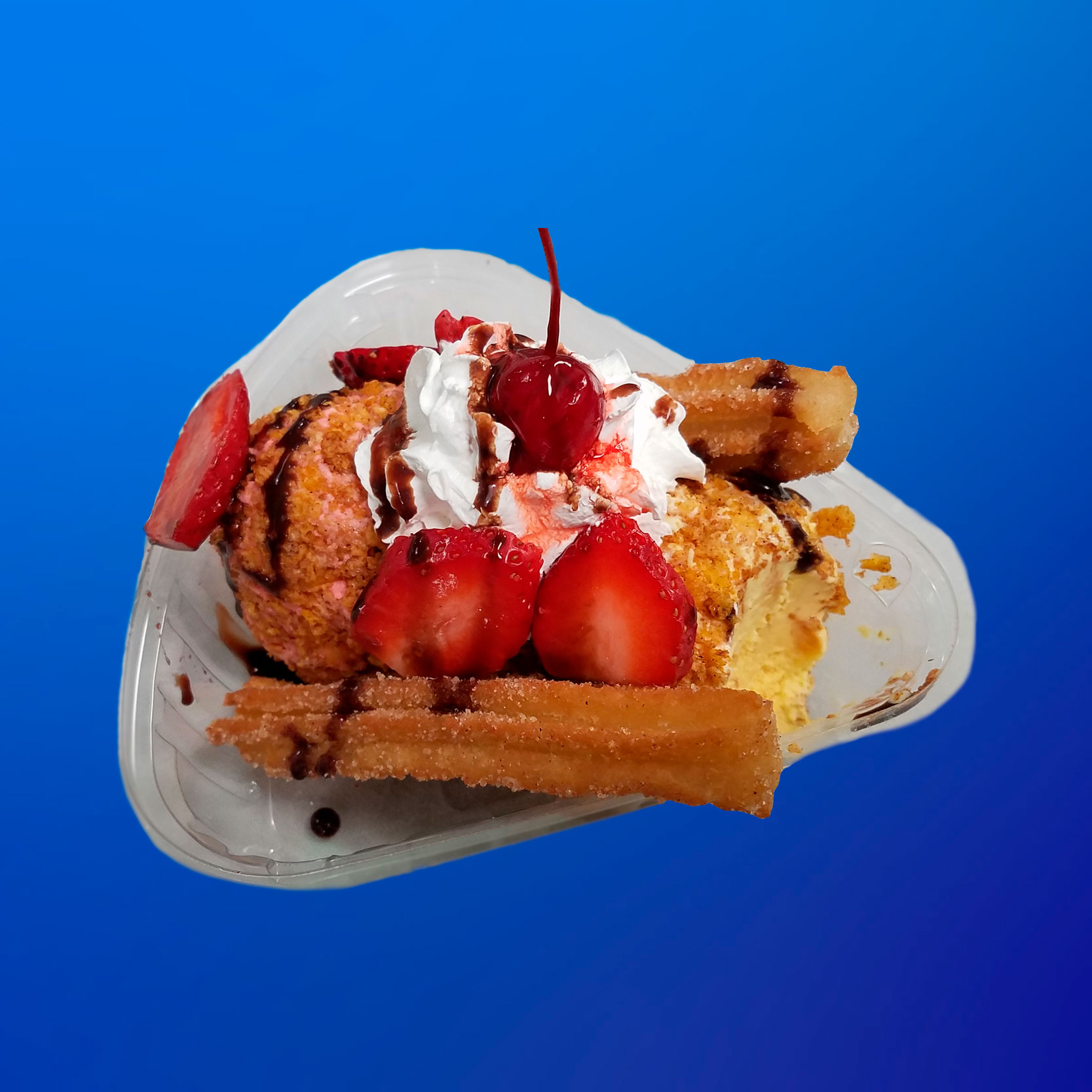 Fried or rolled, Mary's got a treat for you! I'm talking about cold, creamy, rich vanilla ice cream that's rolled in a thick coating of vanilla cookie crumbs, crushed cornflakes, a lil bit of sugar, and a lil bit of cinnamon; and then deep-fried in hot oil to crispy, crunchy perfection. At Mary's Fried Rolled Ice Cream, they dollop the fried goodness with whipped cream, add sliced strawberries and churros, then drizzle the whole thing with chocolate sauce and affix the obligatory cherry on top! This is pure deliciousness, peeps.
Now, controversy rears its ugly head again. There are conflicting stories about the origin of fried ice cream. It is associated with both Asian and Mexican cuisine. Who cares when we're taking FRIED ICE CREAM! I'll take it Tempura fried or deep fried. At Mary's, everything on the menu is a Mexican frozen-treat classic, with Ferrero Rocher and Banana Nutella as the perennial bestsellers.
Roll With It
Counting calories? Hopefully not! But you might be able to spare a few if you opt for the rolled vs fried ice cream. Made to order, the rolls start with a creamy liquid base that's poured onto a below-freezing round pan that immediately freezes when it reaches the cold plate. Any flavors are chopped and mixed into the base by two metal spatulas, then spread across the pan.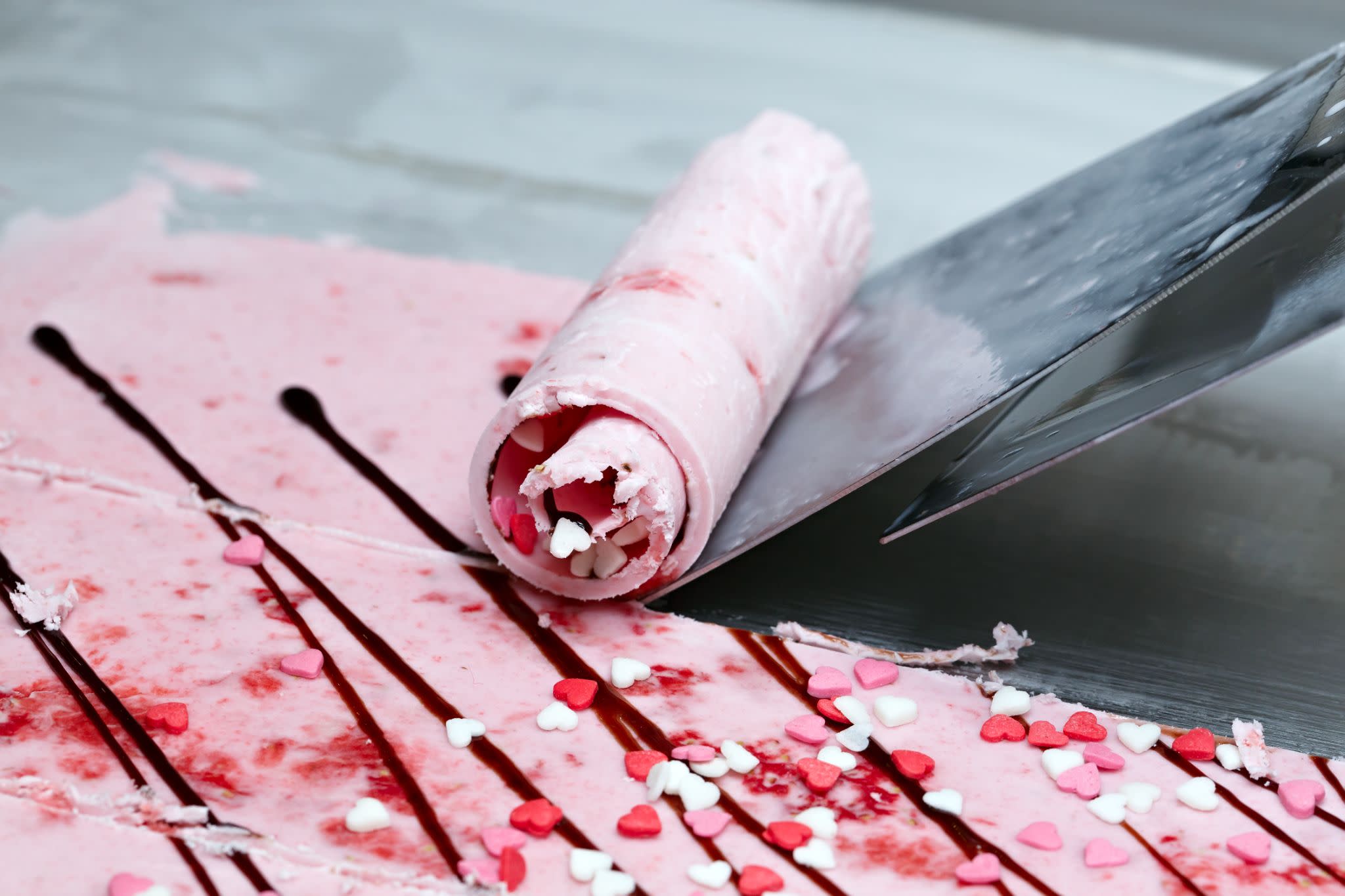 Then the magic happens. With long, sweeping movements, the sheet of ice cream is incrementally rolled into spirals, which are then arranged into the cup and artfully topped with goodies. You can even opt for a waffle bowl. (If you'd like a visual, there are literally a million videos of ice cream being rolled.)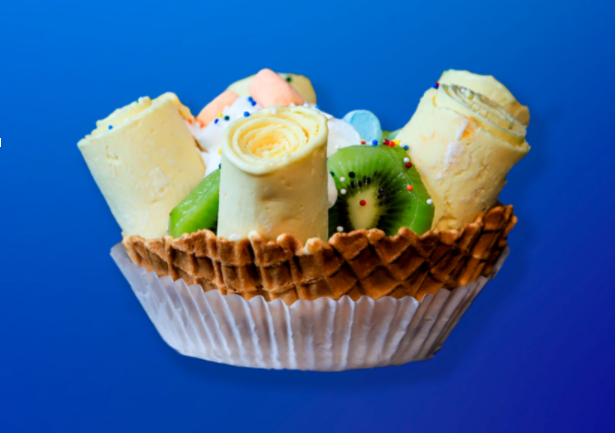 Stop, Drop and… Let's Roll Ice Cream
8150 N MacArthur Blvd | 469.458.3244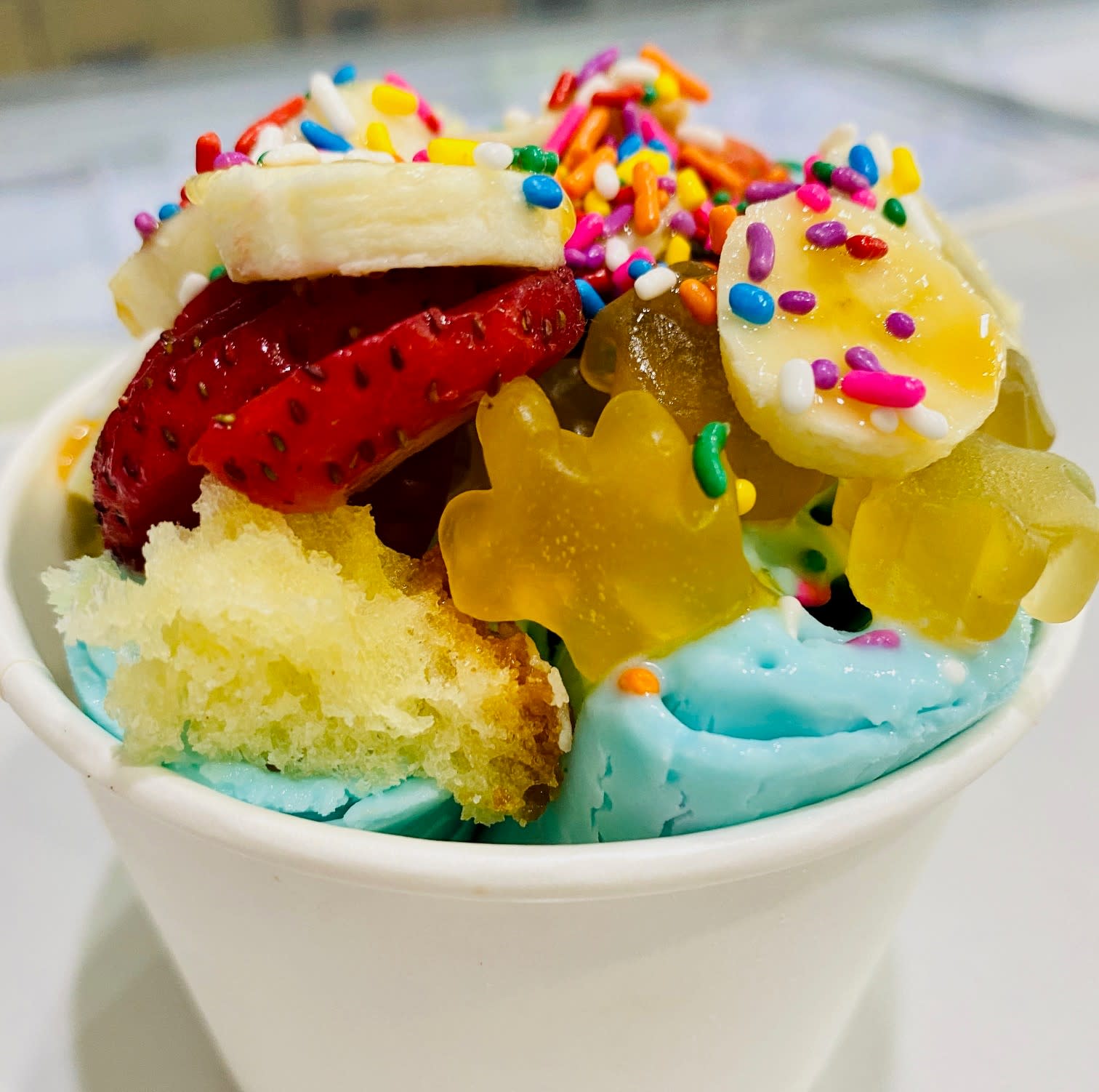 At Let's Roll Ice Cream, there's a sweet story to go with your sweet treat! Shop owner Amil opened Let's Roll with his mother Fatima because she wanted something to keep her busy during her retirement years after the family landed in Irving from India. Despite their roots in India, they drew their inspiration from the fresh, made-to-order ice cream available on the streets of Thailand for their business. The mother/son duo were both behind the counter on my visit.
Monkey Madness, Strawberry Shawty, Oreo Cookie Blast, Bang Bang Brownie or create your own? So many options can be overwhelming for someone who has a hard time making decisions like me. Factor in an extra fifteen minutes for your outing to place your order. 
Here's how it works:
Choose your base 

Choose your Mix-ins - fruit, nuts, cookies, candy and so on and so on and so on...

Choose your toppings - fruit, nuts, cookies, candy, cake, coconut, and so on and so on and so on...
Ay-yay-yay! Choosing toppings is a pivotal moment in any ice cream lover's life. But once the hard decisions have been made, your creation will be individually prepared right in front of your eyes. And that's definitely the fun of it. Just ask these sweeties Kaehlani and KayKay! P.S. Because the shop is a hobby of sorts, they have unconventional hours, so check before you go.
Scoop There It Is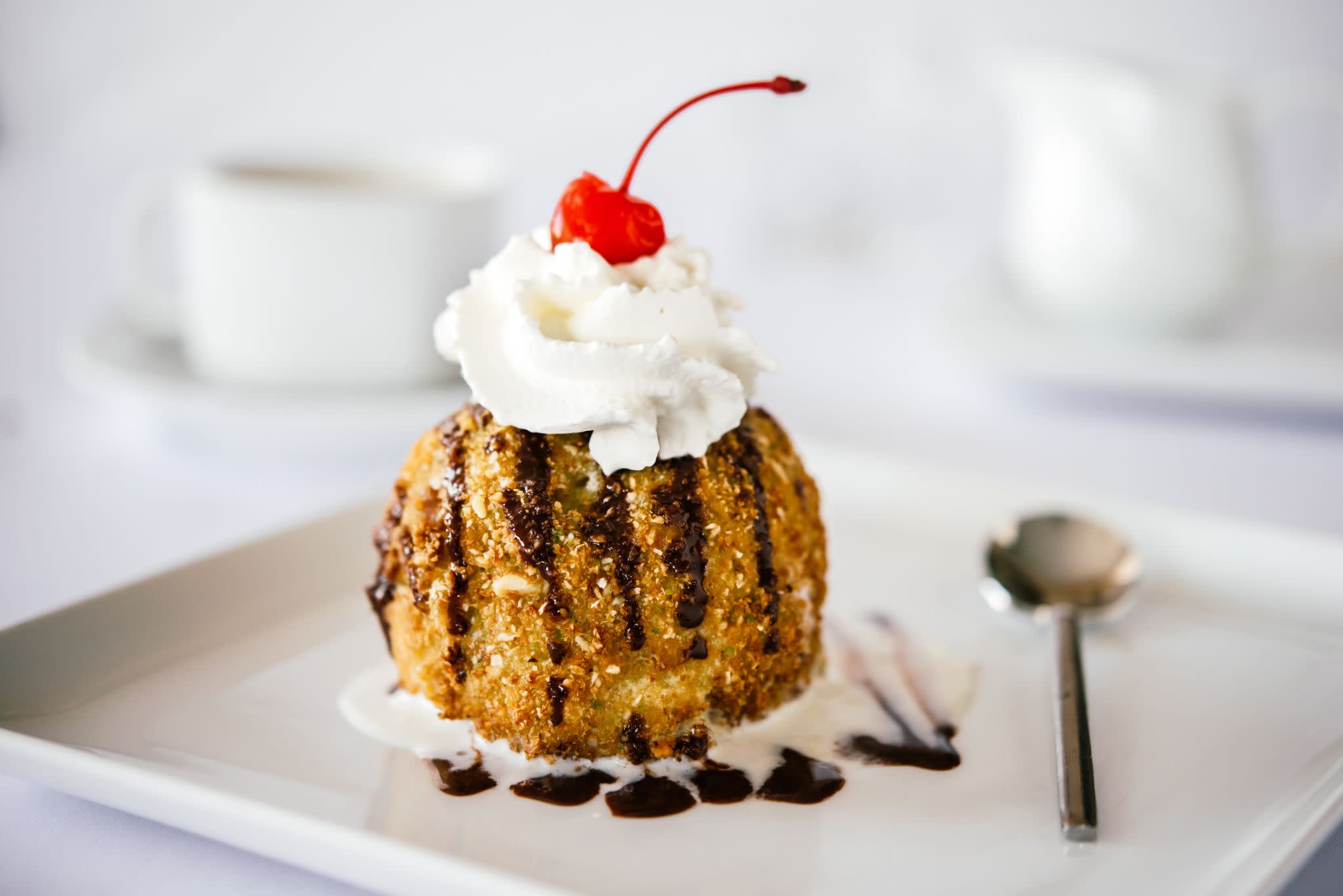 Takeaways: Rolled ice cream is a highly Instagrammable treat performance art, plus the heightened aesthetic of making ice cream prettier and more fun. But does it taste better? The fact that it's instantly frozen allows it to have a smooth, velvety texture; you can create a wide variety of flavors; and it usually has a fresher taste than pre-made ice cream. Some rolled ice cream lovers even suggest eating the ice cream with chopsticks in order to appreciate all of the layers that are inside. And spoons are far harsher on the delicate spirals causing it to melt away the artistry and beauty sooner. But, you will need to bring your own chopsticks if you want your creation to last a little longer.
Conclusion: Hasta la vista, ice cream cones. Hola, deep fried/rolled ice cream.