In late November, we gave you a chance to meet local chef and restaurant owner David Lamberti of Lamberti's Ristorante. It was so much fun, we decided it was time to meet another local chef doing great things here in Irving.
Chef Ashley Henderson is the Executive Chef at the NYLO Las Colinas Hotel, and she not only works in Irving, but lives here too. She took some time out to answer our questions so you can get to know her too.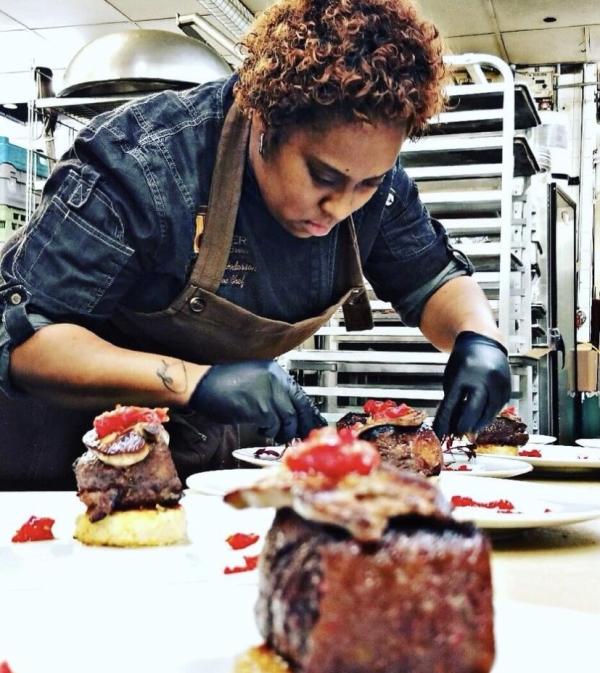 You spent some of your childhood in Detroit, but you also have history here in Irving, is that right?
AH: I was born and raised in West Dallas. I started school in Irving as a kid, but we moved to Duncanville, then to Detroit for four years. Upon returning to Dallas, I graduated from Irving Nimitz as the rest of my family did. I currently reside in Irving. 
You've been cooking since you were young. When did you know this was what you wanted to do as a career?
AH: Although I grew up in the kitchen with all of the women in my family, I spent the most time with my great-grandmother. My family didn't do daycare so I stayed with my great-grandmother often and she cooked three meals a day. I believe that was my introduction into cooking. When I was about 12, we relocated to Detroit where I found the wonder of cable television. I fell in love with the Food Network. And then my church allowed the youth to take over the cafeteria on every fifth Sunday. It was clear to me then that this is what I wanted to do. So I requested to skip the Sunday sermons and work in the kitchen regularly. At 12 I knew I wanted to be a chef; recognizing that, my mother began nudging me in that direction.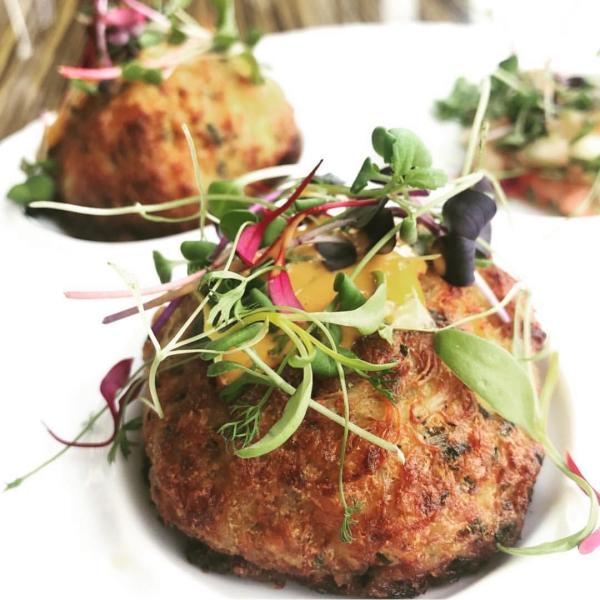 You became the Executive Chef at NYLO Las Colinas last November. What is an average day like as the Executive Chef for NYLO?
AH: As far as food service, we offer breakfast and dinner. Some days there are events that can be intense. Other days are pretty balanced between meetings and my normal kitchen stuff. I do a lot of brainstorming about how to get the people here to the hotel for happy hour breakfast or dinner, and I'm doing lots of menu research and development right now. 
With a full-service restaurant open for dinner and events and catering at NYLO, how do you juggle it all?
AH: Some days juggling is exactly what my day is about. Other days, it's pretty calm. Staying organized and being on top of everything that I do is key. The goal is to provide everyone with an experience through food and service. Luckily, I have a great team that will assist when anything goes off the tracks.  My sales department, general managers and banquet associates are always eager to assist if needed. That also makes the job 10 times easier and better. You actually feel like and know you're part of a team. 
With COVID, it's been a pretty challenging time for a lot of people, especially those in the service and hospitality industry. What helped you make it through? 
AH: COVID has been undeniably challenging, honestly. Daily, it's an adaptation because everything is so unpredictable. Staffing is the hardest challenge so there are many days that require longer hours. We're still going through it, so just attempting to build a strong team that's flexible and passionate is intense. If you're passionate, you will do whatever it takes to make it happen.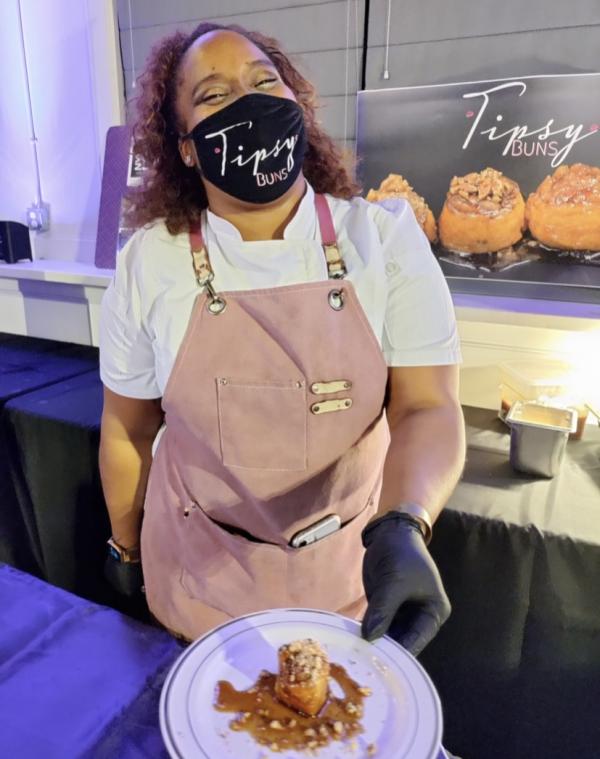 What do you consider your signature dish? What is your favorite meal to cook?
AH: My favorite meal to cook would be brunch. I love creating different brunch items. My signature dish would be my Tipsybuns, the adult sticky bun. 
(Chef Ashley's Tipsybuns are liquor-infused treats, like a drink you can eat. She created flavors like Call Her Peaches, The Big Bacon Bun, and Carmeldy Apple, as well as a more traditional sticky bun.)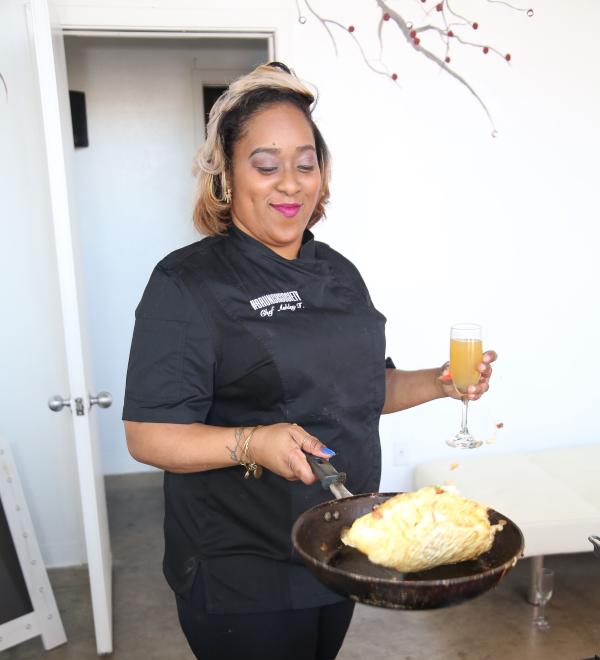 So now, let's get to know a little more about Ashley, the person. What kinds of things do you like to do when you're not working? 
AH: When I'm not working I'm at home with my dog Gizmo or at my family's house. Definitely, I'm dining around town trying some new places. 
I actually enjoy hosting events too. I have two pop-up restaurants that I host. The first, #BRUNCHSOCIETY is a brunch pop-up that we'll be hosting at NYLO once a month. We held the first one on New Years Day and it was a total success.
The other is SEATED, which is a luxury dinner experience. I'm looking to put that on the books as well at NYLO. We'll begin to have a few cool events at the hotel when the weather warms back up. 
(So it seems like even when she's not working, Chef Ashley is working! Her passion for food shines through in everything she does.)
What kind of music makes you feel good? Whose music inspires you?
AH: Traditional jazz and rhythm and blues. If I can get to a jazz concert when I'm off or go to a little speakeasy and hear local artists, I'm all for it. I'm usually accompanied by my grandparents; they take me along to all of the music events around town.
What would be your perfect fantasy vacation?
AH: A week in Bora Bora or two weeks on an Eat, Pray, Love excursion. I enjoy learning about other cultures through their food. There must be a beach though -- I need masses of water on any vacation. 
Do you ever watch TV/Netflix, etc. What shows are you hooked on? 
AH: Yellowstone and Harlem. There are actually so many.
What was the last movie you saw or book you read? 
AH: Last movie was King Richard, and last book was Chasing Failure. 
Our new chef friend made time for This or That.
Chef Ashley was so down to earth, we asked if she was up for a game of This or That. And to no one's surprise, she was ready for the challenge. (I think she's ready for just about any challenge. She simply exudes energy and might have more stamina than any four people I know, combined.)
Dogs or cats? Dogs
High heels or sneakers? I'm partial. I love both, lol. 
Wine or beer? Wine.
Chocolate or vanilla? Chocolate.
Roller coasters or merry go rounds? Roller coasters.
Coffee or tea? I love both but maybe coffee more.
Sports or video games? Sports, maybe?
City or country? Both.
Cake or pie? Cake. 
Daisies or roses? Roses. 
Baked or fried? Fried.
Now that you know oh-so-much about Chef Ashley Henderson's fun side (and her driven side that takes her to new heights all the time), there's only one thing left to do -- taste her food! Chef Ashley would love to see you at NYLO Las Colinas for brunch or dinner. It'll be a tasty addition to your to-do list.