It's so Texas that Texas-born singers Willie Nelson, Janis Joplin, Stevie Ray Vaughan, and Robert Earl Keen have belted out a tune or two about it. Weekend after weekend, January through December, you'll be hard pressed not to find a dozen or so festivals or cookoffs around the state in its honor. And today, not just Texas celebrates its greatness. So, on National BBQ Day, we're sharing Irving's tangiest, smokiest, sweetest, most finger-licking good BBQ in town.  
TX Whiskey BBQ Ribs at The Ranch
857 W John Carpenter Fwy
This is a classic, but better. These fall-off-the-bone ribs feature The Ranch's boozy BBQ sauce with Texas Whiskey that adds smokiness, tanginess and a little bit of sweetness. Top them off with some white cheddar and havarti mac & cheese, and buttered cornbread – it's platter perfection. It is no surprise that The Ranch at Las Colinas is loved by locals and visitors alike.
Brisket with Texas Toast at Kitchen 101 
316 W. Las Colinas Blvd
Providing an excellent fast-casual dining experience without compromising the quality of the ingredients, Kitchen 101 has quickly gained popularity since it opened at Toyota Music Factory in 2021. A fresh take on the Texas classic, their brisket is served in both a full and light version (around $17) with a side of Texas, toast, beans and coleslaw.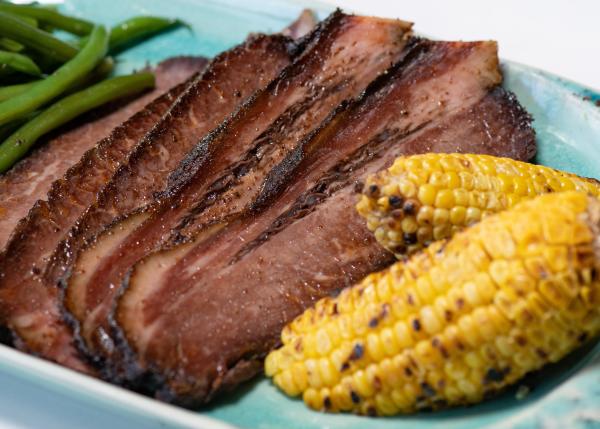 Belly Buster at Tommy's Barbeque
2840 W Irving Blvd
Located just off the busy Highway 183, Tommy's Barbeque is an unassuming hidden gem with a simple and straightforward menu. Pick two proteins such as barbecued beef, chicken, ham, hot links or pork, served on a hoagie bun and you get yourself their famous Belly Buster. No need to worry about busting your wallet, this dish is under $10. As is the Out of Sight, a large chopped brisket sandwich with two vegetables or a potato.  
Brisket Ahumado Enchiladas at Hugo's Invitados
5240 N O'Connor Blvd #160
If you'd rather have your barbecued protein tucked in a warm tortilla and melted cheese, head over to the spacious and cozy Hugo's Invitados at Waterstreet by Lake Carolyn. House-smoked brisket, poblanos, bell peppers, roasted onions, queso ranchero and chile Morita sauce – that is classic Mexique (Tex-Mex + BBQ) at its finest if you ask us.
A Texas-Sized Party Featuring Live Music and Texas BBQ
Levy Event Plaza: 501 E Las Colinas Blvd
The first-ever Lone Star BBQ and Music Festival is coming to Levy Plaza in Irving on June 18. That's Father's Day weekend and sounds like the perfect way to spend time with your dear old Dad. What's a better bonding activity than eating BBQ together?
Plan on trying some of the best BBQ in Texas while listening to live music. Grab your tickets for 25% off through Monday, May 16 at 10 p.m. to celebrate National BBQ Day, just use promo code "flashsale." Limited VIP tickets are available. 
Although National BBQ Day is observed each year on May 16, these smoky, tender and flavorful barbecue dishes are great to savor year-round. So go on and get your BBQ on, Irving style and see you at the Lone Star BBQ and Music Festival next month.