Foodies delight all year-round in Irving, but the holidays provide an easy excuse to enjoy seconds (okay, okay … and thirds) from top-ranked eateries. If your current Thanksgiving menu needs just a little something extra or even the whole turkey and pie combo, we've got you covered. Check out where you can order out, or even dine in to get your Thanksgiving fix in Irving!  
Open Thanksgiving Day
Reservoir at Toyota Music Factory 
 330 West Las Colinas Boulevard | 469.351.7112  

Reservoir will be open from 3 p.m.-2 a.m. on Thanksgiving Day! Let their chefs do the cooking for you and your family! Featured entrees will be available until 10 p.m. and include brick oven roasted turkey breast, paired with whipped potatoes, buttered green beans, fried onions, cranberry sauce, mushroom gravy and bread all for only $13. 

 
PJ's Cafe
2301 N O'Connor Rd | 972.255.8400  

Support local and eat/order your Thanksgiving meal from PJ's. Yes, they will be open on Thanksgiving Day from 10 a.m. – 4 p.m.! 

They are taking orders until Monday, Nov. 23. This special meal includes a choice of turkey with cranberry sauce or ham and pineapple. Sides include mashed potatoes, green beans, and dressing. Also gravy and cornbread are included, with two slices of pumpkin pie. The cost is only $29.99 per order (serves two). Meals are available for pick-up on Wednesday, November 25 from 10 a.m. to 3 p.m. They also offer delivery to Irving addresses on Wednesday, Nov. 25 for an extra $5. Menu

 
Hugo's Invitados
5240 N O'Connor Blvd | 214.496.0590  
I love that Hugo's offers a little bit or a lot, depending on your crowd size. Two people can eat for $80 or four for $115. If turkey isn't your favorite, how does free-range chicken or sirloin sound? Several sides like grilled veggies and garlic mashed potatoes, among others, accompany the main course. Dessert of flourless chocolate cake or tres leches are what's for dessert. Menu Due to popular requests, they will now be OPEN FOR DINE-IN on Thanksgiving Day from 11 a.m. - 3 p.m.!
Blaze Brazilian Steakhouse
310 W Las Colinas Blvd  |  469-208-7977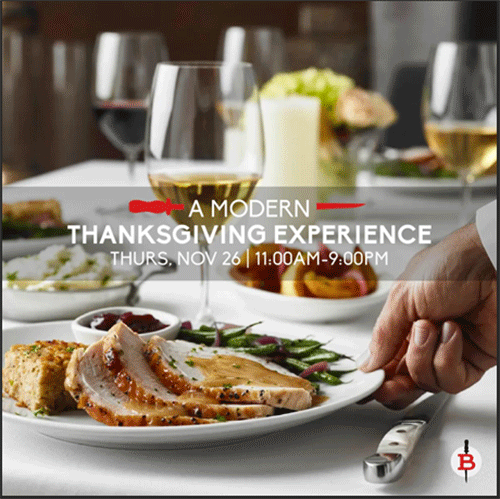 If you want to treat your family to a very special Thanksgiving holiday, bring them to Blaze Brazilian Steakhouse on Thursday, Nov. 26 from 11 a.m. to 9 p.m. for a dine-in feast. On the menu is oven seasoned turkey breast, sweet potato and green bean casseroles, peppercorn sauce and gravy, sweet corn, and their delicious cornbread stuffing. All of this is accompanied by 13 different cuts of meat, salads, sides, and their famous Sonia's mashed potatoes, Brazilian rice, black beans, fried bananas, and Blaze fries. Believe me, you won't go home hungry.  Book a table.  Menu
Boston Market
5487 N MacArthur Blvd | 972.756.0772 2705 N Belt Line Rd | 972.594.6014  

Boston Market offers a variety of pre-cooked foods that are downright delicious, and you can easily pick them up to enjoy around the table with your family. Mix and match your favorite sides and everyone wins. They'll also be open for dine-in on Thanksgiving Day! Bonus: For a limited time, sign up for Rotisserie Rewards and receive two individual desserts for free, with any $10 purchase. Menu 

 
LAW Restaurant
4150 N MacArthur Blvd | 972.717.2420  
Gather your loved ones around the table to enjoy a traditional Thanksgiving meal from LAW Restaurant. You are going to love this Thanksgiving-To-Go made by the amazing Four Seasons Resort and Club Dallas chef! Order by calling 972-717-2420 by 5 p.m. on Sunday, Nov. 19. Priced at $400 for the entire meal, this feast serves eight. Add a bottle of wine or mimosa kit for an additional $65.  Menu
LAW is also opening its dining room for an in-person brunch on Thanksgiving from 10 a.m. – 3:30 p.m. Enjoy a holiday-inspired four-course menu and two complimentary mimosas. Priced at $95 for adults and $45 for kids under 12.
Additional Thanksgiving Day dining options for guests who prefer to come during lower traffic meal periods include:
Breakfast served à la carte from 6:30 a.m. - 10 a.m. No reservations required.
Dinner served à la carte from 5 p.m. – 11 p.m. The evening dinner special will be a traditional Thanksgiving plate. Reservations are encouraged at 972-717-2420 for dinner.
Order & Pickup Your Thanksgiving Meal
Whiskey Cake
3225 Regent Blvd | 469-941-2253  
Ready to "Get Stuffed" with Whiskey Cake's No Work Thanksgiving Kit! For $85 (serves four to six) enjoy your choice of Duroc ham or roasted turkey with gravy, with molasses whipped sweet potatoes and candied pecans, creamed brussels sprouts with bacon, smoked cornbread stuffing with local andouille, house-made rolls with local honey butter and cranberry relish. Available for pick up from Nov. 18-25. Menu
Whole Foods
6741 N MacArthur Blvd | 469.845.8001  

Vegan friends rejoice!  This Thanksgiving, Whole Foods is offering traditional turkey dinners OR vegan meals for your plant-based friends. You will have the tough job of picking from six menus. There's something for every dietary preference. Their selections will serve from four to 12 people. Menu

 
Mama's Daughter's Diner
2412 W Shady Grove Rd | 972-790.2778  

Mama said you'd better get your Thanksgiving meal ordered now! Orders need to be received by 11 a.m. on Nov. 24. Order à la carte or go all in and take home the full meal with all the traditional offerings. Top it all off with one of Mama's Daughter's famous pies. You can't go wrong with a pumpkin, pecan, apple crumb, or sweet potato pecan, each for only $17.50. Menu
Aunt Cissy's 
2824 N O'Connor Rd | 469-594-7355
Aunt Cissy's is down-home cooking just like you remember growing up. Yum! They'll be preparing Thanksgiving meals that can be picked up on Thanksgiving Day from 11 a.m. to 3 p.m. Orders must be placed by Nov. 21 at 5 p.m. Single-serve options are available for $12 a person. 
Take your pick of a protein, either pineapple honey ham or turkey breast. (FYI whole hams and turkeys are also available to order) Then choose two vegetables to accompany your meal. Each order comes with rolls and cornbread stuffing. Add-ons include deviled eggs, cold cheese dip with crackers, and never fear ... PIE!
Grab a whole pie or just a slice, pumpkin ($25) or pecan ($30) are up for grabs. Give them a call at 469-594-7355 to book your reservation. They also offer help with sponsoring a family with a Thanksgiving meal. Menu
Designs by GG
305-793-4359  

If pies aren't your specialty around the holidays, let Designs by GG do your baking. Grab a cherry, apple, or pumpkin pie for $20. There's also Mississippi Mud, Pumpkin Cheesecake, or Buttermilk Chess Pie for $25. Thanksgiving orders must be in by Nov. 17. Menu 

 

Joe's Coffee Shop

425 W Irving Blvd | 972.253.7335  

Although Joe's will not be open on Thanksgiving, they offer something better. Once a week on Sundays they serve a Thanksgiving meal with turkey and dressing. That's Thanksgiving year-round for the win! If you haven't heard, Joe's is a serious pie contender. Give them a call and grab a pie to-go for your special gathering. Menu

 
Shorty's Country Cooking
603 S Belt Line Rd | 972.313.1102  

If you love Thanksgiving food all year long then you need to swing by Shorty's to get your gobble on! It's not on the regular menu so be sure to ask for the Thanksgiving Skillet featuring a cornbread crust topped with mashed potatoes, turkey and gravy, and a side salad. They are not open for Thanksgiving, but we highly suggest a visit before then. Menu

 
The Ranch
857 W John Carpenter Fwy | 972.506.7262  

The Ranch's Dinner Kits have been a winner and a saving grace in 2020, so their Thanksgiving Kits will hit the spot no doubt. For $90, you can enjoy turkey or ham, buttermilk chive whipped potatoes, smoked jalapeño sausage gravy, cornbread stuffing, sautéed green beans, candied yams, cranberry relish, dinner salad, and cornbread muffins. This delicious meal feeds a family of four. Menu

 
Po Melvin's
4070 N Belt Line Rd, Suite 100 | 972.255.3919  
Don't miss out on some southern favorites this Thanksgiving at Po' Melvin's. Thanksgiving meals can be pre-ordered and picked up prior to Thanksgiving. All meals come with reheating instructions and include roasted turkey, carved and de-boned, gravy, sage dressing, mashed potatoes, sweet potatoes, green bean casserole, cranberry sauce, and dinner rolls. Take home a bit of New Orleans with Po' Melvin's Thanksgiving dinner and enjoy a hassle-free holiday. You can serve six people for $99 or 20 people for $299. But hurry, you must order by Nov. 20. Call 972.255.3919 or order online!  Menu
Lamberti's Ristorante
7701 N MacArthur Blvd | 972.506.3000  

Lamberti's is some of the finest dining you'll find in Irving, and this Thanksgiving you can bring home the love they put into all of their dishes. For $63 you can feed four to five people, or for $125 you can feed a larger crowd of eight to 10. Choose between turkey or ham, and sides like Italian sausage, garlic mashed red potatoes, and green beans with fried onions. Also, be sure to add on a dessert, you'll thank me later. Call before Nov. 20 to order. Menu

 
CAFEMANDU - Flavors of Nepal
3711 N Belt Line Rd | 469-647.5067  
Everybody's gotta try TURKEY MOMOS. If you've never tried a momo, you're missing out. They are basically steamed dumplings with some form of filling. In Cafemandu's case, meet the Thanksgiving-inspired momo. It's a turkey-stuffed momo with house-made cranberry infused tomato sauce. These are not on the menu and are only available for a limited time. Call to order. Party trays are available for $35. 
Cowboy Chicken
3351 Regent Blvd #100  | 214-496-0724  

Do the words "Wood-Fired Rotisserie Turkey" make you hungry for Thanksgiving? Cowboy Chicken offers a holiday package that includes a whole turkey cooked on their famous wood-fired rotisserie, twice baked potatoes, country-style stuffing, an additional side, 12 dinner rolls, and peach cobbler. For $109.99 you can get the whole package or if you just need the turkey, they offer it for $49.99 unsliced or $54.99 sliced. I vote for the whole meal, you can't go wrong there. Menu.

 
Sheraton DFW Airport Hotel
4440 W John Carpenter Fwy  | 972-929-7532  

Let their chefs do all the work, and you can take all of the credit. The Sheraton DFW Airport is offering a traditional Thanksgiving dinner (serves 6-8) including a holiday salad, whole roasted turkey or ham with turkey gravy, mashed sweet potatoes with cinnamon, nutmeg, brown sugar and maple syrup, green bean casserole with bacon and crispy onions, and classic cornbread stuffing and dinner rolls.  Oh, did I mention classic pumpkin pie and bourbon pecan pie come with it? All of this can be yours for $175. Just give them a call by Nov. 19 and your take-and-bake meals will be ready for pick-up between noon and 7 p.m. on Wednesday, Nov. 25. 

 
Nosh & Bottle
370 West Las Colinas Blvd #100  |  469-442-0808

 

It's a win-win to help out a local restaurant and to take a load off this holiday. Why not order a meal to-go? Nosh & Bottle offers a Thanksgiving dinner consisting of cheese and cracker appetizer, herb-roasted turkey (sliced), cornbread stuffing, chili roasted Brussel sprouts, whipped sweet potatoes, green bean casserole, mac and cheese, dinner rolls, pumpkin pie, and a bottle of house cabernet.  Meals need to be confirmed and purchased by Nov. 23. Pick up time starts at noon on Wednesday, Nov. 25. Menu

 

 
Get your wobble on before you gobble!
Run the Irving Turkey Trot this Thanksgiving
Celebrate Thanksgiving 2020 virtually or in-person with other runners who, like you, practice wellness and a healthy lifestyle. The Irving Turkey Trot race benefits the Baylor Scott & White Irving Foundation as we fight childhood obesity in our elementary and middle schools. Choose from a 1-Mile, 5K, or 8-Mile race. The in-person event is limited to 600 runners and a few provisions are in place, check the website for event updates & RSVP today! Virtual Irving Turkey Trot Participants can complete the run anywhere. The Turkey Trot race swag will be shipped prior to Thanksgiving Day. Grab your flock & register today!