With Reese's Peanut Butter Eggs for Easter coming to mind, let's take a look at the best peanut butter dishes and treats here in Irving. From sweet to savory, frozen to saucy, we can all find a peanut butter snack to get behind. We can debate later about smooth vs. crunchy, but until then, check out these delicious, peanut butter-filled creations! 
1. Creamistry
5250 North O'Connor Blvd #140

With so many options for custom creations, Creamistry is the perfect place to indulge in all things peanut butter. On the menu is the ultimate comfort food - the PB&J. It is loaded with Reese's Peanut Butter Ice Cream, crushed toast pieces, strawberries, and a strawberry sundae. If this childhood classic doesn't get your mouth watering, try building your own scoop or shake with peanut butter ice cream, Reese's toppings, topped off with peanut butter sauce. Looking to stock up? Grab a pint next time you visit to keep your freezer at home very happy. 
2. Pop Factory
310 West Las Colinas Blvd #112

The best way to enjoy this beautiful spring weather is with a freshly made popsicle from Pop Factory. Peanut butter lovers rejoice with a creamy Peanut Butter Milk Pop topped with a variety of nuts, sauces, and candies. If you do not want to go full-out peanut butter, enjoy their Fruit Pop or maybe Chocolate Milk Pop with a PB drizzle. There are so many fun creations to make at Pop Factory that you can try a new combo each time you visit. Bonus, get a Peanut Butter Puppy Pop for your furry friend to enjoy! 
3. Original Chopshop 
7300 North MacArthur Blvd #140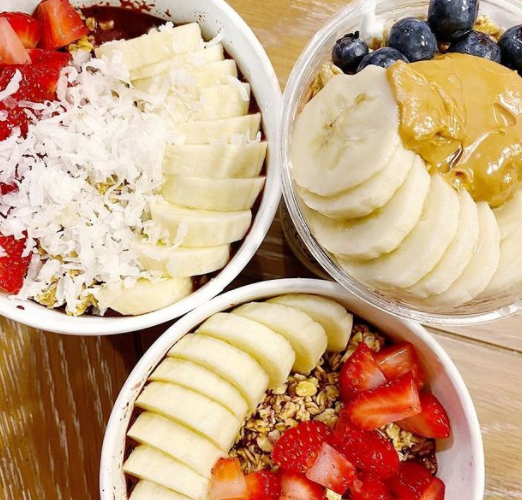 For a healthy treat, head over to Original ChopShop for the best acai and pitaya bowls. These fruity creations are refreshing and are the perfect meal swap or warm weather snack. Add some additional flavor with a peanut drizzle. For a delicious breakfast, try the PB+J Greek Yogurt Bowl with non-fat Greek yogurt, stevia, all-natural peanut butter, strawberry preserves, blueberry, banana, and granola. Post-workout? Try one of their several fulfilling protein shakes. Muscle Malt is loaded with banana, all-natural peanut butter, malt, chocolate whey protein powder, sugar-free chocolate syrup, and non-fat milk, (foodie tip: add a cold brew). For a sweeter recovery, sip on the Jacked Up PB+J with strawberry, banana, all-natural peanut butter, strawberry whey protein powder, agave nectar, sugar-free strawberry syrup, and non-fat milk. 
Tiff's Treats 
114 East John Carpenter Fwy

You do not need to leave your home to enjoy delicious, warm cookies. Order from your local Irving Tiff's Treats location for the fastest delivery. Imagine freshly baked peanut butter cookies and a glass of milk, delivered right to your doorstep! Join their membership rewards program and get free delivery! There's no judgment here whether you get a single cookie or a platter, we all know Tiff's Treats is worth the indulgence. Make it a full-on party with their Peanut Butter Chocolate Bar Brownies, Peanut Butter Cookie Tiffwhich, and Tiff's frosting to create your own custom cookie. 
5. Yummy Thai 
6421 Riverside Dr #150

To take a break from the sweet, hop over to the savory side with delicious dishes from Yummy Thai. Peanut sauce is a staple in Thai cuisine, and Yummy Thai is serving up authentic and delicious foods for Irving. Start with the amazing Chicken Satay - grilled marinated chicken in curry sauce served with a refreshing cucumber salad and peanut dipping sauce. Other great compliments to the classic peanut sauce are the crispy egg rolls, fresh spring rolls, and Thai salad. For your entrée, enjoy the Yummy Rama Garden, stir-fried with peanut sauce and served with steamed broccoli and carrot nestled on top of steamed rice. Yummy Thai is ready to serve you, whether in-house, to-go, or delivery!