While Texas summers and outdoor dining aren't exactly synonymous, we still love fun and festive patios, decks and terraces. From front-and-center places to see and be seen to little gems where you can hide away, Irving's got a patio certain to suit your mood. Yep, we've got al fresco dining options and lots of them. Let us help you find the perfect place to get your personal patio party on. A picture and a social post speaks a thousand words, so let's get this patio tour started!
Best patios for live music
Texas Lottery Plaza
Live music is back tonight on the Texas Lottery Plaza with social distancing guidelines in place. 
Mama Tried
Find more live music at The Ranch at Las Colinas, The Four Seasons Resort at Las Colinas, Two Mules at the Texican Court Hotel and Nosh & Bottle. 
Most zen patio
Pacific Table
Head to Pacific Table for sensational seafood and an oasis of serenity.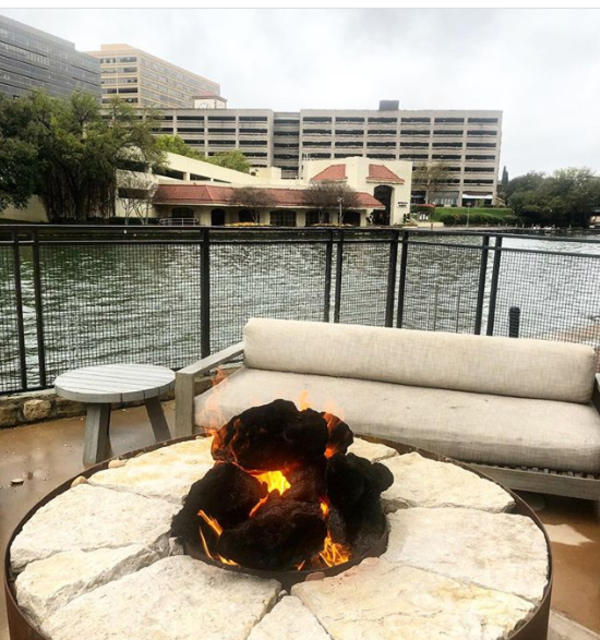 Best patio for a celebration
The Ginger Man
Celebrate winning with a beer and a bite at The Ginger Man.
or a Gender Reveal?
Best patio for chillin'
Nosh & Bottle
Nosh & Bottle's unassuming patio is a space where family, friends and business are tied together through great coffee, food and wine… you know...that place where everybody knows your name?
Most swanky poolside patio
Four Seasons Resort at Las Colinas
Sip and savor in style at Outlaw Taproom patio at The Four Seasons Resort at Las Colinas.
Charming, quaint & cheery patios 
Lamberti's Ristorante and Wine Bar
A bottle of red, a bottle of white. It all depends upon your appetite. I'll meet you anytime you want at Lamberti's Italian Restaurant. 
Original Chop Shop Las Colinas
Grab some #JustFeelGoodFood for a feel great mood at the Original Chop Shop.
Muchos patios for Taco Tuesday
No matter what part of town you're in, there's a patio where you can get your #TacoTuesday on! Vamanos a L.A. Tacos, El Famoso, Gloria's Latin Cuisine, Pacheco Taco Bar, Taco Diner,  Mi Cocina, Mattito's, and On the Border.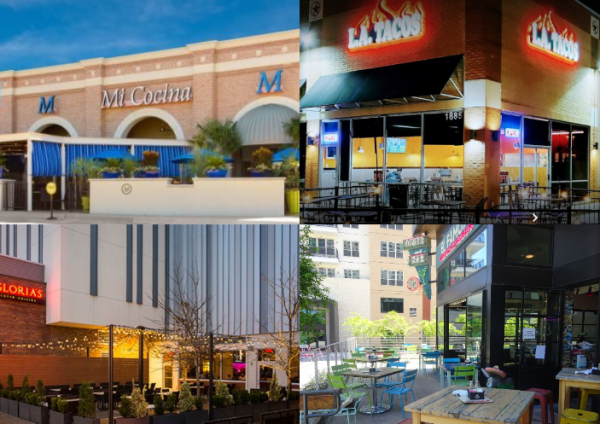 Best patio for retro cool, insta-worthy fashion & lifestyle influencers 
Texican Court Hotel 
Strike a pose with your poptail (or your dog tail?) at The Two Mules Cantina at the Texican Court Hotel.
Patio for the perfect trifecta
Olivella's Neo Pizza Napoletana
1. Patio. 2. Fountain view. 3. Mimosas. Olivella's it is!  
To Be Continued 
So many patios, so little time to include them all. Tune in two weeks for "Wide Open Spaces and Outdoor Spaces, Part Two."  We'll explore the most romantic patios, best bets for Sunday Funday, best patios for a dawg paw-ty and so many more! Feel free comment below with your faves to be included in the second edition.
In the meantime, we've been keeping a running list of the restaurants that are open or plan to reopen soon, and we've indicated which ones have patios. Please note that we are making every effort to keep our restaurant list accurate. But with orders regarding occupancy being updated often, the information provided above is be subject to change. It's always a good idea to call or check social pages before heading out. 
Wear your mask. Keep your distance. Have fun & stay safe.
Cheers!